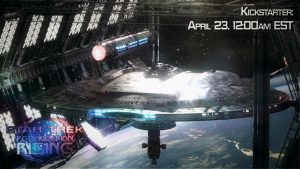 With nearly a million Youtube views in less than two months (!!!), the message was coming through loud and clear that fans loved STAR TREK: HORIZON and wanted more!
Earlier today, show-runner TOMMY KRAFT announced plans to produce STAR TREK – FEDERATION RISING, leading off with a Kickstarter campaign beginning NEXT WEEK!
The following was just posted on the Horizon Facebook page:
BREAKING NEWS: Star Trek – Federation Rising, a sequel to Horizon, will begin crowdfunding on Saturday, April 23rd at 12:00am EST. The countdown begins: http://federationrising.com/
You asked, and we've decided to answer. The absolutely wonderful responses we've received (and the sheer number of them!) since releasing Horizon nearly two months ago have convinced us to create a sequel.
Federation Rising is a two hour Star Trek fan film that continues the story of the NX-04 Discovery, and her crew, that began in "Star Trek – Horizon", a fan film set in the Enterprise era. In the midst of a dark war with the Romulan Empire, the new Coalition of Planets is working to find peace and stabilize the quadrant. The Empire, desperate to stop the Coalition, is busy building the largest invasion fleet in history. With the Coalition depending on Earth's Starfleet for guidance and direction, Captain Hawke, the crew of Discovery, and Enterprise must find a way to even the odds and ensure the future of the The United Federation of Planets.