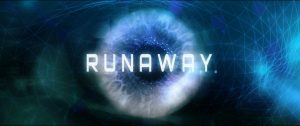 TOMMY KRAFT became the first Star Trek fan filmmaker to be "shut down" in the period after CBS and Paramount filed their lawsuit against Axanar.  In February of 2016, Tommy released the amazing STAR TREK: HORIZON, a 104-minute Star Trek fan film produced quite literally in Tommy's parents' basement for a production budget of only $28,000.  The film was set in the era of Star Trek: Enterprise during the Romulan War and featured the crew of the USS Discovery NX-04.
Although Tommy initially said there would be no Horizon sequel, the exuberant fan response led him to reconsider, and by April, Tommy was planning to launch a new Kickstarter to fund Federation Rising, once again featuring the crew of the USS Discovery NX-04.  In hindsight, we now know that Tommy had unknowingly chosen a Starfleet vessel with the same name as the upcoming new Star Trek television series.  But all we knew back then was that Tommy was contacted by CBS days before the launch of his Kickstarter campaign and told in no uncertain terms that they would strongly advise him against moving forward in any way with his project.  They weren't belligerent or threatening; they were simply reaching out proactively…in much the same way they did NOT do with Axanar.  Hoping to avoid the same fate as that other fan film project that he had worked on (yep, Tommy was on the production team for Prelude to Axanar), Tommy opted to shut down his project before it could even get to the launch pad.  You can read Tommy's statement here.
Instead, Tommy and his production partner, Ryan Webber, decided to create an original non-Star Trek production titled PROJECT DISCOVERY, examining mankind's earliest forays into manned interplanetary spaceflight in the mid-21st century.  Tommy and Ryan launched a Kickstarter campaign in late April with a 2-month time frame and an ambitious goal of $250,000.  Although they got off to a strong start, just short of a month into the campaign, pledges had stalled in the $17,000 range.  Reluctantly, Tommy and Ryan canceled the Kickstarter and decided to pursue other projects.
Tommy moved onto a new non-Trek film production called RUNAWAY.  And this time, not only was he successful with his Kickstarter, he has knocked the project out of the ballpark!
Continue reading "STAR TREK: HORIZON creator TOMMY KRAFT releases his short film RUNAWAY!"