Fans became concerned earlier today when the Star Trek: New Voyages/Phase II Facebook page went off-line.  After Tommy Kraft was urged by CBS to shut down Star Trek: Federation Rising earlier this week, fans worried that the venerable and highly-popular New Voyages would be next!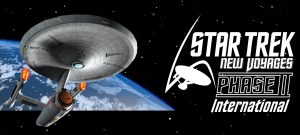 Thanks to the following posting on the New Voyages INTERNATIONAL Facebook page, fans can rest a little easier:
Some people have noticed that the Star Trek New Voyages / Phase II Facebook page, run by James Cawley, has been taken offline. This is his statement: "You may tell folks, I have taken the facebook page offline personally. It has nothing to do with CBS."
This Facebook page will continue to represent the fan film project.