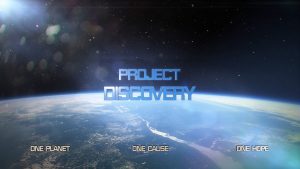 A few days after announcing that he was shutting down his proposed Star Trek: Horizon sequel, Federation Rising, fan filmmaker extraordinaire TOMMY KRAFT announced a new KICKSTARTER for an original (non-Trek) project called PROJECT DISCOVERY.
The Kickstarter has a very ambitious goal of $250K in two months, but it managed to raise its first $4.6K in just 10 hours!
Here's Tommy's official kick-off announcement…
BREAKING NEWS: ORIGINAL INDEPENDENT SCI-FI FEATURE, "PROJECT DISCOVERY", BEGINS CROWDFUNDING
Two days ago we were told that we would not be allowed to continue producing our highly-anticipated sequel to our fan film Horizon. In the midst of this, we were also developing original stories that we could pursue after our Horizon sequel.
Project Discovery is an original feature length science fiction space epic that tells the story of a group of scientists and engineers uniting people all over the world in a common effort: taking humanity to space.
Please check out our Kickstarter campaign: https://www.kickstarter.com/…/startrekhor…/project-discovery
If you liked this post, please click the like button and share it. Let's spread the word!
– Tommy and Ryan (Horizon and Federation Rising Co-Developers)