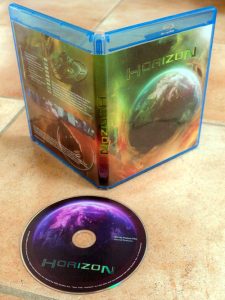 Okay, folks, now THIS one is intriguing!  As many of you probably know, TOMMY KRAFT is the fan dynamo who wrote, produced, directed, and did about six dozen other things on the wildly popular Star Trek: Horizon feature-length fan film (currently at 1.75 million views on YouTube!).  Shortly after releasing Horizon in late February, Tommy announced a Kickstarter for a sequel and was quickly contacted by CBS and strongly advised not to proceed with his new endeavor.
Now we know why, as the new fan film guidelines were probably already being discussed and would soon be released by CBS and Paramount.  One of those guidelines states: "The fan production cannot be distributed in a physical format such as DVD or Blu-ray."  Another states: "No unlicensed Star Trek-related or fan production-related merchandise or services can be offered for sale or given away as premiums, perks or rewards or in connection with the fan production fundraising."
Fast forward to this week, and Tommy Kraft has just launched a brand new Kickstarter for a short film called Runaway, set in the not-too-distant future where an android fights for her life as she races to get to the Free States.  He's seeking $13,000 and has already raised about $4,000 in pledges from 55 backers…one of whom is me.  I pledged $35.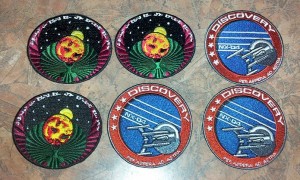 For my $35, I will get two patches from Star Trek: Horizon, one of the NX-04 Discovery and one of the 28th century Romulan Star Empire.  I think those patches are cool, and I missed out on getting them from the original Horizon Kickstarter.  Great, right?  And if I'd wanted to pledge $50 or $60, I could even get Horizon on DVD or Blu-ray.
But here's the question: do these two perk giveaways violate the two guidelines I quoted above?  It's an intriguing logic puzzle!  On the surface, a fan (or CBS lawyer) might say, "Of course they violate the new guidelines!"  The patches contain Star Trek imagery, and the Horizon fan film, even with the words Star Trek removed, still features multiple elements of CBS's intellectual property.
But consider this…
1) In his recent podcast interview, John Van Citters of CBS Licensing stated that these new guidelines were intended to operate on a go forward basis.  Existing fan films would not be forced to be taken down from YouTube and Vimeo.  Does that mean that existing fan films can also still be distributed on DVD and Blu-ray and have perk merchandise produced in perpetuity (or at least right now) despite the new guidelines?  Tommy Kraft seems to think so.  But even if he's wrong, we've still got…
2) This new Kickstarter is for a NON-Star Trek short film.  Technically, CBS and Paramount have no jurisdiction over Tommy's project, and Tommy can distribute whichever and however many perks he wants to.  The studios cannot sue Runaway for copyright infringement because it's Tommy Kraft's original intellectual property, not theirs.  On the other hand, he's not giving only Runaway-branded perks; he's distributing perks with Star Trek intellectual property.
So it's a fascinating situation!
With just 18 days to go, there's not much time for the studios to contact Tommy, and one wonders if they want to come down so heavy-handedly in the weeks just following the explosion of fan outrage over the new guidelines…especially with the new Star Trek Beyond movie only three weeks from release, as well.  The studios might want to just let this one slide and wait for a bigger, less ambiguous fish to jump out of the water.
But I'm still finding it fascinating to see how the various fan productions are each responding to the new guidelines in their own unique, creative, and sometimes unexpected ways.
To learn more about and/or donate to Tommy Kraft's new project, click on the image below…