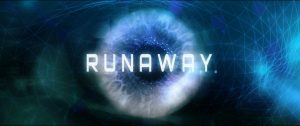 Even though Runaway isn't a Star Trek fan film, Tommy Kraft is a beloved enough Star Trek fan filmmaker that we're keeping an eye on his latest Kickstarter campaign.
With a goal of $13,000, the light at the end of the tunnel is getting brighter.  But it's not over yet!  With just over a week to go, Tommy still needs to raise about $3,000 more or else he'll get zero/zilch/zip/nada from Kickstarter for all of his efforts.  147 backers have gotten Tommy 77% of the way to his goal.  Another 50 or so should put him over.
Set to be filmed in the style of a cyberpunk western, Runaway will focus on Maria, an android on the run–falsely accused of murdering her master. Pursued through the forest by ruthless bounty hunters, Maria struggles to reach the Free States and maybe discover her humanity along the way.
To find out more and/or to donate to Tommy's project, click here to visit his Kickstarter page.