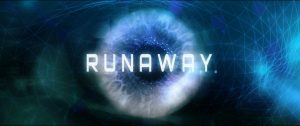 Don't panic!  Tommy Kraft, creator of the hugely popular Star Trek: Horizon fan film, has already reached and exceeded the $13,000 Kickstarter goal he set for his new non-Star Trek independent sci-fi film Runaway.  In fact, he's nearly reached $18,000!
If you'd like to try to help Tommy reach $20,000, you have until midnight Eastern Time to make a donation.  Click here to visit the Runaway Kickstarter page.
UPDATE: Runaway finished up with an impressive total of $18,830 from 226 backers (including $35 from yours truly) pledged  to help bring Tommy Kraft's project to life!  Yay, Tommy!!!