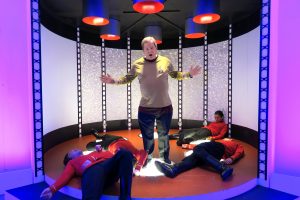 Late on Thursday night, I accidentally spilled water all over my keyboard. As you can probably guess, this was not appreciated by my computer all that much, and I won't see the trusty ol' gal again until late Monday or Tuesday at the earliest…along with a $500 repair bill.
For those commenting on the Friday legal filings in the AXANAR case and the bombshells contained in them–like Paramount not providing ANY emails for discovery or the late news that CBS does, apparently, own Star Trek (oh, well)–yes, I've seen all three filings.  And I plan to write up a blog on them just as soon as I have a decent keyboard again.  I just can't whip out a 2,000-word article on an iPad keyboard!
In the meantime, I'm researching what I can (what does President Gerald Ford have to do with AXANAR???) and getting ready for our next dive into the legal swimming pool.