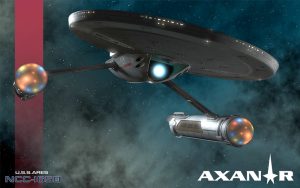 I'm going to save some time and instead of summarizing Part 1, I recommend you read it, if you haven't already.  You can also link to the 60-page Joint Stipulation document that contains both  Axanar's Motion to Compel the studios to deliver the remainder of the documentation they initially asked for, and also the studios' responses to those requests.
When last we left off, we were up to the third category of documentation requested by the defense (and not fully provided by the plaintiff)…
3. CHAIN OF TITLE OF OWNERSHIP OF THE STAR TREK COPYRIGHT
Here's what the Axanar legal team asked for:
All Documents that refer, relate to, or constitute Your [the studios'] ownership, rights, title, and/or interest in and to all of the Star Trek Copyrighted Works that You [the studios] contend Defendants have infringed, including but not limited to all Documents that refer, relate to, or constitute the chain of title in such works, including but not limited to any transfers of title between or among Plaintiffs, Viacom, Inc., Desilu Productions, and Gene Roddenberry.
What they got instead were only copyright registrations and not anything relating to the copyright's Chain of Title.  I liken this somewhat to Donald Trump releasing his financial records but not his tax returns.  There's certainly some important information in what has been shared already, but the potentially devastating documents are still hidden from view.
Although the defense lays out what seems to be an endless parade of existing case law supporting their request for Chain of Title and not simply copyright registrations (see pages 52-55 of the Joint Stipulation document), it all boils down to one potentially explosive question: was Gene Roddenberry ever the copyright owner of Star Trek?
Indeed, in the plaintiffs' response, their lawyers even point out the obvious counter argument:
Ms. Ranahan does not explain what basis she has for assuming that Gene Rodenberry [sic] ever owned the rights to Star Trek.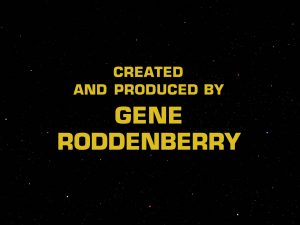 Indeed, many assume that Gene's creation of Star Trek was done as a "work-for-hire" for Desilu Studips and, therefore, was always owned by them and not him.  But what Axanar attorney Erin Ranahan is asking is: are we sure of that or do we just assume it?  A copy of Gene Roddenberry's original contract with Desilu (from 1965!) would answer the question pretty solidly.  Or perhaps he signed over the ownership of the copyright to them…in which case, there's probably a document showing that, as well.  Or is there?
if the studios don't own Star Trek and never did, then they have no standing to sue Alec Peters for copyright infringement.  Now, I realize this is a long shot, at best, and perhaps it's a bit of wistful thinking on my part to imagine the great-and-powerful Hollywood studios of CBS and Paramount no longer in total control of everything Star Trek.
Also, I'm told that, after the defense served their part of the Joint Stipulation document to the plaintiffs (and the defense was no longer allowed to alter the document before it got filed with the magistrate), the studios provided the defense with additional Chain of Title documents.  So everything I've just written could very well be partially of completely moot by this point.  But I have no confirmation, so we'll have to wait and see if this is a big issue or a dud.
---
Okay, enough about the defense…let's look at what the plaintiffs had to say!
In short, the studios' lawyers at Loeb & Loeb had a response that can best be summed up as: "ARE YOU FRICKIN' KIDDING US?!?!?"
More precisely, they said the following (over and over–25 times, in fact!–just read through the Joint Stipulation document).
In response to the Request, Plaintiffs object on the grounds that it is overly broad, unduly burdensome, and seeks documents that are not relevant to any party's claim or defense, nor proportional to the needs of the case. Plaintiffs further object to the extent that the Request requires the disclosure of documents containing information that is protected by the rights of privacy, confidential data, trade secrets, proprietary or sensitive business information, or nonpublic financial information pertaining to Plaintiffs, their past or present personnel, and other persons or entities.
They're not entirely wrong.  The list of documentation that the defense was asking for included things like:
"…salaries paid to the directors, producers, actors, and all other persons involved in the promotion or production of such works."
"…profitability, revenue, ticket sales, and product sales related to [studios'] Works from 2009 to present."
"…the damages that [the studios] seek for each cause of action asserted in the FAC, including by identifying and describing the method(s) used to compute these damages."
"Revenues from the allegedly infringed works, including without limitation how such revenues are tracked or accounted for." (In other words, please account for every penny Star Trek has ever generated.  SHEESH!)
Everything anyone at the studios has ever said publicly or in e-mails/internal documents about any Star Trek-inspired fan film.
"All Documents that refer or relate to Star Wars fan films, including but not limited to (a) all Documents that refer, relate to, or constitute Lucasfilm's guidelines and/or attitudes regarding fan films, and (b) all Documents relating to any meetings or other Correspondence between [the studios] and any other person or entity, including at Lucasfilm, regarding this subject."  Yes, you read that right: Star WARS.  And yes, they're serious.
"All Documents that refer, relate to, or constitute any actual or potential guidelines for fan films that [the studios] have Created, implemented, or considered creating or implementing, including but not limited to any research, analysis, or Communications regarding this subject."  In other words, exactly how did the studios decide on their list of fan film guidelines?
Any internal communication dealing with J.J. Abrams and Justin Lin's comments supporting Axanar and fan films and announcing that the lawsuit would be "going away."  Also any communications with Abrams and Lin regarding Axanar, fan films, and the lawsuit.
[Studios'] policies, efforts, procedures, and practices to protect and police [their] allegedly infringed works from copyright infringement.  (Because the defense doesn't specify Star Trek in this request, it would include the entire CBS and Paramount film and TV library!!!)
Okay, you get the idea (I don't want this blog to go on forever!!!).
The studios make some solid points in responding to all of these requests.  There's not enough room to list every argument they made (again, feel free to read the 60-page Joint Stipulation document), but here's a few of the highlights…
1. WASTING THE COURT'S TIME
In an effort to make certain that 9th Circuit Central District Magistrate Judge Charles Eick knows which litigant is the trouble-maker, the lawyers at Loeb & Loeb made sure to mention in this 60-page document that it is the defense that is wasting the court's time.  And to make sure the judge sees it, they mention that particular fact no less than FOUR times…pages 5, 22, 28, and 40.  (Isn't repeating the same thing four times also a waste of the court's time?)
Anyway, here's why, according to Loeb & Loeb, the defendants are wasting time.  First, the defendants are, in many instances, trying to compel delivery of documents which do not exist.  For other items, the plaintiffs have already agreed to provide what was requested.  Add to that the fact that the defense team at Winston & Strawn didn't actually meet first with their counterparts at Loeb & Loeb to discuss their issues before filing this motion.  Had they bothered to reach out, the defense team might have been able to straighten things out without having to bother the judge.
Apparently, we will learn in a 5-page supplemental brief still to be filed by the defense that the two sides actually did meet and conferred about the substance of the discovery requests at issue on multiple occasions.  But I can't comment further until after that brief is filed.
2. A RIDICULOUS AMOUNT OF DOCUMENTATION
As I mentioned in my list above, the defense is asking for a LOT of stuff!  The plaintiffs consider many items to have no rational basis in law when trying to prove a fair use case.  (However, if you read Part 1 of this blog, you'll see that an argument of a fair use defense isn't the only thing the defense attorneys are trying to prove.  They are also looking to mitigate the damages from a series of 57 counts of WILLFUL copyright infringement by arguing that, in fact, if was NON-willful, or innocent, infringement.  The difference in judgement awards, assuming Axanar loses, could be millions and millions of dollars!)
However, it is a good point to make that Star Trek dates back 50 years, and requesting, for example, ALL financial documents for EVERY Star Trek series and movie (including how much each actor, director, and producer was paid) is onerous…to say the least!  And is so much minutiae really necessary to support a defense?  The only legal basis the defense could possibly have is to show how profitable Star Trek has been over the years in helping to determine the actual extent of financial damages to the plaintiffs so that, if Axanar loses, the judgement against the defendant won't be unreasonable.  But does the defense really need 50 YEARS of financial records for such a determination?
3. AXANAR IS NOT A FAN FILM
Several times in the document, the plaintiffs argue the following:
Documents relating to fan films are irrelevant to this case given that Axanar is not a fan film. Further, even if Axanar were a fan film, which it is not, documents and information relating to other Star Trek fan films and Plaintiffs' decision as to whether to pursue legal action against those fan films is irrelevant, contrary to Defendants' argument.
Also, the plaintiffs hit hard on the following point:
Defendants also repeatedly pronounced that they were creating a "professional" and "independent" Star Trek film, starring actors (that were paid for their services) that have portrayed roles on Star Trek television series, and produced with professional crew members. Indeed, in spite of defense counsel's recent statements to the contrary, prior to the filing of this suit, Defendant Peters and his colleagues expressly stated that they were not creating a "fan film." This case is about a commercial enterprise designed to take money from Star Trek fans, which funds were used to pay Defendant Peters along with his friends and colleagues, to create, as Defendants' describe it, "an independent Star Trek film."
In other words, Axanar can't be considered a "fan film" because, among other reasons, it was a professional endeavor that paid participants and featured (paid) actors who had previously appeared in roles on various Star Trek television series.  So, by this argument, Axanar has to be treated in a class all its own, separate from other "fan films" and, by assumption, deserving of this lawsuit while the others (which are considered actual "fan films") weren't.
In one of the few potentially major missteps (at least in my opinion) that the plaintiffs made in their responses in this document, I noticed the following not-quite-fatal-but-still-pretty-bad flaw on page 31:
[Plaintiff] further objects to this Request on the grounds that the term "fan films" is vague and ambiguous.
Oops!  The plaintiffs have now gone on record as saying that we can't accurately define the term "fan films," after all!  So who's to say that a fan film can't be professional, pay participants, and include actors who have previously appeared in Star Trek television series?
In fact, I wouldn't be surprised if Winston & Strawn submitted into evidence this interview with Marc Zicree detailing how Star Trek: New Voyages paid actors and other professionals as early as 2006 or this 501(c)3 filing by Star Trek Continues showing how much they have been paying professionals to take part in their fan series over the past three years.  And of course, these aren't the only two fan productions to use Star Trek veteran actors in them.  Star Trek: Of Gods and Men did it in 2007 with nine Trek veterans and a professional crew and director.  Starship Farragut featured the voices of two Trek alums (Tim Russ and Chase Masterson) in one of their animated episodes in 2009.  And of course, Star Trek: Renegades, which had a red carpet premiere at a major Los Angeles theater back in 2015 (months before the lawsuit was filed) was an entirely professional production costing $350,000 in crowd-sourced donations and featuring multiple veteran Star Trek and sci-fi genre actors.  And let's not forget that both Star Trek: New Voyages in New York State and Star Trek Continues in Georgia (as well as Starbase Studios in Oklahoma) have permanent studios built containing standing Star Trek sets that have been used and/or rented out for use by multiple fan projects.
So who is to say that those productions and others like them are or aren't "fan films"–or that Axanar is in a class of its own–if 1) the term "fan films" is itself vague and ambiguous, and 2) many other productions did the same things that Axanar did (including providing perks in exchange for donations) long before Axanar ever existed?  And at least a few of those other fan productions publicly claimed, on multiple occasions, to have been in contact with CBS Licensing (and before that, Viacom)…suggesting that the studios were, indeed, aware of these other fan productions before suing Axanar.
Anyway, the studios are trying to argue that Axanar is not a "fan film" and, therefore, any documentation dealing with other fan films is irrelevant to the case.  In fact, the word "irrelevant" appears 19 times in the document when the plaintiffs are discussing other fan productions!  But as I said in Part 1, other fan films could be very relevant if it turned out that the lack of legal action against any of them (indeed, the lack of any public commentary or guidance from the studios regarding fan films) led Alec Peters to assume that his production was no more likely to earn the studios' wrath than any of the other hundred or so fan films that had been produced and released over the last five decades.
And that determination by the court could make an $8 million difference in the amount of the judgement if Alec Peters loses.  The the reason is that it could establish that any copyright violation in Axanar–despite Alec saying publicly that he was aware that he was using CBS's intellectual property without permission (like so many others had done previously)–was NON-willful and, therefore, not deserving of the harsh $150,000 penalty per violation.
---
So, who will convince Magistrate Judge Eick?  It's hard to tell at this point, although both sides have very strong arguments.  And as I mentioned previously in Part 1, each side's attorney has until this Friday to submit a 5-page supplemental brief .  Then a final ruling from the judge should come shortly thereafter…since the discovery period ends on November 2.
But understand that this is a critically important ruling in the case.  Everything produced during discovery can be submitted into evidence during the actual trial.  Including or excluding items at this point could very well determine which side goes into the courtroom with how much ammunition to throw at the other side.
So stay tuned!  If Winston & Strawn and/or Loeb and Loeb file their 5-page supplements by this Friday, we'll have a pretty good idea by next week how strong each of their arguments stacks up.  And then it's all in the hands of da judge…