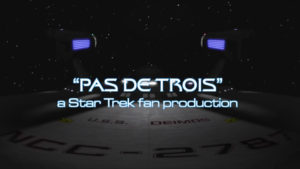 When STARSHIP DEIMOS last released a new episode, it was April…and the fan film guidelines were still two months away.  Now it is November, and like its sister productions from Potemkin Pictures, Starship Deimos is also now changing the title of the series with each new episode (since the new guidelines do not allow any continuing series).
And thus is Starship Deimos' newest episode also its first "stand-alone" fan film: "Pas de Trois."  And for those of you who (like me) don't speak French, the title translates to "Dance for Three."  It's a ballet term where one male dancer partners with two female dancers…or two males and one female.  (Keep this clean, people!)
This episode introduces what appears to be the overarching story arc of the series: The USS Deimos is assigned to a region of space where the Federation and two other interstellar powers all have interests.  It calls for a delicate mix of diplomacy and cowboy improvisation.
Deimos films in Pelham, Alabama, where Potemkin Pictures show-runner RANDY LANDERS moved with his wife last year.  Another Potemkin Pictures series called Battlecruiser Kupok also films there.  Meanwhile, back in Georgia where Randy used to live, Starship Tristan is filming and releasing new episodes, also under the Potemkin Pictures banner.  You can view all their various series here.
And you can watch "Pas de Trois" below…