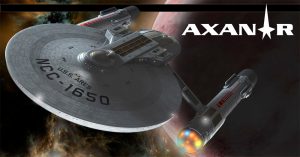 Tomorrow (November 16) is the deadline to file motions for summary judgement in the AXANAR copyright infringement lawsuit.  And while the two sides are supposedly still in talks to settle (they reportedly had a conference call meeting yesterday), we'll know tomorrow whether or not a settlement is imminent.
How?  Well, by the end of the day tomorrow–if they aren't really close to a settlement or there already–we will most likely see two major filings from the legal teams: each a motion for summary judgment.  And what the heck is that, you ask…?
Okay, first and foremost, understand that courts and judges actually don't like lawsuits to actually go to trial.  Trials are messy, complicated things.  Trials take time and cost people money.  Trials require jurors to put their lives on hold for days, sometimes weeks or even months, in order to do their civic duty.
This is NOT to say that judges don't want any trials!  They are judges, after all, and judgin' trials is their job.  It's what they get paid for.  But trust me, at the Federal level, there's more than enough cases on the docket to keep a judge and jurors quite busy…with more and more lawsuits entering the queue on a daily basis.
But the more cases that can be cleared before reaching the trial phase, the faster the line of lawsuits will move forward.  That's why the two sides in the Axanar case were ordered by Judge Klausner to meet before tomorrow's summary judgement motion deadline and try to reach a settlement (which would also avoid a trial).
So the primary goal of summary judgement is to get the lawsuit to end before a trial starts, and here's how it works…
The whole idea of a trial is to resolve facts that are in dispute.  Did Johnny steal a cookie from Mary?  Mary says he did, Johnny says he didn't.  A trial determines (hopefully) which story is the correct one and whether or not Johnny needs to be punished and Mary given some kind of relief for her troubles.
In the case of Axanar,  the main fact to determine is: did Alec Peters infringe on the intellectual property of CBS and Paramount?  If so, he needs to pay restitution and not do it again.  If not, then he should be allowed to go ahead and make more fan films if he wants to.
If the answer to that question is really, really obvious, if the facts are so incontrovertible that any idiot would easily and inevitably come to the same conclusion, then the attorneys can ask the judge to just say so.  Why waste time with a trial if the jury is just ruling on the obvious?
So let's imagine that there's video of Johnny taking the cookie right out of Mary's hand and then running away.  Well, that seems pretty cut and dried, right?  Case closed.  The judge can simply rule that Johnny stole Mary's cookie and owes her some money to go buy a new cookie.  No need for a jury.
But now let's imagine that Johnny's lawyer says that this video shows the two of them talking before Johnny takes the cookie, and even though you can't make out what they're saying, Johnny claims that Mary is telling him that she doesn't like oatmeal raisin and is asking if he wants the cookie.  What's more, there was a witness in the deposition who confirmed that Mary doesn't like oatmeal cookies and another witness who thinks she might have actually had an oatmeal raisin cookie in her lunch box that day…although maybe it was chocolate chip.
Not so cut and dried anymore, is it?
And that's why motions for summary judgment that simply resolve an entire case are seldom granted.  The whole reason the lawsuit got as far as the doorstep of going to trial is probably because the facts are, indeed, in dispute.  But, hey, it can't hurt to try, right?  After all, what's the worst that could happen?  The judge doesn't grant your motion and the case goes to trial…which it was gonna do anyway.  And the best case scenario?  You win!  Trial's over!  Collect your marbles and take a victory lap…and celebrate all the money you no longer have to spend in legal fees!
So, can either side file a motion for summary judgement?  Yes.  In fact, in the Axanar case, both the plaintiffs and the defense teams have previously indicated that they intend to seek summary judgment (assuming the case doesn't settle before the deadline).
While I don't know what precisely will be in these motions (no one tells me anything!), I think it's a pretty safe guess that it might look something like the following:
THE STUDIOS WILL LIKELY ARGUE THAT…
Alec Peters knowingly infringed on the copyrighted intellectual property (Star Trek) of CBS and Paramount, committing multiple violations, each deserving of a statutory judgment award (monetary penalty).
Of course, the plaintiffs can't just say this and walk away, waiting for the judge to agree with them.  The law needs to support their claim, and evidence gathered during discovery needs to back it up.  Perhaps Alec Peters or Robert Meyer Burnett or Christian Gossett or one of the studio executives said something in their deposition that's a "smoking gun."  Or maybe there's an e-mail or other document–or the lack of one–which really brings the point home that Alec Peters knowingly (willfully) infringed on the studios' copyright.
Of course, the defense team gets to rebut the plaintiff's motion, and I'm sure it'll include lots of stuff about all of the many, many fan films that similarly used Star Trek intellectual property and weren't challenged by the studios.  This goes toward Alec Peters' state of mind when he made Prelude to Axanar.  Did he have a reasonable expectation that the studios were okay with Star Trek fan films?  (After all, over a hundred were made and released before Axanar, and no one was ever sued or even told to stop.)
If it can be shown that any reasonable person would have believed fan films were okay with the studio, then Alec Peters' infringement–if infringement it was–should be considered non-willful (innocent) and carry a much lower monetary penalty.  The defense team will likely  argue that the judge, therefore, should NOT issue a summary judgement that Alec Peters knowingly and willfully infringed…since such infringement may be determined by a jury to have been non-willful.  And thus does this fact remain in dispute.
Of course, the plaintiffs will get one, final chance to reply to the defense rebuttal…and I'm certain they will!  The rebuttal and the response to it happen over a two-week period.  Then, a week later, both sides go before Judge Klausner to orally argue their motions, and then the judge rules a short time later.
THE DEFENSE WILL LIKELY ARGUE THAT…
Prelude to Axanar was "fair use."  Although Star Trek is, by its creative nature, certainly worthy of copyright protection (one of the four elements of fair use, and you can read about them all in more detail on the U.S. Copyright Office's webpage), there are three other elements of fair use to consider.
First, is it transformative?  Prelude to Axanar was done in a documentary/mockumentary format…something that Star Trek has never done before.  Did Alec Peters TRANSFORM Star Trek into something new and original?  Also, is Prelude to Axanar a commercial endeavor?  Some might say that Ares Studios was built to be "for profit," but the actual film Prelude to Axanar cost more to make than was raised and was being shown for free.  So it would be difficult to qualify it as "commercial."  Granted (and I am sure the plaintiffs will rebut this point in a similar way), Prelude to Axanar was used to generate additional donation revenue.  So in that way, it was commercial.  However, in a likely rebuttal to that rebuttal, I would imagine the defense arguing that it was highly likely that the Axanar movie would also have finished with no profit.  And if plans were in the works to make Ares Studios non-profit, then it's arguable that Axanar was never commercial in nature.
Second, how much of the original copyrighted work was actually used?  In the case of Prelude to Axanar, we have Garth of Izar and Soval, Captain Robbau; the races of Klingons, Vulcans, Andorians were mentioned, too; some uniforms, medals, and the Starship Enterprise plus the Klingon D-7 battlecruiser.  That might sound like a lot, but Star Trek is a vast galaxy (universe even…multiple universes, in fact!) of intellectual property content.  Kirk and crew, Picard and crew, Sisko and crew, Janeway and crew, Archer and crew…nowhere to be found in Prelude to Axanar.  No Romulans, Ferengi, Cardassians, Borg, Trill, Bajorans, Betazoids, Kazon, or any other of countless alien species.  The starship Enterprise was glimpsed for mere seconds in the 20 minutes of Prelude…the D-7 for even less time.  So really, did Alec Peter use a small enough amount of copyrighted content to qualify for fair use?  Or did Axanar take the "heart" of Star Trek and use it as its own?  The studios will likely argue the latter point.
And finally–and this is the most important element of the fair use defense–how much financial damage did Axanar actually do to the studios' multi-billion dollar franchise?  I'm actually most curious to see what came out during discovery dealing with this very question.  Were the studios, in fact, able to measure the financial effect of Axanar on their revenue?  Personally, I can't see how, but if this is brought up in the defense motion, we'll all get to peek behind the curtain of confidentiality that kept the details of discovery secret.  In other words, the cat will finally be out of the bag!
PARTIAL JUDGMENTS
So here's what is potentially going to be the most interesting (and possibly surprising!) part of the summary judgment phase.  Y'see, the attorneys don't need to limit themselves to simply asking for the judge to end the entire trial now in their favor.  To be honest, judges are seldom so accommodating, although they are more likely to throw out a plaintiff's complaint (in this case, CBS and Paramount) as being unwinnable than to grant a plaintiff's motion and simply bring down a losing verdict on the defendant without giving him/her/them a chance to at least make an argument in front of the jury.  To win a summary judgement, the side that files has a higher burden of proof to show that the facts are obvious and not in dispute at all.  The opposing side need only make things look a teensy bit uncertain.  Even a small speck of dust on the otherwise cleanest window of evidence can stop a summary judgment ruling in its tracks.
However, each party is also allowed to ask for partial rulings.  For instance (and I kinda expect to see a little of this if motions are filed tomorrow), there are 57 alleged copyright violations against Alec Peters.  Why not eliminate some of them now?  The judge can do that in the summary judgment phase.  For example, clothing is not copyrightable.  You can't copyright gold turtlenecks over dark-gray pants with boots.  So the alleged violation dealing with the Starfleet uniforms could well disappear before trial.  Triangular medals–you can't copyright a shape.  The Klingon language?  There's a whole amicus brief on that one!
So even if the defense doesn't get the judge to throw the whole case out, those 57 alleged violations could be trimmed down to 50 or 40 or 30 or even less before the trial ever begins!  That could reduce the amount of the potential verdict (if Alec loses) significantly.
Now, there's one last thing I should mention: appeals.  If the judge throws the case out or eliminates one or more of the claims, it is possible for the losing side to appeal the decision to a higher court (and there is a Ninth Circuit Appeals Court…after that, it's the Supreme Court, and I doubt they'd ever hear a case about a Star Trek fan film!).  That said, summary judgments are seldom overturned.  So if CBS and Paramount find their complaint tossed, it likely isn't coming back.  Likewise, if Alec Peters receives a harsh summary judgment and stiff verdict, he'll have an uphill battle on appeal, as well.  But for reasons I don't have time to get into ('cause this article is already really long!), the possibility of the latter situation is much less likely than the former…although both are pretty unlikely.
---
That said, I do need to mention one last time that most of my conjectures about what might be in the motions are simply that: conjecture.  I've got no inside information on any of this other than one document I produced at the beginning of the year at the request of Alec Peter's legal team.  Since it was part of discovery, I haven't been allowed to mention it.  But I really hope it makes it into a motion tomorrow (assuming there is one) because I worked REALLY hard on it, and it's kinda linked to the secret origin of FAN FILM FACTOR itself…and I'd so like to finally talk about it!
And of course, there might be no motions at all on Wednesday…in which case I've just written twenty-two hundred words for nothing!!!