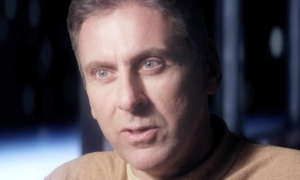 Readers of the FAN FILM FACTOR comments sections know that I've spent months begging ALEC PETERS, executive producer for AXANAR, to discuss his production's financials with me on an interview. A few weeks ago, he finally agreed! This is NOT that interview.
That interview is still coming. Before I conduct it, I want to invite interested people to submit questions to me that I can then present to Alec. (Yes, that means detractors, too. Just be aware that questions that are rude and belligerent won't make it past the airlock. You have a question you want Alec Peters to answer? Fine. Just be polite when you ask it. It IS possible, folks.) I'll be inviting people to submit questions to me next week after Alec releases his financial summary to donors–and therefore, to the public–and folks have had a chance to review it. No sense in asking questions when you haven't seen the document yet (so stop typing, people!).
In preparation for what's coming next week, I sent Alec a few questions via e-mail a few days ago, asking him to provide some information about the upcoming financial summary, how it is organized, and a little about the committee that was assembled to review it. Those answers just came back from Alec, so I'm copy-pasting them here to share with all of you (along with some brief IMing I just did to clarify a few points)…
JONATHAN: Thanks for agreeing to do this, Alec. (I've sure been asking you enough times!) So what exactly is this "Independent Financial Review Committee" you speak of?
ALEC: I suggested the idea of an "audit committee' to Mike Bawden [Axanar's Public Relations Director – Jonathan] many months ago. He liked the idea, as we are trying to be as transparent as possible as to our finances. An audit committee's job is to review the finances of a company and give the board of directors feedback. And my hope was that by creating such a committee, we could give the donors the comfort to know that professionals have reviewed what we were doing and that Axanar was using the donor money correctly.
JONATHAN: And why didn't you just have a professional audit done?
ALEC: Because a professional audit would cost tens of thousands of dollars. That is not a good use of donor money, and I am not going to spend my own money on that. We had an accountant review all our financials, just as many would hire Virtual Finance Director services for this purpose, and he is amazed what good shape our books are in. And we have a CPA filing our taxes. That alone has cost me several thousand dollars, which I paid for myself. We have done far more than any other fan film in this regard and are much more transparent than any other production. Anyone asking for an audit doesn't understand what that means or costs.
JONATHAN: So how did you choose who would be on this committee?
ALEC: Well, we had a lot of names both that we knew, and even people that were recommended to us who we didn't know. We wanted to get people who would do it for free, of course. We simply don't have any money to pay for professionals beyond those who actually do our accounting and taxes. We also wanted people who care about Axanar and understand that giving this information to donors is a valuable service to the community.
Integrity was important, because I don't want anyone being able to claim that we got people who would just do my bidding. We needed people who would put their name on a document that says "We did our work, and we feel good about the financials." There are always critics, and they will not be happy no matter what. I could bring in Price Waterhouse, pay $ 250,000 for an audit, and they would find fault. But our goal is simply to do what is right, to do more than any other fan film has ever done, and to make it all public.
JONATHAN: Can you tell us who is on this review committee?
ALEC: Well, first and foremost is Kevin Rubio, the writer/director of the legendary Star Wars fan film "Troops". He is leading the committee. "Troops" was so good that Lucasfilm put it on their Star Wars Blu Rays! Seems they realized how awesome a fan film could be for their franchise. Kevin is a partner in a VFX firm in Hollywood and understands production, having done work for many of the major studios. His insights will help donors know that the report is built on sold ground.
I chose Cedric Yau, one of our Associate Producer level donors, because he has heavy real-world financial experience. Cedric has been a producer on Broadway and works as a financial analyst supporting major hedge funds in New York. He understands finances on both a macro and micro level.
Milton Santiago, our amazing Director of Photography, was to be the third on the committee, but Milton has backed out for a couple of reasons. First, he really doesn't feel qualified to judge the financials as that is outside his wheelhouse. Milton is one of the classiest and most practical guys I know, and the fact that he wants the donors to feel like the committee is qualified to do the work, even when no one would question his expertise, is a credit to him. He also was being harassed by blogger Carlos Pedraza, and he doesn't want to subject himself or his family to that.
[Not wanting to be harassed by Axanar detractors??? I can't even imagine! -Jonathan]
We have a new member, another long term Axanar team member, who has agreed to take Milton's place. Someone who is brilliant and a film maker in his own right, understands production budgets and has an intimate knowledge of Axanar.
JONATHAN: And this person has a name, I suppose?
ALEC: I am not going to release his name, as the aforementioned Carlos Pedraza has been harassing the members of the committee to get information, and we don't want any other committee member to be subject to this treatment.
JONATHAN: You keep using the word "harassing"–it's a pretty strong word.
ALEC: He's called all three personally multiple times. I don't even know where he got their phone numbers from. But they all started e-mailing me asking why this Pedraza guy was calling and hounding them for information.
JONATHAN: I'm sure he's just trying to be an "investigative journalist…"
ALEC: This isn't a Congressional investigation! It's the financials for a damn fan film! Carlos will see them next week like everyone else. There's no reason he or anyone else needs to see them sooner.
JONATHAN: Well, I saw them sooner.
ALEC: And you didn't report on them because I asked you not to. That's why I trust you. But seriously, when they're ready, we'll release them.
JONATHAN: Which brings us to my next question: where is the committee now in the process?
ALEC: They are reviewing all the detailed financials. The process is they have access to everything. They have everything from the detailed line-by-line financials (every dollar in and out) to the Balance Sheet and P&L. [Profit and Loss -Jonathan] If there is anything they don't understand, or anything they want to see back-up for, they let me know. Being that I have spent so much time the last 6 months making sure every transaction is properly recorded (you need to tag every transaction multiple ways), I know that I have the answer for anything they ask.
JONATHAN: And what about the financials themselves? Are they now finally finished?
ALEC: Well, we finished 2016, and I am getting that to the committee today. Remember, the donor financials are a subset of the overall financials. The overall financials represent every dollar spent on Axanar Productions, which includes the more than $150,000 I have put into this production. Those are the financials that go to the CPA for taxes. The committee reviews the donor financials, which are every dollar donated, and where each dollar was spent. The donor financials don't include any expenses or salary paid to me. Every one of those expenses was funded by me personally. So when the haters scream "Sushi! Auto! Insurance!" well yes, Axanar Productions has paid those expenses, with money donated by me. They are legitimate business expenses not paid for with donor funds.
JONATHAN: So what is the next step, and when will it happen?
ALEC: When the committee finishes its review and puts together a report, we will release it along with the high level financials and a balance sheet and a P&L to all donors. We hope to do that in the next week to ten days.
JONATHAN: I'll be FIFTY by then! My birthday is on Tuesday.
ALEC: Happy birthday. The financials, and the blog you get to write about them, will be your present.
JONATHAN: My present will be you finally doing the full interview about all this, dude! Clear your schedule, 'cause I'm sure folks are gonna have a LOT of questions to throw at ya.
ALEC: I'll be ready and willing to answer.