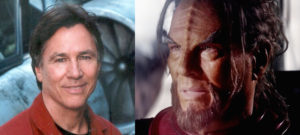 Some deaths really hit you hard.  This one did for me.  I'd been working on site at a client this afternoon when the news came down that actor Richard Hatch had passed away at the age of 71 from pancreatic cancer.  I didn't find out until hours later when I sent a response to a friend's IM.  Instead of continuing our debate, he wrote me back: "Richard Hatch passed away. Not long ago. He's an old friend."
At first I didn't believe it.  "THE Richard Hatch???" I typed back.  Then I looked through my e-mails and almost immediately found this from Alec Peters:
It is with great sadness that I report to all Axanar fans that Richard Hatch has passed away. 3 weeks ago I found out he had stage 4 Pancreatic Cancer. We knew he had little time left, but this is quite more sudden than we thought.
Richard was in good spirits when I visited him 2 weeks ago. He knew his time was short, but was comforted by the fact that his son would be taken care of.
Richard was a dear friend and a staunch supporter of Axanar. Kharn was literally one of his favorite roles from his 50+ year acting career. We will all miss him a great deal.
I felt like I'd been punched in the gut.  Just weeks after the Axanar legal settlement allowed Richard Hatch to appear in a 30-minute version of the main fan film, I was so looking forward to seeing him reprise his role as the Klingon Commander Kharn, truly some of his best work in a career that also featured two other beloved sci-fi characters: Captain Apollo and, later, Tom Zarek from both the original and the rebooted Battlestar Galactica.
Richard also did a number of independent sci-fi and fan film roles recently.  He appeared in an episode of Star Trek: New Voyages that was never completed, "Torment of Destiny" (perhaps now it might finally be edited and completed; we'll have to see).  He was also slated to appear as a major character in the independent sci-fi web series Blade of Honor as Admiral DiCarrek.
Of course, for most readers of Fan Film Factor and millions of YouTube viewers, Richard was known most recently for his captivating performance as the introspective, intense, and haunted Klingon Commander Kharn from Prelude to Axanar.
I realize it's both cliche and a little egotistical to say, "I knew the deceased"–especially when it's a celebrity who has passed away.  And to be certain, there are many, MANY people who knew Richard Hatch far better than I did.  But even though I only met Richard a few times at conventions where Axanar had a table, interviewed him via e-mail for the STARFLEET fan club newsletter, and had dinner with him just one time, he did leave an indelible impression on me.  And that is what I'd like to share with you, if you don't mind.
It was after that dinner in late 2014–which consisted of three volunteers (myself, Derek Allen, and Martin Horowitz) plus Alec Peters, Diana Kingsbury, and Richard himself–that I realized how much Richard Hatch truly didn't look his age.  Derek, Martin, and I were trying to figure out how old Richard was, as he didn't look older than his mid- or, at most, late-50s.  He was nearly 70 at the time.
Richard was just so full of life…like a puppy who just wanted to explore everything the world had to offer.  Before dinner, while still at the the convention for eight straight hours, he was talking to everyone who walked by his table, never for a moment looking bored or exhausted or uninterested in the person talking to him.
During dinner, Richard spoke excitedly and knowledgeably about a flurry of topics…eventually landing on Klingons and how Kharn might be influenced by other Klingons who had appeared in Star Trek.  This led to an energetic and passionate discussion among all of us geeks on the best Klingons to research…and why they were important.  Alec had always seen Kharn as cut from the same cloth as Kang from "Dave of the Dove."  I thought it would be good for Richard to look more closely at Martok from Deep Space Nine.  Everybody had an opinion!
And rather than just zoning out at this cacophony of Klingon comparison and contrast, Richard was right there in the thick of it all.  He challenged us to connect what this or that Klingon did that could tie into how Kharn might think or act.  Richard brought into this discussion the philosophies of The Art of War, World War II history, elements of Eastern spirituality, and a collection of other facts and experiences from his life..
For me, this was a total geek-gasm, chatting about Star Trek for over 90 minutes with the star of Battlestar Galactica and giving him potentially valuable insights into how he might play his newest Klingon character more effectively.  And Richard really wanted to know!  This wasn't just some lip service for a bunch of Trekkies he was trapped with in a P.F. Chang's in Long Beach.  Richard questioned, drilled down, challenged us a few times, and in the end even asked if we could send him a list of the most informative Star Trek episodes to watch and examine.  I went home and composed an e-mail list of a couple of dozen episodes to check out and why they were important.  (I think I still have that e-mail somewhere…)
So no, I wasn't close to Richard Hatch, and I doubt he could have picked me out of a police line-up.  But that didn't matter.  Richard inspired me…with his thirst for knowledge, his positive attitude, his energy, and his lust for life and experiences…even at the age of almost 70.  Twenty years from now, I can only hope to come close to that kind of optimism and spiritual awareness.Farewell, Richard.  Thank you for touching our lives with your wonderful characters, your graciousness, and your limitless energy and optimism.  You will be truly missed…