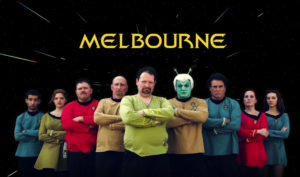 Lately, there's been a lot of stuff coming out of STARBASE STUDIOS (all of it made before the recent move from Oklahoma City, OK to Harrison, Arkansas).  This recent explosion of fan films has included: "Chain of Command", Star Trek: The Federation Files– "His Name is Mudd", Starship Valiant – "Crosses to Bear", Starship Republic – "Serpent of Yesterday", and a pair of super-short vignettes "Pen Pals" and "Pen Pals 2".
The last two short fan films were also teasers for the latest production made at STARBASE STUDIOS…a new fan film (possibly series) called MELBORNE.  And no, the word "Starship" is not in the title—unlike many other projects.
Melbourne is the brainchild of VANCE MAJOR, a filmmaker from Kansas who also plays Chief Engineer Minard on Starship Valiant.  From its debut episode, it looks as though Melbourne is set somewhere between the end of Kirk's five-year mission and the beginning of Star Trek: The Motion Picture…featuring starship and uniform elements from both (apparently in a very purposeful way).
I'll be featuring a full interview with Vance in a few weeks.  But for now, please enjoy Part 1 of Melbourne's first full episode debut, "Storm Front"…