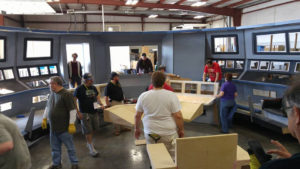 The Ares has landed.
On Saturday, nearly THIRTY(!!!) volunteers showed up at the new location for AXANAR PRODUCTIONS in Lawrenceville, GA to help unload three super-sized moving trucks carrying the amazing sets that were originally constructed to be used in the full-length Axanar fan film.  And even though that full-length film has been reduced in scope to two 15-minute episodes (agreed to in the legal settlement) and will now be produced in mocumentary style like Prelude to Axanar, those sets are still VERY nice and VERY usable by other fan films and sci-fi productions.  And so they've now been moved to a much less expensive location from their previous home at Industry Studios in Valencia, CA.
ALEC PETERS posted two live video segments to Facebook on Saturday, which I've compiled at the end of this blog entry for anyone who is curious to see what the move-in looked like.    He also provided some interesting tidbits of information.  And if you don't feel like watching a 9-minute video, here's a short summary of what he covered…
In order that the announcements were made…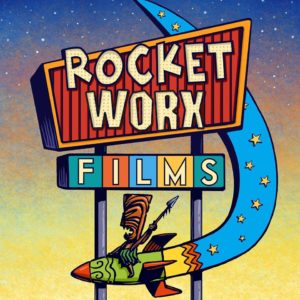 ROCKETWORX – In addition to Axanar Productions, Alec has just started up Rocketworx Films.  Feel free to give them a "like" on Facebook if you're so inclined.  Alec will be posting more live update videos of the move-in from there today.   This is a second production company (an addition to Axanar Productions, not a replacement) intended to handle all of the non-Star Trek and non-Axanar related stuff.
(Just a quick commentary from Jonathan, if I may.  Some of the detractors have again cried "Foul!" upon hearing that there is now a second production company that's going to be using the Axanar sets to generate revenue.  But the fact is that nothing has changed.  Had the sets remained in California, they would also have been used to generate revenue by being rented to other productions at a variety of rates…revenue that would be used to pay expenses like rent and utilities.  Please, folks, don't clutter up the comments section with the latest conspiracy theory-du-jour.  And yes, Carlos, Alec bought  license for his new logo.)
DOZENS OF VOLUNTEERS AND FREE PIZZA!!! – As I said above, nearly 30 people showed up to help unload the trucks…and a task that took weeks to finish in Valencia, CA was completed in just a day in Lawrenceville, GA (because, out here in California, Alec was lucky to get four volunteers a day—and the day I volunteered, there were only two people helping to pack and move stuff).  In addition to those 30 volunteers, another dozen or so called to apologize for not being able to make it.  But one of those people still wanted to help from afar, so they donated dozens of pizzas to feed the volunteers!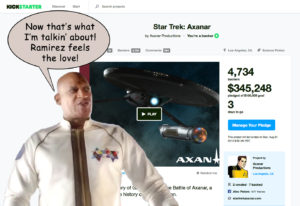 Remember back during the first Axanar Kickstarters when I'd make Ramirez memes saying he feels the love?  With all the detractors… um… detracting, it's been a while since we've seen just how much love is still out there for Axanar.  This weekend's turnout in Georgia is a wonderful reminder that #AxanarLives.
DEAN NEWBERRY IS IN DA HOUSE – The man behind the construction of the amazing Axanar bridge sets, Dean Newberry, was on hand in Valencia to oversee the disassembly of the set pieces and their loading onto the trucks.  Alec then paid to have Dean flown to Atlanta to oversee the unloading and reassembly of the sets inside the new studio.  And as you'll see from the video below, with the help of TWO forklifts and dozens of volunteers, it was all put back together again in JUST ONE DAY!
THERE IS A BIG ANNOUNCEMENT COMING ON MONDAY (hopefully) – Earlier in the week, Alec had posted that a BIG announcement was coming on Friday.  As such, I posted my interview with Manu Intiraymi about THE CIRCUIT on Thursday to make sure nothing competed with Alec's new news.  But apparently, we're all gonna have to wait until Monday for whatever this is.  And as soon as I know more, I'll post it here.
THE SETS PROBABLY WON'T BE USED FOR AXANAR – As I mentioned above, and as Alec has discussed elsewhere, the reduction in scope of the Axanar fan film has made the use of the sets for that production unlikely.  Yes, Alec would still like to use the bridge to film some flashback scenes, but that's really going to depend on what the script ends up looking like (more on that in a moment).  But plans now call for the two 15-minute part fan film to be done in the mockumentary style of Prelude, with actors filmed mainly in front of green screens (most likely at Industry Studios in Valencia).  However, the sets in Lawrenceville can and will be used for other fan and independent sci-fi projects.
ONCE THE MOVE IS DONE, THE AXANAR SCRIPT MOVES TO THE FRONT BURNER – The lawsuit settled in mid-January…so where's the script???  After all, it's been over three months now!  Well, it's hard to write a script when you're trying to figure out how to save hundreds of thousands of dollars worth of sets from ending up in the dumpster.  But with the move nearly completed, Alec said he intends to sit down with Bill Hunt and Robert Meyer Burnett and start to hammer out what this two-part fan film will finally be.  It's not like they can take the 90-minute feature script that exists and simply toss away 60 pages.  The new script has to be written from scratch.  Then it needs to be budgeted, funds need to be raised privately (not through a crowd-funder), make-up and costuming figured out, visual FX story-boarded and generated, music composed and recorded, the footage edited, sound added, levels adjusted, etc.  In other words, anyone expecting to see a completed Axanar fan film in the next few months doesn't understand the process.  But yes, that script is now going to be the focus for Alec, and thus begins the mission…again!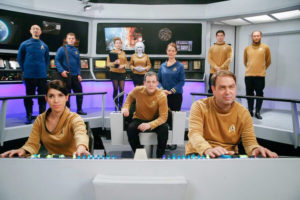 STAR TREK: FIRST FRONTIER IS THINKING OF STORING ITS SETS IN THE LAWRENCEVILLE STUDIO, TOO – A few weeks ago, I did an interview with KENNY SMITH, a mega-fan producing a Captain Robert April film about the very first mission of the USS Enterprise NCC-1701.  Called STAR TREK: FIRST FRONTIER and due for release later this year, the short teaser sent fan film Trekkers into a euphoric state of excitement and anticipation.  Kenny had constructed a number of pre-Kirk era TOS sets, including an awesome bridge, transporter room, two hallways, a conference room, an airlock, the admiral's office, the captain's quarters and sickbay…as well as alien starship interior.  Those sets were all located in Georgia.  Now, apparently, they might be moved into the new studio…making Lawrenceville the new STARBASE STUDIOS for pre-TOS era fan films!
Starbase Studios, now located in Arkansas (previously in Oklahoma City) has a 360-degree bridge set, sickbay, transporter room, and some corridors, and they're planning to build more.  They offer their facility at a very low cost to any fan film looking to make a TOS-era fan film…and many have done just that.  Now, only a few states away, fan producers will have even more options.
The fan film adventure is just beginning, my friends!
---
And here's that video I promised…