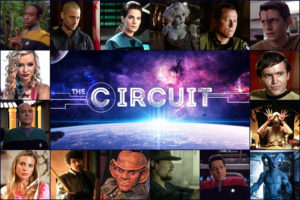 With just ONE WEEK left in their debut Kickstarter campaign, THE CIRCUIT is about to cross the $80,000 milestone on their way to their next stretch goal: $100,000!
I recently spoke to show-runner MANU INTIRAYMI (Icheb from Star Trek: Voyager) about this intriguing and exciting project, a hybrid of a fan film with professionals (or is that a professional indie film with fans?).  You can listen to that fun interview here.
Having originally set a goal of $50,000 and achieved that in just one week(!), the next stretch goal was $75,000, which will allow the team to be able to afford incredible CG VFX showing fans more of the city of "Urbiessa" in all its glory.  Now the next stretch goal of $100,000 will fund the following (according to their Kickstarter page):
We NEED amazing PRACTICAL VFX to make a film quality series! The best film quality entertainment is a blend of practical effects and CG. Only the best directors of the day know this, and practical FX can be just as expensive if not more expensive then brilliant computer generated VFX sequences. Ask Thomas E. Surprenant—he only worked on X-Men, The Grinch, Donnie Darko, Halloween, Star Trek: DS9, plus he was kind enough to kick butt for us on 5th Passenger and now he's down for "The Circuit: Urbiessa." He makes humans aliens, builds creatures, and does the incredible when it comes to things on camera that are actually ON CAMERA. We need him.
When we REACH our next stretch goal everyone that pledged $25 or more will receive a Limited Edition Mini-Poster! If you pledged $35 dollars or more it will be signed by the cast!!!!! 
So tell you're friends to pledge, up your pledges, and let's start reaching for more episodes!!!!!
In the meantime, every time the campaign crosses a $10,000 milestone (starting with their goal of $50,000), they release a video of someone from the cast doing a HAPPY DANCE!  So far, they've had dances by WALTER "Chekov" KOENIG, TIM "Tuvok" RUSS, CODY SAINTGNUE from MTV's Teen Wolf, and MINDY ROBINSON from King of the Nerds (her video is DEFINITELY worth a look!).  And with $80,000 just a few hundred dollars away…we'll learn the identity of the next happy dancer VERY soon!
To watch all the happy dance videos and/or to donate and help THE CIRCUIT reach $100,000…CLICK HERE!