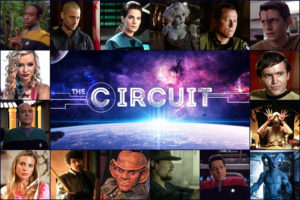 The new sci-fi professional/fan film hybrid series THE CIRCUIT started off their Kickstarter with a goal of $50,000.  And with just 5 days left, they're at nearly $84,000…and that's great.
But now they're trying to reach a stretch goal of (are you sitting down???) $200,000!  Impossible, you say?  Preposterous?  Never happen?  Perhaps.  But $200,000 will allow them to fund an entire season—ten full episodes—and so they're gonna to make a run at it!
And here's how…
It all happens this coming Saturday, May 20, for twenty-four hours starting at midnight Pacific Time.  The CHALLENGE is for 100,000 fans to each donate at least $1.  A buck is almost nothing these days (especially at Starbucks!).  I've already donated $80 to this campaign, so I'm going to up it to $81.  (See?  Only 99,999 fans to go!)  Their message is being sent out far and wide, and YOU can help send it!
Also on Saturday, beginning at 10am Pacific Time, members of the cast of The Circuit will be streaming a LIVE CHALLENGE SHOW via their Facebook page for 14 straight hours until the challenge ends at midnight!  Confirmed guests on the LIVE CHALLENGE SHOW include:
Tim Russ
Walter Koenig
Armin Shimerman
Robert Picardo
Olivia d'Abo
Cody Saintgnue
Manu Intiraymi
…and more will likely show up, as show-runner Manu Intiraymi (Icheb from Star Trek: Voyager) is trying to coordinate everyone's schedules (there's 20 actors in the cast!).  There will also be new videos and new trailers as the cast tracks the pledges on their tote board.
Fans will be helping out, as well.  In fact, it was a fan who suggested the 24-hour challenge and another fan who suggested the live show!  And now folks like me (and you!) can help spread the word.  Here's what people need to know:
WHEN: All day Saturday May 20, 2017 – midnight PDT to the following midnight
WHERE: The LIVE SHOW is at https://www.facebook.com/thecircuitmovie/
WHAT TO DO: Donate $1 here and ask other people to do it, too!
Tweet!  Post!  E-mail!  Shout!  Send smoke signals!  If this works, it'll make fan film history!
---
To learn more about THE CIRCUIT, listen to this audio interview with MANU INTIRAYMI: