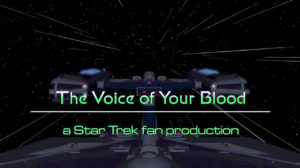 Chalk up yet another fan film release for the folks at POTEMKIN PICTURES!  This brings their total number of finished fan productions to (I think, because it's easy to lose count) FIFTY-FIVE!  Their latest offering is from the Tristan Production Crew—which is based in Georgia (the other teams are in Alabama)—and provides fans another look at the adventures of the crew of the USS Tristan in the movie-era TOS time frame.
The 14-and-a-half-minute "The Voice of Your Blood" is the ninth completed fan film from the Tristan team.  It brings back WILLIAM C. SEARCY's fan-favorite character of half-Vulcan Chief Medical Officer Skep Anderson.  (William also wrote this episode.)  Fans of the various Potemkin Pictures series will also enjoy an unexpected cameo by a cast member from one of their other productions.
You can watch all of the Tristan Production Crew's episodes (along with the other four dozen or so Potemkin Picture releases) here on their website.
And here is "The Voice of Your Blood"…