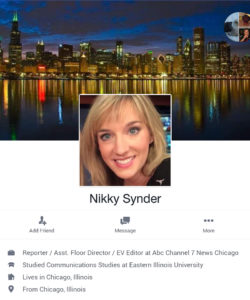 Who is NIKKY SYNDER and why was she so antagonistic toward ALEC PETERS and AXANAR?  The world may never know because, it seems, Nikky Synder never actually existed!
You can see Nikky Synder's Facebook profile on the left, and she looks normal enough—a reporter, assistant floor director, and EV editor at ABC Channel 7 News in Chicago.  Young, attractive, and apparently a big fan of Star Trek and fan films…and a prolific detractor of Axanar and Alec Peters.  Over the past six months, Nikky was very active on the SMALL ACCESS Facebook group, quick to jump into any conversation dealing with Axanar or Alec until such threads were stopped or shut down.
But yesterday, it was discovered that Nikky Synder was, in fact, an impostor—a "dualler" as they are called—a fake Facebook account using the photo(s) of someone else.  A careless mistake made by the impostor was noticed, and within a few hours, the person whose image had been illegally stolen was tracked down and contacted.  Minutes later, she reported the fraudulent account to Facebook, and it was deactivated soon after.
For anyone who thinks this was a "minor prank" and barely worthy of a blog, feel free to stop reading.  For me, however, it's perverted and disgusting because it wasn't just one photo of this woman being used but rather dozens and dozens!  In fact, the fake account has existed for over a year and has been updated almost weekly by the impostor with photos of this woman and her friends taken from her Twitter feed!  The impostor even amassed a fair amount of Facebook friends for this fake account using this woman's image to attract strangers.  And then, perhaps worst of all, the impostor spewed out angry and vitriolic rants via Facebook posts about a Star Trek fan film and its producer…and who knows if this woman even ever watched Star Trek???
I've known people who have been victims of identity theft.  It's a horrendous feeling of being violated, made worse by the fact that you can almost never discover the identity of the perpetrator.  In this case, we have a suspicion, but even then, we aren't certain…and I want to state that up front in this blog.  We can't prove anything or even make a firm accusation.  Instead, all we have is an interesting series set of coincidences, which I'll share…along with how the impostor was finally "caught."
Nikky Synder's Facebook account first showed up as a member of the CBS/Paramount v Axanar Facebook group last summer.  She only posted about 40 total comments between June and October and then stopped completely…and never returned to either that group or the more recent Axamonitor Facebook group.
It's been suggested that this was a way to create a "presence" and "paper trail" for the fake account that would establish it as existing as far back as June 2016.  If needed later—and it was—the account would be ready to use and not look as though it had only just been created.
Jump ahead three and a half months.  Nikky Synder was silent throughout the most controversial period of the Axanar lawsuit when the judge ruled fair use as an invalid defense, then the talk of an appeal, and of course the final settlement of the case.
Instead, Nikky didn't show up again until February 7, 2017.  And this time, it was NOT in any of the detractor groups but rather on Small Access.  February 7 was also an interesting day because it was one day before the group expelled its first (and so far only) member.
ANTHONY SHUH had been belligerent and insulting to the members of Small Access for many months.  Usually, our moderators do a really good job of keeping things mostly pleasant and jovial in the group, but Anthony refused to play nice.  It got to the point where I felt it was time to ask the group if we should ban him (I didn't want to do it arbitrarily or unilaterally).  So I put up a poll for a week, and on the next-to-last day (February 7), it was already about 95% in favor of expulsion.  Things weren't looking good for Anthony.
And that's the day Nikki Synder joined.
The following day, Anthony Shuh was banned, and he didn't seem all that upset by the decision.
"I was 99.999999999999% sure Nikky was Shuh," Small Access moderator DAVE HEAGNEY, JR. told me yesterday.
COLIN KRAPP, another Small Access moderator, added, "I first suspected Nikky was a fraud when I checked the website for the Chicago ABC affiliate and there was no such person listed as being part of the staff.  I found it odd that she posted like a hater and behaved unlike someone who was supposedly a TV personality."
Of course, all of this was purely circumstantial evidence.  Even the fact that Nikky lives in Chicago, IL while Anthony lives in nearby Morton, IL (about ten miles from Peoria) wasn't enough to justify keeping this Nikky person from joining Small Access.  We aren't that paranoid of a group.  And although Nikky could get pretty snippy and snarky at times, she didn't merit the disciplinary action that Anthony Shuh had required.
Some of the moderators still suspected that Anthony might be masquerading as Nikky, but it wasn't a "thing" and didn't really get discussed…until yesterday.
Colin told me yesterday afternoon, "I hadn't looked at Nikky's profile in a while, but saw she'd posted at SA this morning.  Went to look at the profile and was…'Holy crap, are you kidding me?'"
This is what he saw…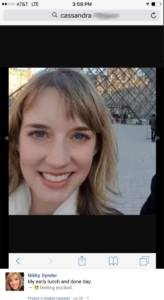 Notice on the top of the image is a search box and a name.  (I blurred out the last name to ensure this woman's privacy.)  That search box was part of the Facebook photo update on "Nikky's" account!  Could the impostor really have been THAT stupid as to leave the name of the real person on the photo they were using to update the fake account????
Apparently so!
Colin started to look up this Cassandra person with some help from others.  It turns out that yes, she had worked in the TV news industry, which explained some of the TV studio photos used on the fake account.  Again, I won't identify which news affiliate or where, but it wasn't Chicago.
The moderators and I discussed what to do and decided the best solution was to simply find a way to contact Cassandra and let her know what was happening.  It took a little while to track her down, but once we did, we let her know what was going on.
Shortly thereafter, this message was posted under the above Facebook photo update for "Nikky"…

Minutes later, the account was deactivated.  All of "Nikky Synder's" posts dating back to last June are now gone from Small Access and other Facebook groups.  It's not known whether the imposter closed down the account in a panic or if Facebook did the honors themselves.
Either way—and especially when it comes to the illegal impersonation of an unsuspecting woman on the Internet—it's nice to see the good guys (and gal!) win.