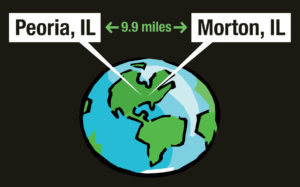 Coincidences are a funny thing.  Sometimes they're simply random occurrences of pure chance.  On the other hand, the more coincidences you pile on top of each other, the less likely the two events are totally unconnected.
That's the situation facing us in the disturbing case of the fictitious "NIKKY SYNDER," a fraudulent Facebook account created back in June of 2016 and used primarily for bashing ALEC PETERS and Axanar.  The fake account was updated regularly with photos lifted from the Twitter updates of a woman who was NOT Nikky Synder.  In fact, she was a young TV reporter who, at the time, worked for a local news affiliate in Peoria, IL.  The 14-month ruse ended this past Tuesday when this young woman was made aware of the fraudulent account using her face and photos and reported it to Facebook.
Before Tuesday, "NIKKY SYNDER" had posted regularly on the SMALL ACCESS Facebook group—having joined on February 7, 2017…a day before the group completed a week-long poll to determine whether ANTHONY SHUH should be expelled for belligerent and insulting behavior.  Some suspected that "Nikky" might have been an alias that Anthony Shuh used to stay in the Small Access group.
I made clear in my blog from Tuesday that I was NOT making that accusation:
It's a horrendous feeling of being violated, made worse by the fact that you can almost never discover the identity of the perpetrator. In this case, we have a suspicion, but even then, we aren't certain…and I want to state that up front in this blog. We can't prove anything or even make a firm accusation. Instead, all we have is an interesting series set of coincidences, which I'll share…along with how the impostor was finally "caught."
I shared a couple of those coincidences (but not all of them) in my previous blog post.  But then Anthony Shuh posted the following comment onto the Fan Film Factor Facebook page, and now I need to spend yet another blog post talking about something other than fan films (don't worry, things return to normal on Friday with a great audio interview with Vance Major!).
Here's what Anthony Shuh wrote that prompted this follow-up blog…
Jonathan – Jonathan, what am I going to do with you!
I'm in complete shock and disbelief, to think that you'd drag my good name, which is revered through the Star Trek community, through the mud and after all the informative Axanar bullshit we've covered in the last several years.
For you and those other two idiots HubCap and Krapp I hope your satisfied accusing a nice and reputable guy like myself of such a deceivious act! I'm just shocked at your actions and somewhat lacking for words. I know we've had disagreements about the Axanar bullshit, and who could forget those heated discussions about that total idiot and amateur conman Alec Peters, but we always respected the truth which I spoke and your delusional followers received some real facts about this entire sham! But now dragging my good name through this smear campaign is just wrong and I would appreciate a sincere apology from you Jonathan, at least a three part blog (50000 words)…
---
And so here we are, two days later, and I feel that I very much need to respond to Anthony in a strong way.
First, I can't apologize for accusing Anthony because, as quoted above, "We can't prove anything or even make a firm accusation."  I even went on to say later, "Some of the moderators still suspected that Anthony might be masquerading as Nikky, but it wasn't a 'thing' and didn't really get discussed…"
A suspicion is not an accusation, and the only thing the blog really pointed out was the interesting timing of "Nikky's" joining of Small Access less than 24 hours before Anthony was expelled, and the fact that Anthony didn't really seem to have a problem with it either during the poll or after when the expulsion was announced.
---
However, I left out one other very interesting coincidence from Tuesday's blog (for reasons I will state in just a moment).  But because of Anthony's comment, I feel this additional piece of information now needs to be shared.  And again, I am NOT accusing Anthony of anything…only reporting the coincidences and letting people decide for themselves because, barring any confession by the actual impostor, we'll likely never know who was really behind it.
In the world of creating fake Facebook accounts using other people's photos, there are two basic types of invasion of privacy:
1) Stealing the photos of a completely random stranger, and
2) Stealing the photos of someone whom they know or have personally seen or met.
In the case of the former, the odds are that the two total strangers are randomly scattered across the country—DC and San Antonio, Boston and Baton Rouge, Tulsa and Austin or Oklahoma City, Seattle and San Francisco, too—or even across the world—Honolulu, Boise, San Diego…why not outer Mongolia for that matter?
When it comes to the second kind of impersonation where the impostor chooses someone they either know directly or know of, sometimes it's an ex-lover or jilted boy/girlfriend, sometimes it's someone the person is afraid to meet but fantasizes about, or sometimes it might just be someone the impostor has seen in the library, supermarket, or even on a local TV station.
And that brings us to the biggest coincidence of all, and one that I purposefully did NOT mention in my previous blog out of respect for the privacy of this young woman.  Then I discovered that this person is actually a reporter has has a publicly-posted TV news reel on YouTube, which includes her actual name.  Since that video is public, I am allowed to share the following with you…
So what does all of this have to do with Anthony Shuh?
Anthony lives in the town of Morton, IL.  It's listed on his public Facebook profile, so the information is not confidential.  Cassandra Hager was a reporter for the local Peoria, IL ABC news affiliate WHOI.  The distance between Peoria and Morton is just under 10 miles, and Anthony Shuh even works in Peoria.
I checked with the local ABC affiliate WHOI yesterday and confirmed that, up until June of last year, their signal was carried on Channel 19 in the Morton, IL market (now it's Channel 25).  It's quite possible that Anthony might have seen Cassandra at least once or twice on TV.  Maybe she even knows him personally or used to get coffee at the same Starbucks.  Obviously, that's pure conjecture on my part and certainly not an accusation of anything.  It's simply an observation that, out of all the places in the whole great big wide world for these two people to live and work, they are only 10 miles away from each other.
Quite the coincidence!
Now, I am STILL not accusing Anthony Shuh of being "Nikky Synder" and illegally (and creepily!) using the photos of this woman to update a fake Facebook account for 14 months while writing anti-Axanar and anti-Alec Peters rants.
I am simply pointing out that the odds of these two people living/working less than 10 miles apart—in a world with a circumference of 25,000 miles!—is a VERY big coincidence.  And it comes on top of the coincidence that the person who stole Cassandra's photos and posted them to a fake Facebook account signed up for Small Access a day before Anthony Shuh (who lives 10 miles from Cassandra) was expelled from the group.  Even the fact that Anthony Shuh was a Facebook friend of "Nikky Synder's" Facebook account for a few weeks until "Nikky" made her friends list private is a simple coincidence…nothing more than that.
So I am not at all accusing Anthony of being this sick, demented, perverted bottom-feeding sociopath who would cyber-stalk an unsuspecting young woman working hard to make a name for herself in a very competitive industry.
In fact, I would hope that Anthony would join me and most of the rest of us (minus a few failing detractors) in denouncing this unknown, putrid lowlife scumbag coward and hoping that he spends his nights awake and worried that Cassandra might someday find out who this person really is and do a news exposé about her experience.  Man, that could ruin this person's livelihood, marriage, even cost them friends and result in a court-issued restraining order.
I would hope Anthony Shuh might lend his voice to the chorus in praying for some kind of social or divine justice to find its way to this impostor who stalked and stole the face of someone who (coincidentally) lives and works so close to where he is.
Totally not an accusation, just some interesting coincidences.
---
Come back Friday when Fan Film Factor once again features…fan films!  ('Cause I really want to be done with this "Nikky Synder" loser.)