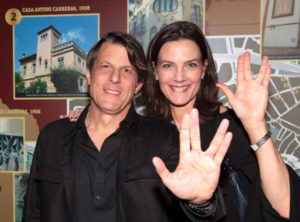 With word spreading of the happy and surprising news that actor TERRY "Jadzia Dax" FARRELL (of Deep Space Nine) will be marrying ADAM NIMOY, the son of Leonard "Spock" Nimoy, Fan Film Factor just had to include a shout-out of congratulations, as well.
Both of these people do have connections to the Star Trek fan film community.  Terry recently appeared in Renegades' first full episode, "The Requiem," while Adam recorded this promo for Axanar in 2015 and then went on to produce For the Love of Spock (honoring the work of his late father) and is working on the upcoming DS9 documentary What We Left Behind, which raised nearly $650,000 from fan donations via Indiegogo back in March.
This will be the second marriage for both people.  Adam (61) and Terry (53) both have children from each of their previous marriages.
This is not the first time celebrity Star Trek-crossed lovers have found each other thanks to the show.  In 1996, Alexander "Dr. Julian Bashir" Siddig (who had changed his name from Siddig El Fadil) started dating his co-star Nana "Major Kira Nerys" Visitor and got her pregnant (something which was worked into the plot line of Deep Space Nine).  Their son, Django El Tahir El Siddig, was born on September 16, 1996, and the couple were married in June of 1997.  The marriage lasted for four years before they divorced in 2001.  Also, Star Trek: Voyager Executive Producer Brannon Braga and Jeri "Seven of Nine" Ryan also had a relationship while that show was in production.  They have since split up.
And of course, perhaps Star Trek's most famous celebrity relationship was between its creator, Gene Roddenberry, and the actress who played both "Number One" in the original pilot and Nurse Chapel in the original series, Majel Barrett.  The two started dating while Gene's previous marriage was falling apart, and they got married in 1969 right after the cancellation of Star Trek.  They had a son, Eugene Wesley "Rod" Roddenberry, who is now very active in the Trek fan community and runs Roddenberry Entertainment and also founded the Roddenberry Foundation.  Gene and Majel remained married for 22 years until Gene's death in 1991.
Today, however, we wish a lasting and happy future together to Adam Nimoy and Terry Farrell.  May they both live long, prosper, and continue their wonderful relationship with Star Trek fans everywhere!