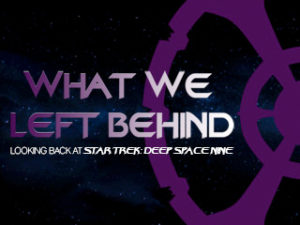 Stop me if you've heard this one before. So there's this fan film project that's going to feature veteran Star Trek actors and production crew, and it's going to be presented in documentary format. Although people are excited about the project even before the crowd-funding campaign begins, the show-runners are nevertheless blown away when donations blast through the initial goal and reach nearly $650,000.
Emboldened by this unexpected abundance of production funding, the show-runners decide to expand the scope of the project far beyond what was initially planned, and a year later, they go back to the donors and fans to ask for even more money.
But then stuff happens, and the release date gets delayed…and then delayed again.
Nope, not Axanar. This same sequence of events happened with the ambitious Star Trek: Deep Space Nine documentary WHAT WE LEFT BEHIND, directed by ADAM NIMOY. Crowd-funded in early 2017 with more than $647,000, the original release date was estimated as February 2018. But by April, with no documentary in sight, show-runner IRA BEHR updated fans with a written message that I featured in a blog titled "So where's that darn DEEP SPACE NINE documentary???"
Ira didn't make excuses so much as provide reasons why things were taking so long…including the fact that there were over 100 hours of new interviews with cast and crew to go through, plus fan submissions, archival materials, animations, audition tapes, convention footage and more than 170 broadcast episodes…all of which needed to fit into a final documentary that was no longer than a few hours! Plus, they were remastering some of the original standard definition footage into beautiful high definition footage.
By September, there was still no completed documentary, and Ira posted yet another update…this time as a video and asking for even MORE money! Why would he "tap the well" again so late in the game?
Continue reading "So where's that darn DEEP SPACE NINE documentary??? (update revisited)"