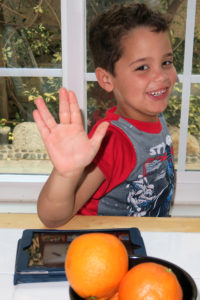 The great thing about doing my own blog is that I get to decide what I write about.  And even though my focus is usually Star Trek fan films, today I'm going to indulge with a different kind of fan project: my son JAYDEN.  He turns seven years old today, and I promised him that I'd feature him on my blog today.
Some of you have already seen me talk about him in blog comments or viewed him in videos like this one I did just before Axanar Productions moved out of Industry Studios.  I've been doing my part to raise Jayden as a proper Trekkie (as I hope the photo on the left demonstrates).  Jayden has already been a special guest on his first-ever Star Trek podcast interview, and he enthusiastically watches TOS episodes with me each night while I exercise.
We're half-way through the animated series at present, and then we'll hit Star Trek: The Motion Picture.  With proper timing, we can just finish that film by the time I take Jayden to the Los Angeles Comic Con in later October to see the series finale of Star Trek Continues live with some of the cast.  STC's final two-parter completes the five-year mission of the USS Enterprise under James Kirk and leads into The Motion Picture.  After that, we'll re-watch "Space Seed," then the next five Trek feature films, and on to TNG.  (At least, that's the plan; we'll see what Jayden's tastes are like in a couple more years.)
Today, I'd like to share two special fan films with you.   In this case, it's me being a fan of my son Jayden.  And if you think that's too sappy or inappropriate for a Star Trek fan film site, then come back on Friday instead for SEVEN new Trek fan films!
And for anyone who's still sticking around, here's a video I made during spring break of 2014 (which was half a lifetime ago for Jayden!) when everyone was making their own versions of Pharrell Williams' "Happy" music video.  I took Jayden around to our favorite places in southern California and edited this together…
And finally, here's a video that's been seven years in the making and will probably go for at least another seven or ten years…or whenever Jayden finally decides that enough is enough (or when I finally run out of song).  And yes, that's the theme to Buck Rogers in the 25th Century, a very singable song called "Suspension" sung by Kipp Lennon and written by the awesome STU PHILLIPS (who also composed themes for the original Battlestar Galactica, Airwolf, and Knight Rider).
HAPPY 7th BIRTHDAY, JAYDEN!!!