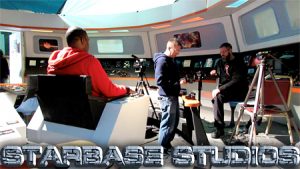 Yesterday, we looked at the history of STARBASE STUDIOS from its founding in 2010 to its move from Oklahoma to Arkansas at the beginning of 2017.  Things started to get tense and messy by early summer, with DAN REYNOLDS stepping aside, leaving GLEN L. WOLFE wanting to charge fan producers $500/day (plus extra fees) to use the studios TOS sets and resources…while SCOTT JOHNSON and KENT "WORDS" EDWARDS wanted to keep the sets free for use by fans (only requesting a donation to cover the cost of electricity for the day).  And as long as CHARLES "BUD" PELSOR, the landlord of the warehouse where the STARBASE STUDIOS sets were being housed in Dogpatch, AR, was providing free rent until the end of 2018, offering use of the sets essentially for free was certainly doable.
Then, in early August, as recounted in this recent blog a large number props and items both freestanding and attached to the sets were removed and taken from the warehouse.  It was not a break-in, as there was no indication of forced entry.  Later on, when the police were brought in,they spoke with Glen's attorney who explained that the items taken were the personal property of Glen Wolfe, and if Scott and "Words"  wanted to prove otherwise, they would need to do so in civil court.  The police then told everyone that they would stay out of the matter until ownership was clearly and legally established.
Quite a sticky wicket!  Here's what happened next…
CAN'T WE ALL JUST GET ALONG?
For three months, the incident was kept under wraps by both sides…although a few key people outside of those directly involved knew what was going on.  Their concern was that, if this became a "thing," the fan film community could be ripped apart again (we don't do well with legal battles in civil court, dontcha know!).  And there was some worry that, if CBS and Paramount caught wind of the controversy, they might decide that if the fans weren't able to play nice with each other, then maybe it was time to shut down Trek fan films altogether.
So instead, efforts were made behind-the-scenes to try to get the two sides to talk and hopefully work things out.  I tried to help a little myself, as I was chatting with some of the people involved on both sides and could act as a go-between.  But I quickly realized there were a lot of strong feelings of righteous indignation on all sides, and this was gonna like negotiating peace in the Middle East!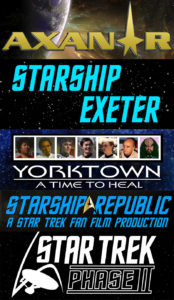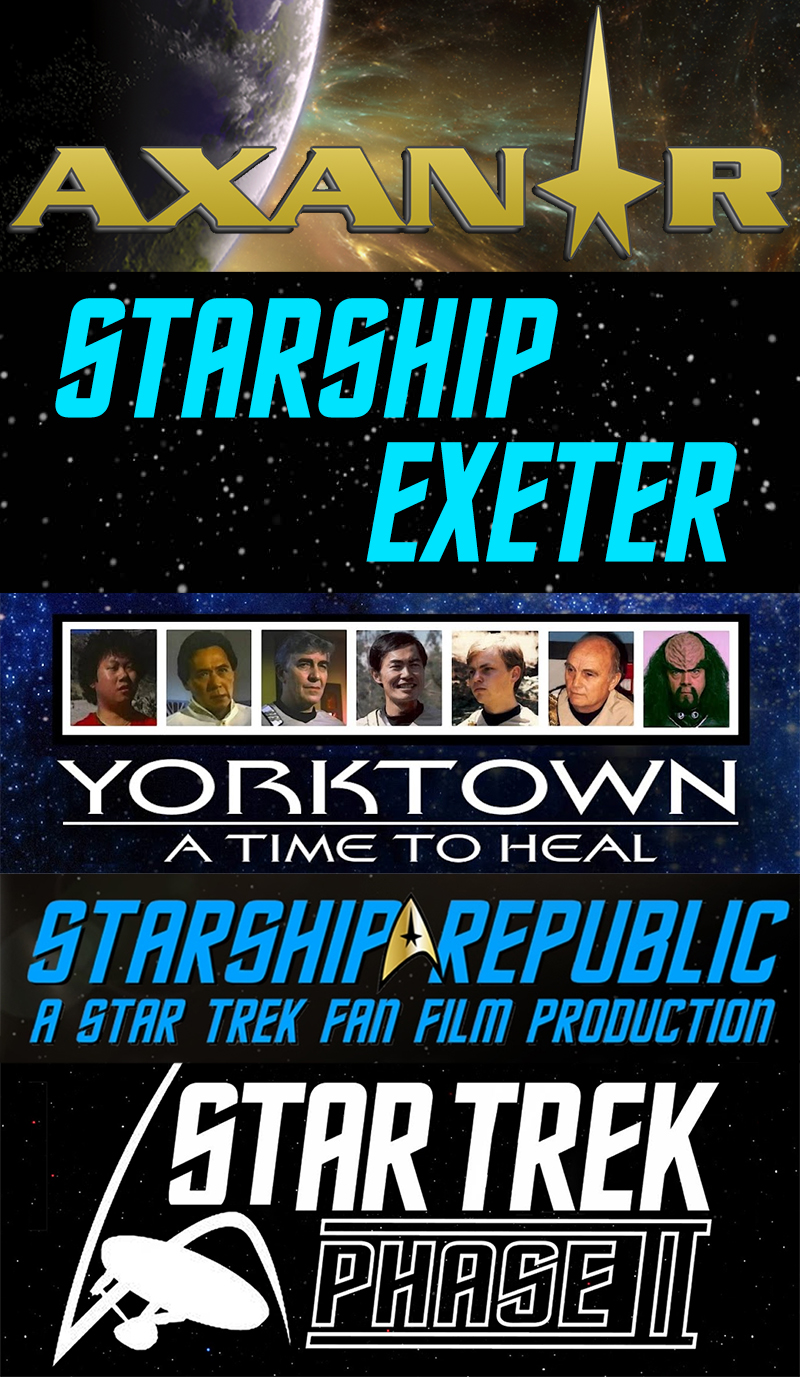 Rumors circulated that ALEC PETERS of Axanar became involved, and yes, he was one of the members of the fan film community talking to both sides and trying to help find a way to smooth things over and get Starbase Studios back into one piece again.  But Alec wasn't the only one.  JOSHUA JOHNSON (Starship Exeter), JOHN ATKINS (Yorktown), RAY TESI (Starship Republic), GLEN MILLER (Star Trek: Phase II)…everyone failed to make any headway.  After 90 days of no progress, Scott and "Words" hoped that publicly releasing this  video listing the items that were taken and showing the damage might help to move things forward to negotiations, but it had little effect.
Finally, a few weeks ago, VANCE MAJOR and JAMES HAMS actually came the closest to hammering out a compromise (i.e. an agreement that BOTH sides didn't really like much, but each side gave a little and got a little).  I'm not certain whether I'm permitted to discuss the specifics of the mediated agreement or why it fell through, but suffice it to say, it didn't happen.  In fact, some of the people involved confided to me that they suspect Glen might (might!) have been using the negotiations as a delaying tactic, as his lawyer had already been preparing a legal summons and filed it on October 26…while negotiations with Scott and "Words" were still in process.
On November 7, "Words" received a copy of the summons through LegalZoom.com (because Starbase Studios lists them as their registered legal agent).  Scott was not contacted or served, but "Words" forwarded a copy to him.  Interestingly, "Bud" had also been served about 10 days earlier, even though he's not technically a part of Starbase Studios—he's only the landlord.  (I suspect that, because Scott lives in Oklahoma City and "Words" lives in Kansas, that the Arkansas-based legal server only bothered handing the summons in person to the one guy who lived nearby in Newton County, AR.)
Starbase Studios was being sued and had just FIVE BUINSESS DAYS to file a response or risk an automatic summary judgment against them by the court.  Take a look…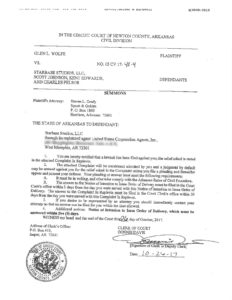 After this opening page there's a page that includes plaintiff and defendants' names and addresses, and I'll keep that info off of the blog out of respect for privacy (although the full document is public).
The first important page to look at is here…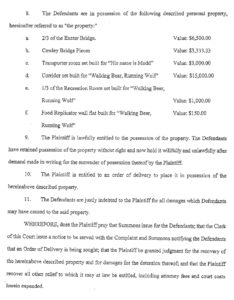 Glen told me that he has canceled checks and receipts to back up all of these numbers, although $15,000 for a corridor did raise an eyebrow for me…especially if the 2/3 of the much-larger-and-more-elaborate bridge set was valued at only $6,500.  But…who knows?  Maybe it was a typo.
Anyway, the important thing to note here is that Glen wants to take possession of all of the above items (not quite sure how you divide the bridge into 2/3 and 1/3…and neither was Glen when I asked him, but he suggested, "I guess one of us could buy the others out").  He is also looking for reimbursement of court and legal fees and compensation for any damage to the property that the defendants may have caused.
Here is the full Legal Summons with all addresses blurred.
STARBASE STUDIOS RESPONDS
I spoke with Scott Johnson in the middle of this past week, just as Starbase Studios was submitting their response to the court. "I really hate that it's come down to using lawyers because now nobody wins," Scott told me. "Lawyers are expensive, lawsuits are expensive, and 'Words' and I would have really preferred to spend what little money we have making Starbase Studios as good as it can be for fans who want to use it.  But Glen's lawsuit gave us only five days to respond, and so we did.  And now we have to go find a lawyer, too.  This isn't the way fan films should be!"
Last Wednesday, Scott and "Words" submitted their response to the Office of the Circuit Clerk for Newton County, Arkansas…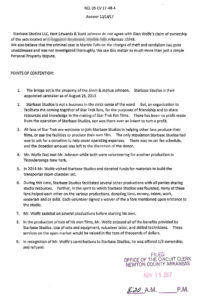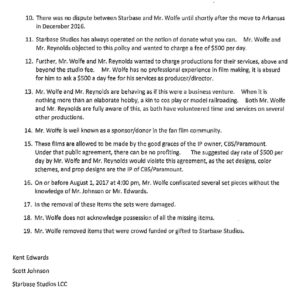 Obviously, Scott, "Words," and "Bud" are not going quietly into that good night.  And I am told they've been reaching out to some Arkansas law firms to see if one is willing to take the case without breaking the bank.  Of course, there's the possibility of trying to attract a firm with the potential of monetary damages awarded in a counter-suit, but as of right now, no counter-suit has been filed.  All Starbase Studios has done is to respond to the summons, and now a court date will be set.
Before I continue, I'd like to take a moment to look at their point #15:
These films are allowed to be made by the good graces of the IP owner, CBS/Paramount. Under that public agreement, there can be no profiting. The suggested day rate $500 per day by Mr. Wolfe and Mr. Reynolds would violate this agreement, as the set designs, color schemes, and prop designs are the IP of CBS/Paramount.
This is actually a very strong point in favor of NOT charging for the use of Starbase Studios beyond the cost of maintenance and upkeep.  But it has also led some fans into a flurry of panic thinking that Starbase Studios itself is somehow CBS's property or that the sets' very existence is somehow an infringement of copyright.  As it happens, I had dinner on Thursday night with one of my old "legal eagles" (remember them?), and he had this to say:
"As long as no one is making any kind of profit or revenue from the Starbase Studios sets, they don't infringe.  The simple act of building, having, and using the sets is not, in and of itself, an 'infringing act.'  As an example, imagine if you paint the USS Enterprise, Captain Kirk, and Mr. Spock onto your car and drive around.  That's not infringing.  CBS doesn't suddenly own your car.  But now imagine that you use this painted car to set up a cab service and call it 'Star Trek Taxi' and drive people around for money.  Then you might have a problem."
CBS and Paramount don't have an issue with Trek fan films as long as they follow the guidelines, which most Starbase Studios productions typically do.  But what if Starbase Studios begins charging $500/day (way more than the cost of maintaining the sets if the rent is free) and also charging for props, costumes, and day-rate services when those services are provided exclusively in and around those Star Trek sets?  Is that like turning your custom-painted car into a revenue-generating Star Trek taxi?  It's an iffy question at best.
THE "SMOKING GUN"?
There's one more document that hasn't been publicly released yet, but I've been given permission to share it here on Fan Film Factor.  This is a photograph of a volunteer liability waiver contract signed by Glen Wolfe back in 2013…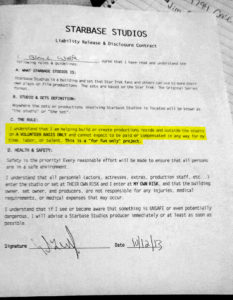 There is no question that it is Glen's signature, as multiple people witnessed him sign it.  And indeed, all volunteers at Starbase Studios back in Oklahoma City were required to sign this waiver before being allowed to participate.  So now the question becomes: how significant is this piece of paper?
At least two people involved in this situation are calling this "the smoking gun."  And I'm told that, once Starbase Studios has a lawyer and goes to court, this document will be submitted into evidence.  But is it really a smoking gun?
I haven't asked my legal eagles about this item yet (I only got it on Friday), but on the face of it, I don't see how this helps Glen at all…and it more likely hurts him.  At best, he's now forced into arguing that this contract does not specifically prevent him from creating items of his own and bringing them along to use at the studio for his own production(s) while retaining ownership of the things he's built.
Except for one thing:
I am helping build…inside and outside the studio on a VOLUNTEER BASIS ONLY… 
That's a biggie.  If you volunteer with Habitat for Humanity to help build a house for a family, you don't get to own that house when you're done.  And even if you donate a flower bed for that house with materials you pay for yourself, you still don't get to come back to the house years later and rip out that flower bed to take back home with you.
So it can potentially be argued that Glen signed a contract in 2013 agreeing that anything he built—inside or outside the studio—that was to be used for a Starbase Studios production would be considered volunteer work.  And since this contract does not specify an end date, it is technically still in effect and has been all along.  There was no reason for Starbase Studios to assume that Glen was acting in anything other than a purely volunteer capacity (like dozens of others who donated their time, talent, and occasionally money and materials without intending to "own" anything).  In other words, what realistic reason did the Starbase Studios folks have to assume that Glen needed to be treated differently than all of the other volunteers?
Now, if Glen wanted to petition Starbase Studios to amend his contract or end the term of its commitment, he could certainly have requested that at any point.  But to my knowledge, he never attempted to do that in writing (or even verbally), which is one of the reasons folks were so shocked to see all of these items removed, some of which had been part of the sets for years.
In fact, Scott told me that the only time Glen ever officially "loaned" something to the studio and made it clear he wanted it back at some point, it was two Burke chairs for the helm and navigation stations.  Those chairs were used for multiple productions over the years, but Scott and "Words" always understood that, if Starbase Studios ever closed down, those chairs would be returned to Glen.  However, according to Scott, that was the only time and those were the only items where Glen specifically made clear it was a loan and not a donation.

So is it a "smoking gun?"  I can't say with any certainty, and I don't have access to my legal eagles right now.  However, I do agree with Scott Johnson on one thing he said: if this goes to court, nobody wins.  Even if one side or the other comes out "victorious," buckets of money will have been thrown at attorneys, and Star Trek fandom will have yet another blemish to deal with.  We've already battled among ourselves over the quality of Star Trek: Discovery, the merits of the Axanar lawsuit, JJ Trek, and even with the launches of Enterprise, Deep Space Nine, and Next Generation.  (I don't recall fans saying that Voyager wasn't "true" Star Trek.  But the other shows were all controversial in their own ways when they began.)
If this Starbase Studios case goes to court, I just know that fans are going to take sides…again!  I can already see them starting to line up on "Team Glen/Dan" 0r "Team Scott/Words."  Do we really need that?
Most civil cases (like over 95%) settle before ever making it to trial.  With luck, so will this one.  The volunteer contract/waiver might not be a complete smoking gun, but maybe—just maybe—it's enough of a potential land mine to bring both sides back to the negotiating table and finally hammer out a fair agreement that everyone can live with.
Starbase Studios means so much to so many.  It's made it possible for the fan film "little" guy (and gal)—the ones without the big budget to build $10,000 and $100,000 sets—to realize their dreams.  Starbase studios has been "the great equalizer," an unimaginably amazing resource and gift to the Star Trek fan film community.
I sincerely hope that things can be worked out between the two sides before the studio (and possibly fan film fandom itself) gets torn apart in a lawsuit.