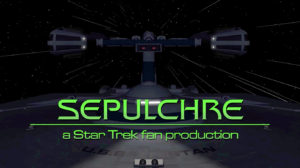 The nice folks at POTEMKIN PICTURES now have five different Trek fan production teams producing new fan films, two teams with new series in post-production, and of course the completed series that started it all: PROJECT: POTEMKIN (with three dozen episodes).  You can watch everything from Potemkin Pictures on their website.
The first fan series to spin off from Project: Potemkin was STARSHIP TRISTAN, filmed in Pelham, Alabama where show-runner RANDY LANDERS is based.  It debuted in December of 2015, but six months later, the fan film guidelines prohibited ongoing fan series.  So Starship Tristan simply dropped their fan series name and began naming each new release with the title of that particular "episode."
Their latest offering is a fan film called "Sepulchre" which runs ten and a half minutes.  Set in the post-TOS-movie-era, the series has built its own somewhat cramped bridge set and uses simplified long-sleeve shirts for uniforms.  But if you're watching these productions for their big-budget quality, then you probably want Star Trek Continues down the hall.  These folks are more about the story, and this latest story is pretty decent.  In fact, if lengthened out and developed a little more, I could imagine "Sepulchre" easily being an episode of Star Trek: The Next Generation.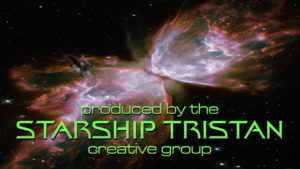 Although the first ten episodes of this fan-series-that-is-not-to-be-called-a-fan-series were released about once every 1 to 3 months, it's actually been 7 months since the last new Tristan fan film.   However, in that time, there has been an interesting change that I noted.  Previously, all new releases were credited to the "Tristan Production Crew" or the "Potemkin Creative Team"—not really wanting to call too much undue attention to the previous fan series name.  Now the opening credits say "Produced by the STARSHIP TRISTAN Creative Group."  Big step forward, in my opinion.  With luck, CBS won't bat an eyelash.
And now, please enjoy Tristan's latest fan production, "Sepulchre"…