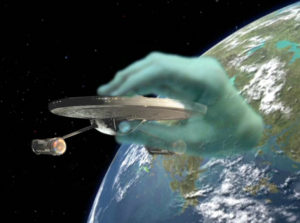 Actually, I think the AXANAR detractors have been pretty ridiculous for quite some time now.  In fact, one Axanar supporter told me recently, "Y'know, if Alec Peters goes to take a leak in a restaurant, someone from one of the hater groups is gonna follow him in to see if there's any piss left on the toilet seat.  Then Carlos Pedraza will write a blog about how Alec has no respect for janitors!"
What a great image to begin a blog with, huh?  Well, it seems that the Axanar detractors are stooping nearly that low (if they haven't already surpassed it) in their latest efforts to try to embarrass and sabotage their favorite target of ridicule, Alec Peters.
While I usually ignore the day-to-day antics of the Axanar detractors, every so often something pops up that just leaves me scratching my head.  And let me tell ya, my scalp was itching like crazy when I saw a recent Facebook IM conversation that recently went on between Axamonitor blogger Carlos Pedraza and the assistant of Tony Cade.
But before I show it to you, there's a quick bit of background you need to know first…like who the heck is Tony Cade???
On February 17, Alec Peters posted on the Axanar website that he would be appearing at the The Atlanta Science Fiction and Fantasy Expo on March 3-4 at the North DeKalb Mall in Decatur, Georgia…about 20 minutes from downtown Atlanta.  It's a relatively small event, hosted by Tony Cade of Challenge Comics & Games, whose store is in the mall.
Tony is an Axanar donor and fan, and he invited Alec and his girlfriend Crysstal Hubbard to appear at the event.  Alec would be hosting two panels, one focusing on Axanar specifically and another about fan films in general.  Crysstal would also be hosting a panel on cosplay with new Axanar Director of Fulfillment Natalie Armstrong.
So far, so good, right?  Nothing particularly controversial.  No selling of Kharn Roast coffee.  No new lawsuits.  I doubt they even sell sushi at this mall!  So why would any Axanar detractor even care about this event…aside from the simple fact that Alec Peters would be there talking about fan films and Axanar?
Why indeed…
And now, ladies and gentlemen, please allow me to share the IM conversation that took place between Carlos Pedraza and Tony Cade's assistant…

Okay, the first thing I'm sure you noticed is Carlos introducing himself as "a freelance journalist considering covering your upcoming event."  Personally, I would have gone with "I'm a small-time blogger working for myself who wants to cover your event because I'm obsessed with analyzing and reporting on every bead of sweat that drops off of one of your guests and trying to find any way I can to make him look bad."  But that wasn't really the creepy part.
At first blush, it also looked like Carlos was trying in some plausibly deniable way to create a hint of doubt or suspicion about Alec in the minds of the organizers.
"Why would you be concerned with Alec Peters and these other gentlemen?" they might say.
"Oh, didn't you know?" Carlos would respond.
"Know what?" they'd ask.
And then Carlos would happily start dishing all of the dirt he had on Alec (and heaven knows there's ample on Axamonitor.com to choose from!)…a great way to sabotage Alec's relationship with the organizers before the event.
---
That said, I actually didn't believe that Carlos was being quite so nefarious…although I suspect he'd have been perfectly happy if the conversation had gone in the direction that I just described.  However, Carlos seemed to give up pretty quickly, and the questions themselves were particularly odd and curious.  This got me wondering what might really be going on.
So I went to the Axamonitor Facebook group page (something I loathe doing).  It didn't take me long to find a post from one of the detractors linking to this page and specifically mocking this one sentence fragment…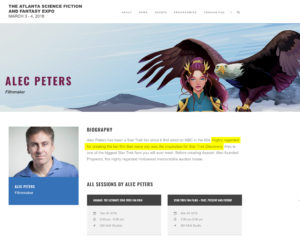 Yep, apparently "many people" think that Prelude to Axanar inspired Star Trek: Discovery.  Many people don't.  Who cares?  It's just a small gathering in a mall 20 minutes outside Atlanta.  Is this really "newsworthy"?  Does this really merit Carlos Pedraza falsely posing as a freelance journalist (when you're writing your own blog, Carlos, it's not really "freelance work"—it's a hobby, dude) and fibbing to an event organizer that he's interested in writing an article about their expo when he's really only interested in writing yet another hit piece about Alec Peters and Axanar?
And write a hit piece he did!  In what was a tour de force of supercilious acrimony (good SAT words, kids!), Carlos threw everything including the kitchen sink into a 2,400-word blog about Alec's weekend appearance.  To give you some perspective, this blog you're reading right now is about half that length.  (When you write a blog that's twice as long as Lane's, it might be time to seek professional help!)
Much of the source material for Carlos' blog was obtained through videos taken during both of Alec's panels by local Axanar detractor Brian Hartsfield.  As it happened, Brian had been asked multiple times not to record the panels, but he did so anyway.  Alec wasn't going to make a big deal of it, even though he knew the video would be going straight to Carlos Pedraza.  How did he know this?  Last April, Brian had falsely posed as an Axanar volunteer and ended up feeding Carlos incorrect information about the new location of Axanar's Georgia studios, which Carlos then proceeded to post without first verifying the information.
Hurting from that embarrassment, Carlos now refuses to call OWC Studios a "studio" and insists instead on calling it a "warehouse."  He also insists on calling the upcoming two Axanar fan films that are permitted by the legal settlement with CBS "Axanar Lite" instead of using a less derogatory term.  My mind boggles at the immature pettiness—certainly nowhere near what one might objectively call "professional journalism" (or even "freelance journalism").  But I digress…
As it turns out, no, Alec didn't write his own bio.  Tony and members of his staff wrote the blurb, wanting to create as much excitement about their guests as possible.  And so they mentioned Star Trek: Discovery.  Big deal, right?
Was this minor appearance in front of a few dozen people really worth a 2,400-word blog…most of it just rehashing the same old "dirty laundry" and accusations that the detractors have been talking about, some for as many as two years?  Did Carlos really need to send in a "spy" (you've got a better term?—"roving reporter" perhaps?) to record the entirety of both panels so that Axamonitor could parse through every sentence and call out the "controversial" statements?  (Actually nothing from the panel sounded all that controversial…despite Carlos' 2,400-word attempt to make it sound that way.)
---
In the end, as I've said before, Axanar either gets made or it doesn't.  The lawsuit is over, the sets are now in Atlanta, and Alec fully intends to comply with all the requirements of the legal settlement with CBS and Paramount when the two 15-minute fan films are made.  So what else do the detractors need to accomplish other than something that really just looks like straight-up stalking?
At this point, I suppose my only message directly to Carlos, Brian, and the rest of the detractors can best be summed up by this truly insightful and memorable moment in cinema history…