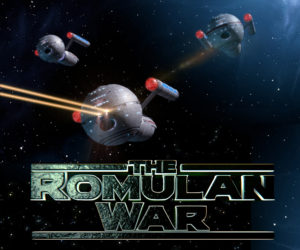 At the end of last month, the eagerly-anticipated new fan project THE ROMULAN WAR extended its Indiegogo campaign for an additional 30 days.  The move seems to be working out quite well, as an additional $2,200 in donations have come in since then…leaving the production just $1,810 short of its $10,000 goal (as I type this) with two full weeks left to attract donations from fans.
By far the most exciting of the perks being offered was an opportunity for donors to actually APPEAR in this fan film!  For a $100 donation, you have the option to record your voice, reading a line or two from the script, and having that recording be included in the finished film.  That's the perk level I donated for, by the way, and there's still 38 of those voice-over options still available.
The other opportunity offered a few lucky fans (who wanted to donate $250) the choice APPEAR in the film if they so desired.  Donors at this level would be asked to film themselves at home using a camera or smart phone according to instructions, possibly say a few lines, and upload the footage, which would then be edited into the film.
Initially, there were only five of these "Commodore Access" on-camera perks available…and they disappeared very quickly.  By the time the Indiegogo was extended, they were long gone.
But last week, show-runner MARK NACCARATO added five more "Commodore Access" on-camera perks to the list.  Already, one has been snatched up, leaving four.  So HURRY if you want to be in an actual fan film!
Assuming each of these perks is snatched up, that'll leave the campaign within spitting distance (just $810 away) from their $10,000 goal, which should be quite doable in 14 days.
---
And now, please enjoy the latest video offering from THE ROMULAN WAR featuring some behind-the-scenes photos from last summer's shoot in Nashville, Tennessee…