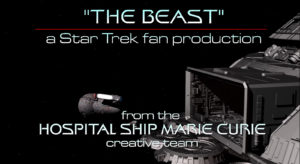 It's been a long road…getting from Project: Potemkin to here.  Project: Potemkin was the first fan series produced (and completed after more than three dozen episodes) by what would become POTEMKIN PICTURES—but it certainly wouldn't be the last!  Over the majority of the past decade, Potemkin Pictures has launched the fan series (all currently in active production) Starship Tristan, Starship Deimos, Battlecruiser Kupok, Starship Triton, Starship Endeavour…and they've just debuted their seventh ongoing fan series HOSPITAL SHIP MARIE CURIE.
Of course, the guidelines prohibit ongoing fan series, but Potemkin Pictures carefully skirts the edges of this spatial anomaly by naming each fan film something unique and simply attributing these efforts to different "creative teams."  So the Hospital Ship Marie Curie creative team has just released a fan film titled "The Beast."  So far, with nearly two dozen fan films released in this manner since the publication of the guidelines, CBS and Paramount have not seemed to mind or take notice.
Potemkin Pictures' newest fan series is unique in a number of ways.  Although it uses the existing ultra-low budget costumes and sets of most of the other Potemkin projects, the hospital ship Marie Curie is a new design of starship that has no weapons.  After all, as I told someone recently who was commenting that the ship was too weak, "You don't usually arm an ambulance like you would a tank!"  This makes for an interesting story angle in the pilot episode when the crew faces a situation where they potentially need to go into battle completely unarmed.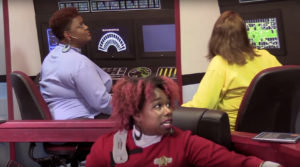 Another item of note—in addition to having a Betazoid crew member during movie-era Star Trek time—is that this series has two prominent African American characters, including the aforementioned Betazoid (played by Staci Marshay) as well as the captain herself (Lillian Cole).  They join the new captain of the Starship Deimos (played by Tony Anderson) as prominent black actors in the Potemkin Pictures family of fan films.
All episodes of the various Potemkin series can be accessed from their website.  You can watch their latest series release below, and then keep reading for a short interview with Potemkin show-runner RANDY LANDERS…
The first time I interviewed Randy, it was way back in late 2015 when there was only Project: Potemkin.  I invite you to click here to read it, as it covers many of the background details about how the films are produced and how things got started way back when.
Today's interview is more of an "update," looking at this latest release, the other current Potemkin fan series, the purpose of these fan films, and what's in store in the near future.  Enjoy…
JONATHAN  – Marie Curie has been listed on your website without actually releasing an episode longer than any other Potemkin Pictures project.  What's taken to long to get this particular fan series ready for launch?
RANDY – Marie Curie has had a couple of VFX changes. We originally had a different ship and different alien, but things didn't work out, and we moved to different concepts for each.
JONATHAN – So now that the first episode is finished, how long until we see the second one?
RANDY – Marie Curie's second production was filmed in June, and it's next in line for editing. It doesn't have as many VFX, and should be ready by December, I hope.
JONATHAN – Recently, your fan series for Tristan and Deimos have had multiple releases in rapid succession, some only a week or two apart!  On the other hand, your fan series Endeavour debuted last summer and hasn't had a second episode yet, and Triton premiered last December and also remains only a single episode so far.  How often will Marie Curie be releasing new episodes?
RANDY – It is slated for one production release per year.  Triton has a second production almost ready for release, in fact.  We'll be filming its third production in November.
JONATHAN – Why does Marie Curie have only one episode scheduled a year while Deimos and Tristan seem to have so many more?  And releasing one episode of Curie now and another in December isn't exactly one per year, Randy!
RANDY  – Marie Curie, Kupok, and Triton are once per year.  Curie was delayed six months, so it's only natural that its second production will come out sooner.  Deimos and Tristan are slated for 4-5 per year.  And there's an occasional special (e.g. Alexander) which makes for 12 productions per year.
JONATHAN – Ah, yes, the last remaining fan series to be listed on your production web page without an episode released yet: Alexander.  It currently has a status of "In post-production" for an episode called "Crystal Eyes."  Why hasn't Alexander debuted yet after having been listed for so long?
RANDY – The director of Alexander broke his back picking up a grandchild.  He's been on extensive bed rest while recuperating from surgery.  We're hoping to get the ball rolling again on it soon.  In addition to directing, he is also doing the editing and VFX, so he's the key to getting it done.
JONATHAN – Please send him our best wishes for a speedy recovery from everyone at Fan Film Factor (me and the readers).  But I'm still not clear on why Tristan and Deimos have so many more episodes scheduled for release  while the others are limited to only one per year…
RANDY – Because that's what i decided to do. LOL
Tristan and Deimos came together with cast and crew first, so they're the ones who get the most attention.  But releasing Endeavour, Kupok, Triton and Marie Curie once a year definitely has its advantages.  Their casts often chomp at their bits to get here and film a new production!
JONATHAN – And that brings me to one final subject I'd like to ask you about, and that's the amateur aspect of your productions.  Your fan films certainly aren't for everyone.  Those expecting the quality level of a Star Trek Continues or Axanar will likely be disappointed.  But you've never pretended to be anything other than amateur and low-budget.  In fact, isn't that why you do it?
RANDY – Exactly.  We do this because we love Star Trek and we love making fan films, and there's a lot of opportunities to "learn by doing" in our production.  We have always been an "instructional campus"…constantly teaching folks how to run cameras, lights, sound recorder and mics, etc.  Right now, we're teaching a new group about directing and producing.
We're constantly looking for new folks to join our cast and crew, and each of them brings a unique skillset and perspective to our productions.  We work together with the goal of learning how to do better each time.  Sometimes we slip up and it shows, and we learn from that mistake. We're not proud of those mistakes, mind you, but we're proud that we try to learn from them. As I've said before, you just have to accept us for what we are, occasionally bruised and skinned knees, but always striving to do better.
JONATHAN – Personally, I appreciate all of your various teams' hard work and dedication.  And I'm glad there's a place like Potemkin Pictures out there where fans can learn to become better filmmakers.  Keep on Trekkin', Randy, and crankin' out those twelve fan films per year!
RANDY – Thanks, Jonathan.
JONATHAN – Thank YOU, Randy.