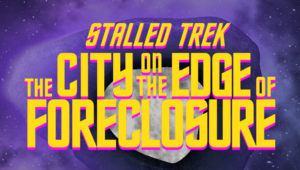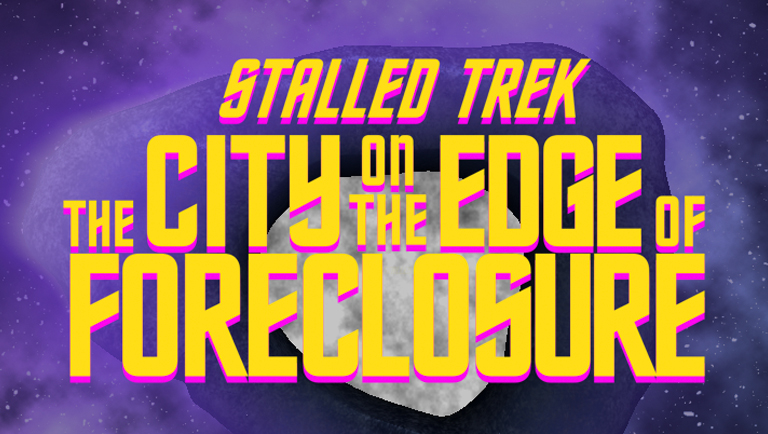 A couple of days ago, I wrote a blog asking "Can SPACE COMMAND make it to $100,000???"  Less than 24 hours later, it did just that with a total of $102,632!  Can lighting strike twice?
Today, I shift the fan film spotlight to a much more modest Kickstarter for STALLED TREK: "The City on the Edge of Foreclosure."  The campaign started with a teensy goal of only $600.  That goal was reached in less than eight hours!  Now there's only  29 hours left, and the total so far is $3,796 with 99 backers.  There's a stretch goal at $4,000 that will result in an HD remastering of the hilarious and brilliant first episode of Stalled Trek: "Amutt Time."  If you haven't seen it, take a look…
Another stretch goal awaits at $6,000…the remastering of The Wobbling Dead, the other puppet parody of a major genre franchise by Stalled Trek creator MARK LARGENT .
To encourage more donations, Mark has just added a NEW donation level of "Acting Captain" for $100:
I'll make a puppet of you and put you in the Captain's chair on the bridge! You'll get a wallpaper of it and it will appear in a special section of the closing credits! Plus you get the Blu-Ray and the digital copy!
Already, 8 of this level perk have been claimed.  But the most popular perk (50 backers so far) still remains the $25 level:
Your very own blu-ray! Plus a digital copy and your name in the credits. I'm only making 250, so make sure you get one.
Yes, Mark is allowed to distribute Blu-rays because this is a parody and not a standard fan film.  Reaching the $4,000 or even $6,000 stretch goal levels will help him to produce "City…" and the other films more quickly, as the finding will enable him to purchase more computer processors to render the many frames of 3D animation.  (You can read more about that in my recent 2-part interview with Mark.)