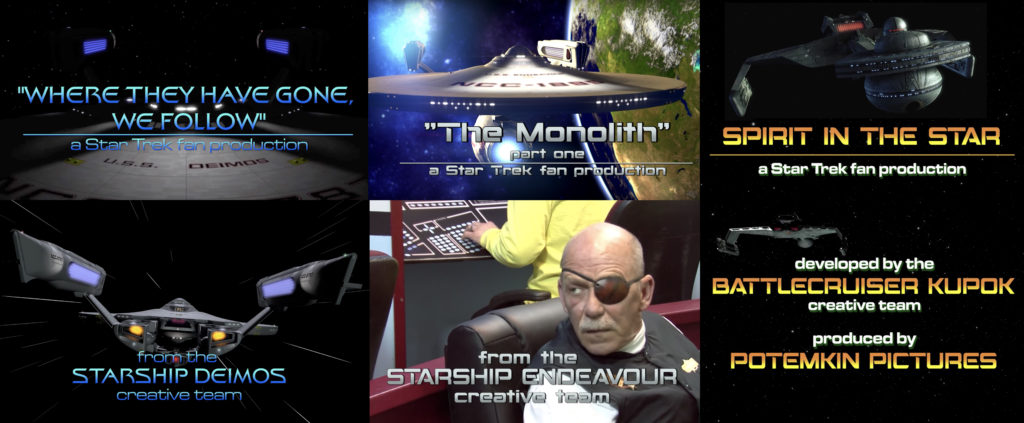 POTEMKIN PICTURES, run by RANDY LANDERS out of Pelham, Alabama, is a juggernaut of low-budget, from-the-heart Star Trek fan films. With six different fan "series" (actually, they don't like to call them "series" since the guidelines don't allow that) currently in production and another about to debut soon, Randy's goal is to release an average of one new fan film a month. And so far this year, they've been on par to hit that mark, having released a total of 11 completed fan films prior to December. At one point, they even posted five fan films in five consecutive weeks!
But would they be able to, before the end of the year, make it an even DOZEN within twelve months? Well, kinda.
Yes, Potemkin Pictures did manage to release their 12th fan film before the end of the year…and their 13th…and their 14th…and their 15th!!!
Four fan films from three different series were posted to Youtube in just FOUR DAYS! (You can watch them all at the bottom of this blog entry.) The new productions included a two-part fan film from the STARSHIP ENDEAVOUR creative team (since its total runtime of 19 minutes was over the 15-minute guideline limit), a pivotal addition to the STARSHIP DEIMOS storyline, and the first new release from the BATTLECRUISER KUPOK creative team since August of 2017.
I asked Randy why the rush to release four fan films in just four days? I understand releasing the two-parter on consecutive days, but why not hold the other two and spread things out a little? Randy replied…
We don't sit on any production. When it's done, it's released. Not everyone loves every creative group. There are Deimos fans, Endeavour fans, Kupok fans. Each of them got a Christmas present…so to speak.
Speaking of Kupok, "Spirit in the Star" features an absolutely gorgeous CGI model of a K't'inga-class Klingon battlecruiser, created and supplied by ROB BONCHIUNE (who used to do the VFX for DS9 and Voyager). The honourable warrior of Trekyards, SAMUEL COCKINGS, rendered some gorgeous VFX shots featuring this digital model that are truly stunning (or maybe I should say "disrupting").
You can access the nearly-70 previous Potemkin Pictures fan films from their website. And here are the latest four releases…