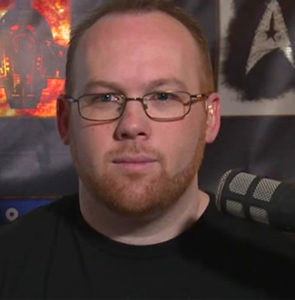 During our marathon 3-hour "Blogger Battle of Axanar," Australian Trekzone.org blogger MATTHEW MILLER and I discussed many things, including telling the truth about Axanar…something that I noted the detractors seldom do. It's one of the reasons I spend so much time correcting the record here on Fan Film Factor, because if I don't, and the lies get told over and over without challenge, they can insidiously supplant the truth.
One such example came early in Part One of our podcast debate when Matthew asked me about "most" of the main cast and crew leaving after PRELUDE TO AXANAR when ALEC PETERS decided to build a studio. I challenged Matthew's choice of the word "most," as that's one of those lies that's been told and retold so many times it's taken on urban legend status. So I counted the people who left and those who didn't. The final score: 5 people left and 15 stayed. So "most" actually stayed. Matthew admitted in the discussion that I had "schooled" him. But really, I just stated the truth and backed it up with facts.
Which brings us to this past Wednesday, and the latest Axanar lie…this time directly from the mouth of Matthew Miller himself. It came at the end of an re-edit of our 3-hour discussion, awkwardly trimmed down to 26 minutes of "best of" clips taken mostly out of context. This was followed by a two-minute editorial wrap-up where Matt ended with a massive false statement regarding Axanar and Alec Peters. It was such an obvious lie that I had to rewind and listen a second time to make sure I hadn't misheard…
"Irrefutable fact," huh? In what alternate universe? Did Matthew not watch this video tour of Industry Studios…?
Did he not see the Vulcan Scene…?
But according to Matthew, the $1.5 million went towards neither [the studio nor the film]. Really, Matt? None of it??? It was WTF time…!
Obviously, it's very easy to prove this to be a lie. After all, the following items didn't pay for themselves:
The giant green screen cyclorama
The sound-proof flooring
The sound-proof elephant doors
The track lighting grid
The new electrical system
The bridge set, captain's quarters, transporter, turbolift, and Klingon command chair
Klingon costumes
Camera, lighting, and sound equipment
A video editing suite
Carpets and office space/dressing room construction and furnishing
A full crew to film the Vulcan Scene including actors, make-up, sound, lighting, gaffers, DPs, ADs, and PAs
Post-production on the Vulcan Scene (Tobias Richter didn't work for free, you know!)
Rent, utilities, insurance, permit fees, etc.?
The list goes on and on. So saying that the $1.5 million went toward NEITHER the studio NOR the final film is like saying Donald Trump wasn't elected the 45th president of the United States. Not everyone might be happy with that fact, but it is a fact…undeniable and irrefutable.
Of course, you can try to wiggle out of it being a fact based on a "technicality" by saying that Donald Trump only won the electoral vote, not the popular vote. But that's pure obfuscation. Like it or not, Trump won and now occupies the White House. That's a fact.
Matt tried a similar attempt at obfuscation. Because the full Axanar fan film was never completed (um, lawsuit?) and the studio had to be shut down down, Matt believes that all of the money that was spent is now erased from the official record. It never went toward a studio because the studio was never completed and is now gone. It never went toward sets or costumes or the filming of the Vulcan Scene because the full Axanar movie was never completed.
Um, yeah, Matt. Right. Whatever you say.
(If you want to see Matt try to double, triple, and quadruple down on the lie—and it's a really fascinating bit of self-delusion worth checking out if you have a few moments—you can read his comments on this YouTube page where he posted the "best of" video.)
Perhaps the best rebuttal to Matt's "logic" (or rather, lack thereof) came from the Oracle of Trek Fan Films (I've just given her that honorary nickname), BARBARA READER of Star Trek Reviewed:
So, you are saying that politicians who lose never ran for office, the 9 out of 10 people who attempt to make fan films and failed never attempted, the 9 out of 10 start-up businesses that fail never tried, right?
That's pretty much the mic drop, so I won't try to add to it. But instead, I would like to take a moment to ask WHY Matt Miller has all-of-a-sudden become the Axanar "SUPER-DETRACTOR"!
---
It wasn't this way during our discussion/debate, nor in the weeks leading up to it. Matthew was actually very polite, reasonable, civil, and most of all, open-minded about me, Alec, and Axanar in general. Oh sure, we still disagreed, and sometimes even passionately argued. But Matthew listened to my points and even agreed with a few along the way…something very unusual for a detractor.
So unusual, in fact, that the other detractors have raked Matthew over the coals for it! They're furious that he did so "poorly" (their opinion) in the debate, freely admitted to getting "schooled" by Slow Lane, and gave me way too much opportunity to make my arguments in detail while challenging me only rarely (while I challenged him almost constantly).
The detractors also harp on the fact that Matthew shared the topics we would be discussing with me beforehand, which gave me an opportunity to "prepare" (as if I don't already have every detractor argument and accusation memorized after three years of countering them all!). Apparently, some believe it would have been better to try to do an "ambush" interview rather than an informed debate, and they assume that I would have been totally unprepared. Yep, I'm sure I would have been a quivering, stuttering wreck. Uh, huh. Sure. (Have you met me???)
Anyway, the detractors haven't been kind to Matthew. This is only a small sampling of the vitriol they are now hurling against someone who used to be one of their own and made the unforgivable decision to be polite, civil, and open-minded with a major Axanar supporter…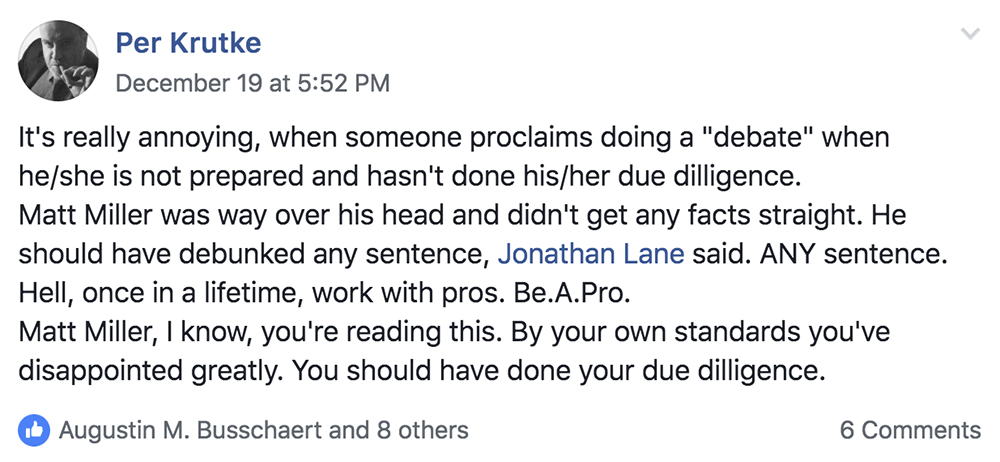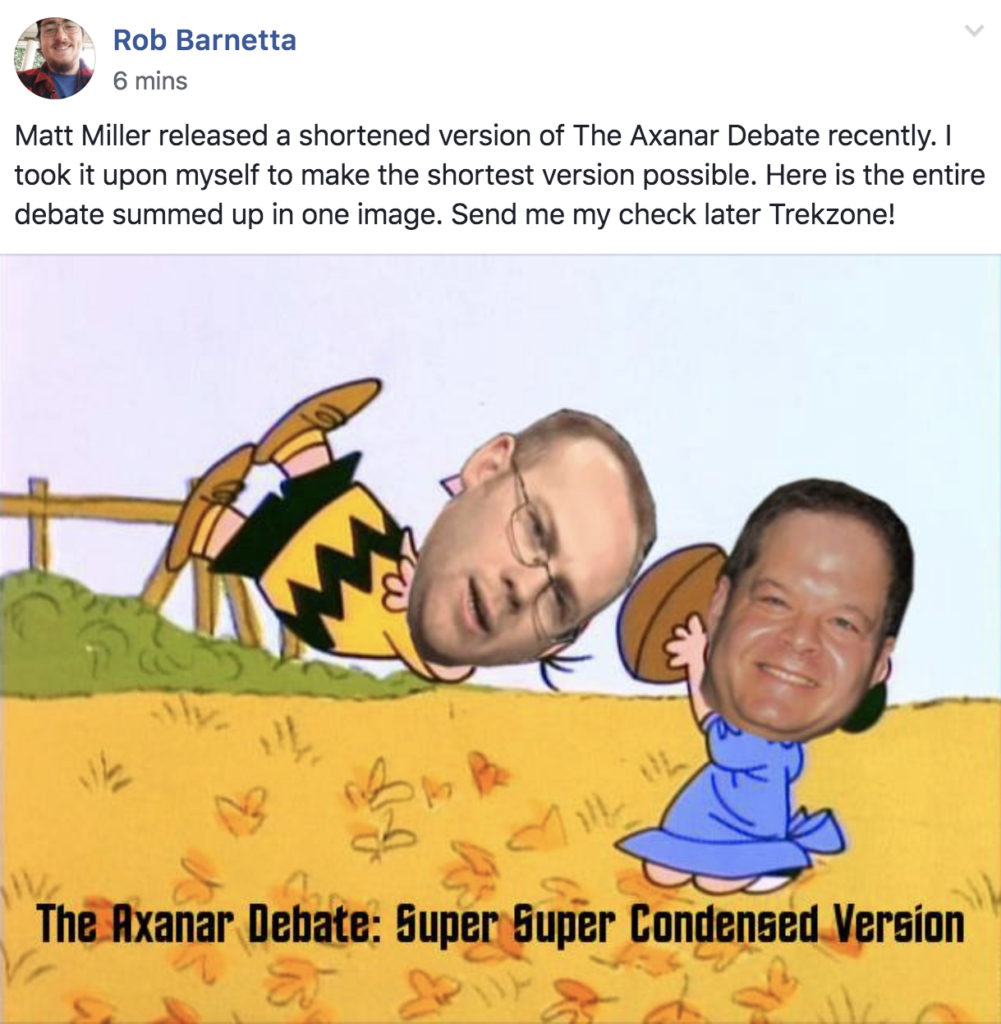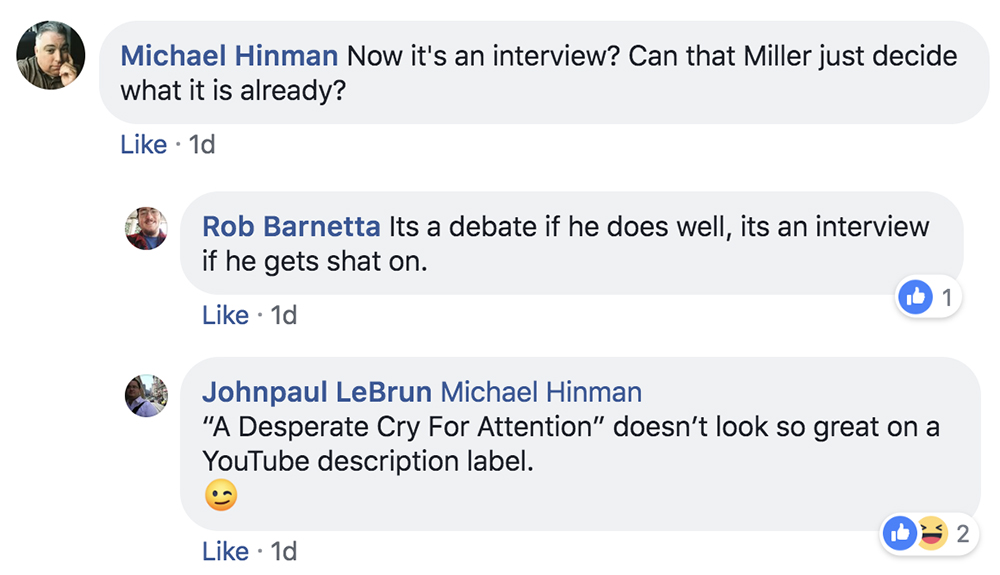 Personally, I think such comments are totally unfair, unkind, unnecessary, and uncalled for. I even said so in this comment posted to one of the sites frequented mostly by detractors: "You detractors should actually be ashamed of yourselves for being so negative to one of your own (which is why Matt no longer wants to be one of your own)." I really ripped into them for being so nasty to him.
Yes, it's true that Matthew left the Axamonitor Facebook group in frustration and disgust back in October (and even blogged about the reasons for his departure). But he's still very much aware that those criticisms are out there. I know this because he blogged about those criticisms, as well.
Matthew is obviously hurting over this, and I can't blame him. He went into our "blogger-battle" podcast with hopes of one outcome and instead came out—unexpectedly and disappointingly from his perspective—with something entirely different. The result, to be blunt, has left Matthew with few friends in his corner right now.
I mean, the Axanar supporters never really liked Matt to begin with because of how negative and critical he has been of the project and of Alec Peters. And Matt's statements in the interview that Alec should have rolled over and taken a loss in the lawsuit rather than fight on (even though Alec ultimately came out ahead by not quitting) certainly didn't win Matthew any new converts from the pro-Axanar camp.
But now he's lost the respect of the detractors, as well (assuming detractors have respect for anything or anyone; it's hard to tell by how often they attack not only Alec and me but also each other). And these kids can be CRUEL with a capital C-R-U-E-L…even to someone who is ostensibly on their side.
Put yourselves in Matthew's place for a moment and think about how you'd be feeling right now. Insulted? Resentful? Alone? You don't have to be Counsellor Deanna Troi to feel empathy right now. Anyone who's ever been picked on or bullied has felt this way at one point or another.
So what is an Aussie blogger to do…especially one who wants to stay relevant? If you said, "Turn up the dial to 11 on bashing Alec Peters and Axanar," you would be correct. And if you said, "Throw Jonathan under the bus a little, too," you would get extra credit. In the above blog (the one addressing the criticisms about his performance in the discussion/debate), Matthew said the following:
I knew that his [Jonathan's] condescending attitude towards my, and other "detractors" points of view would drive new listeners to my show.
Let me reiterate my position on this saga, Alec Peters was wrong using Star Trek IP to create a business model that had nothing to do with Axanar. He was wrong for using Star Trek IP on perks given to donors. He was wrong for profiting off his donors and loyal supporters – he paid for tyres, lunches, insurance, phone bills and flights across the United States out of donor funds (but that's ok, because it was just a labeling error on the annual report.) And Peters was most assuredly wrong for pursuing legal action against CBS and Paramount.
And then, of course, there's the outright lie that started this blog…plus Matthew's subsequent comments trying valiantly to justify and defend the lie.
But the question now is: why would he do it? And I think I might know.
---
Matthew will probably argue with what I'm about to say (hey, we've debated before!), and I'm not claiming to be inside of his brain. But it seems pretty clear to me that Matthew is trying to reestablish his "street cred" as a detractor by not just returning to the fold but trying to go above and beyond in bashing Alec Peters…even if it means lying and trying to stand behind that lie. And hey, maybe it'll work to bring him back into the detractor's good graces (although I can't say it'll do much for his credibility outside of his "base").
But this whole disappointing situation—and make no mistake, I am VERY disappointed in Matthew Miller right now—brings to my mind a theory I've had about the Axanar detractor community. Most of them are afraid. They're afraid of leaving or not bashing Axanar enough and getting the same treatment that Matthew just got. The detractors are not very forgiving, but they are incredibly nasty and hurtful…and persistent about it!
So instead, it's safer for many of them to stay "in the gang," even if that means doing things which they know in their hearts are wrong. Oh sure, there's some true bullies in the bunch who are simply belligerent human beings with mainly hatred, resentment, and bile in their hearts and lives. But the rest might actually be good people who are simply too afraid of their fellow bullies to risk leaving the gang for fear of retaliation. So they pretend and "perform," they take their shots and sound all angry and righteous over Axanar no matter what happens. They pat each other on the backs, "like" all the right comments, and try to outdo each other in negativity and nastiness.
It's like the mean-girl clique in school or gang of jocks on the yard…and Matthew is just trying to fit in with the "cool kids" again…whatever it takes.
In the meantime, the Axanar supporters are basically positive, hopeful people who believe in a man and his dream. We don't turn on our own or insult each other if we aren't supportive enough. We don't live our lives trying to put others down.
Truth to tell, despite everything, I think Alec and the Axanar supporters might very well have welcomed Matt Miller as a friend if he'd only stopped the Alec and Axanar bashing.
But Matthew made a different choice, and I feel very sorry for him. I hope he can find some happiness or redemption in all the negativity, but somehow I doubt it'll happen. Too bad…because I think that he really could have had some wonderful new, true friends.