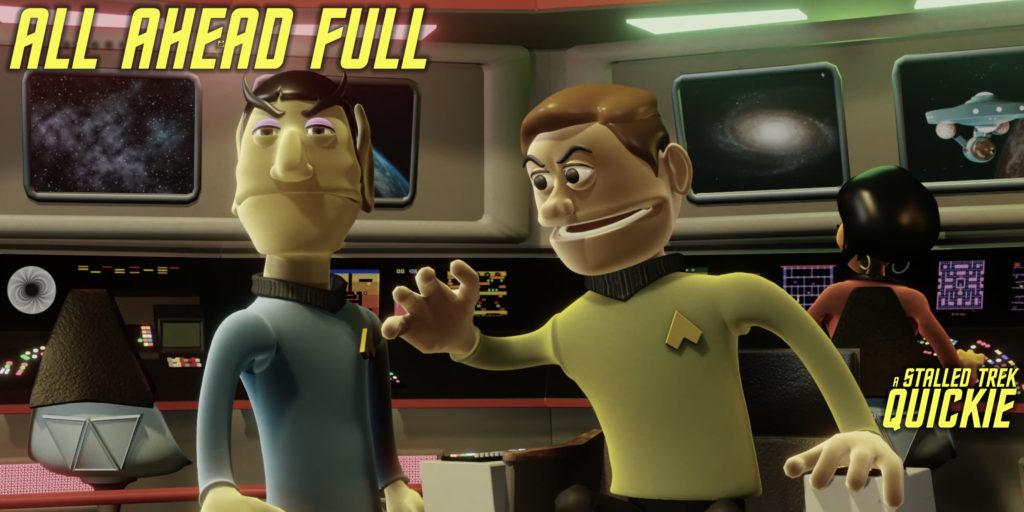 The last new STALLED TREK came out in 2016 ("Prelude to Ax'd-We-Are"). It featured parody puppets inspired by the characters from Axanar. But the last time fans saw the kooky TOS crew of the USS Second Prize was in 2012's "Amutt Time."
Last summer, Stalled Trek creator and certified genius lunatic MARK LARGENT announced a Kickstarter to fund a brand new episode: "The City on the Edge of Foreclosure." He successfully raised $4,181 from 114 backers, and so it was off to make a new fan film parody.
Until something bad happened…
The developers behind Animation:Master, the 3D modeling and rendering program that Mark had used for the previous Stalled Trek parodies, announced earlier this year that they would no longer be supporting or updating the application on the Macintosh platform. Mark didn't have the funds to buy a new Windows PC with the power necessary to render frames of animation at any kind of decent speed or efficiency. And it suddenly seemed as though Stalled Trek might be doomed!
But then Mark discovered Blender 3D, open source, actively updated—and FREE!—application that worked on PC and Macintosh. The program was robust, fairly easy for Mark to learn, and even renders animations while he works on other things…rather than taking over all of his computer processing power, forcing him to only render animations during breaks for meals or sleep.
You can read more about Mark's initial experiences with Blender in this blog from April.
Anyway, Mark has spent the last few months diving into Blender (sounds dangerous!), and now he's ready to show us what he's learned. Mark recently sent the following e-mail to his backers, along with the first new Stalled Trek in three years…
Well, the transition to Blender 3D has been an interesting one. I had worried that I would find major land mines while making the switch, but I'm pleased to say that, so far, they have only been minor things.
I'm still in the learning stage, but I'm feeling more confident each day.
To test my ability to actually create "City on the Edge of Foreclosure" in Blender, I wrote a quick script and started working on making a short Stalled Trek "quickie."
Nothing like actually trying something out to find out how many newbie mistakes you've been making along the way!
But, I've managed to get ahead of most of them, and I'll definitely be further refining things as I move on to the big one.
So, without further ado, please enjoy Stalled Trek: "All Ahead Full!"