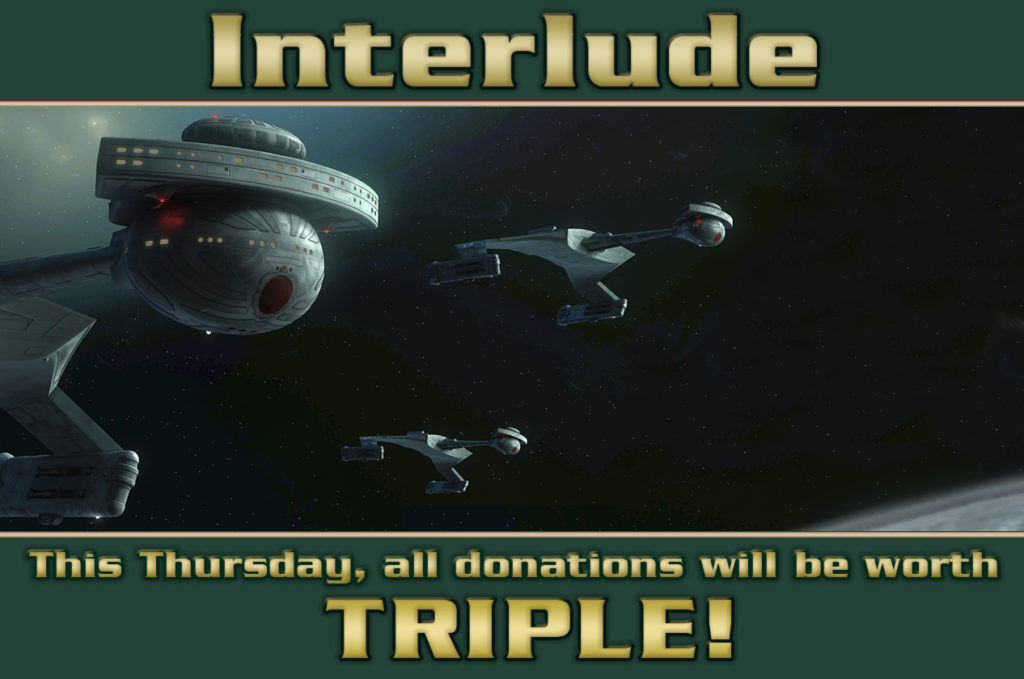 This is really exciting, folks! Last week, two of my backers for INTERLUDE approached me separately with an offer to match—dollar for dollar—any donation made to the Interlude GoFundMe during a 24-hour period that I could determine. Both backers have asked to remain anonymous, but one of them is the fan who donated $1,000 just a few days after we launched in June.

After discussing details with both of them, we came up with the following rules for this special one-day promotion:
The 24-hour period will be this Thursday, August 15 beginning at the stroke of midnight PDT and ending at 11:59pm PDT Thursday night.
Both of these backers will each match any donation from $1 to $100 with an equal donation…essentially TRIPLING whatever you give. This means a $10 donation is worth $30 to the campaign, $25 becomes $75, and $100 becomes $300!
The matching donations will max out at $1,200 for the day for each of our two match-backers. This means that, if we manage to hit our ceiling, the Interlude GoFundMe will take in $3,600 in just 24 hours!!!
Now, you might be wondering why they're matching only donations of between $1 and $100 and not larger ones. We discussed this, and the reason is because both of these match-backers want this to be FUN! But if someone came along and just donated all $1,200 in one fell swoop. Then—poof!—the promotion would end…and no one else would enjoy knowing that their donation just tripled.
And why is there a $1,200 ceiling? That's simply because that's the amount that each of these backers was comfortable matching. I don't want anyone going broke, y'know…and it's a very generous offer on both of their parts.
So if you've been waiting to make a contribution to Interlude, THIS THURSDAY is the day to do it! And if you've already donated, even if you just have an extra $5 sitting around, it'll be worth $15. If we make our maximum, we'll hit nearly $15K…surpassing the minimum $13.5K we need by August 20 in order to film in November.
You're also welcome to donate before or after thus Thursday, but for 24 hours, it'll be a sprint to $1,200! Here's the link (and I'll post it again on Thursday, of course)…