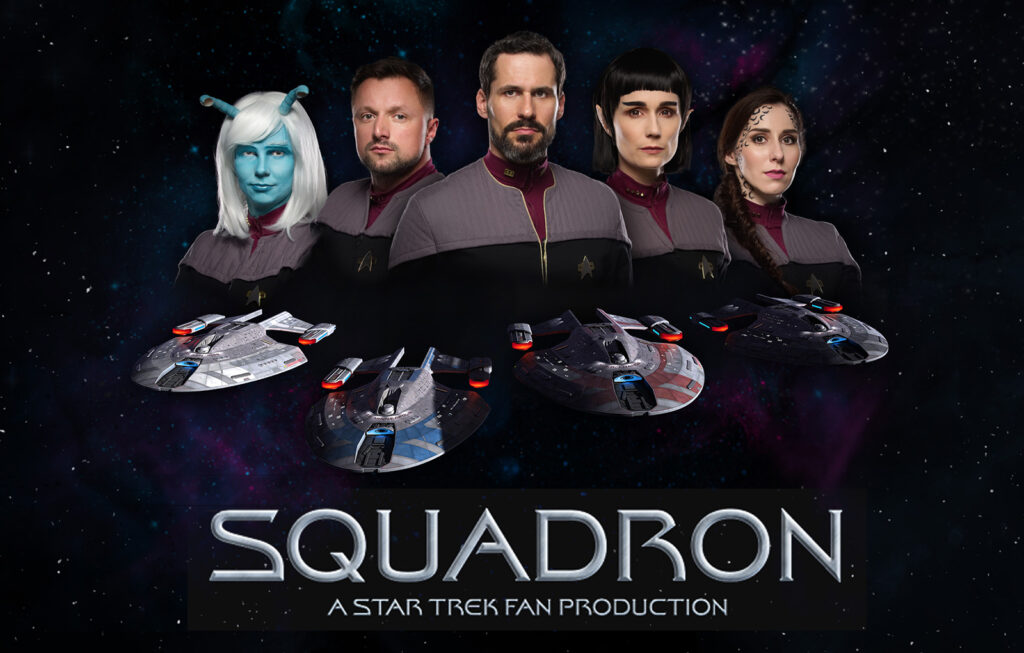 The Czechs are coming! The Czechs are coming! And do they have a treat for YOU!!!
SQUADRON will be the latest Star Trek fan film to come out of the Czech Republic, scheduled for release later on this year. And while you probably don't speak Czech, if you're willing to help fund their project, you won't have to. Raising $15,000 will help them complete post-production on their already-filmed project, but reaching a stretch goal of $17,000 will allow them to bring on native English-speaking voice-over actors to dub the entire 2-part Squadron so you won't have to read a single subtitle!
But why would you want to help crowd-fund a fan film being made in Eastern Europe? Let me give you a few excellent reasons…
They have an amazing 360-degree, 24th-century bridge set.
They have impeccably tailored uniforms and professional-quality props and make-up.
They will be one of the only Star Trek fan films so far to feature a Vorta and Jem'Hadar during the Dominion War.
They also have a really awesome-looking Vulcan and Andorian.
Think of the conversations you could start with friends and family saying, "Yeah, I just helped fund a Star Trek fan film from the Czech Republic!" and then see who can find that country on a map (hint: southeast of Germany, southwest of Poland).
However, the best reason I can give you for donating to Squadron is the stunning quality of this "ask" video…
Now imagine a half-hour's worth of this kind of quality! It'll happen if YOU can help out a little…or a lot. Whatever you can spare will take these hardcore Czecher Trekkers a little bit closer to their goal. Just click on the link below…
https://www.indiegogo.com/projects/squadron-a-star-trek-fan-production
They're offering some intriguing perks at all levels (donate a large enough amount, and you'll get hotel accommodations in Prague, a personal tour of their lovely city, and a visit to the studio with the bridge set…and photos, of course!). Naturally, they have their trailer online, and there's also a whole bunch of very impressive photos showing their amazing sets, uniforms, make-up, and props…plus, they even have a really cool virtual 3D tour of their bridge. This is a top-notch crowd-funding campaign page, folks. Even if you can't donate right now, it's worth checking (or Czeching) out their Indiegogo campaign page just for all of the eye-catching visuals.
And if you'd like to hear some more about this exciting new production, take a listen to this FANtastic interview I did with the man behind the campaign, JAKUB "JIM" HOLÝ, and listen to his uncanny Czech/Irish accent…