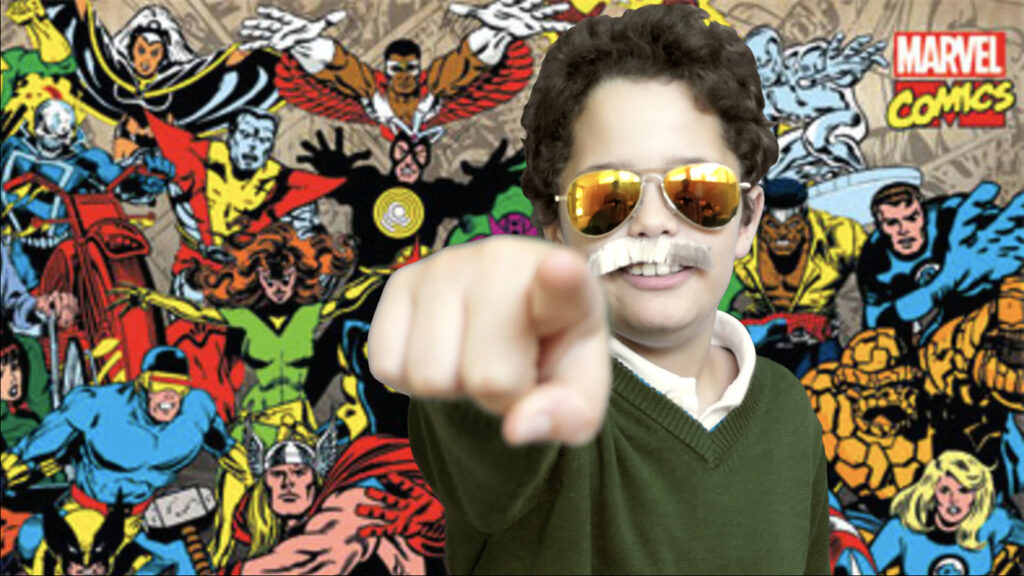 Technically, this isn't a blog about Star Trek or fan films. So if you're only here for that, feel free to skip this entry because I'm indulging in the "it's-my-blog-site-so-I-can-cover-what-I-want" option. And today, it's a special blog about my son JAYDEN.
The quarantine has been a huge adjustment for kids—going from spending seven hours at school five days week with their teachers and friends to spending all day at home with only two hours a day of virtual classroom time in a Zoom meeting…and the rest of the day doing work independently from home. Many parents have become home-schooling "partners" to their children's teachers…and that includes yours truly.
One of the highlights of the third grade at Jayden's school is the annual "Living Museum" project. Many schools do this same assignment in third or fourth grade. Each student reads a biography of a famous person—from King Tut to Steve Jobs, Alexander Hamilton to Elton John, Sacajawea to Sally Ride, Roald Dahl to George Lucas. At the end of the school year, the students prepare a five-paragraph monologue about the life of their famous person. They memorize this monologue over a number of weeks, and during a special assembly at the end of the school year, they each dress up as their famous person and recite their monologue.
Sadly, the Coronavirus put the kibosh on any kind of assembly this year.
But the show must go on, so the third graders still read their biographies and prepared their monologues. However, the culmination of the process morphed from an assembly into a recorded video in costume uploaded by parents to the teachers and then compiled into a presentation to be shown to the entire class via Zoom meeting…parents, grandparents, aunts, uncles, and cousins invited to attend, as well.
Jayden's famous person was the legendary Marvel Comics publisher STAN LEE, creator of some of the most well-known superhero and villain characters in history…including Jayden's favorite: Spider-Man.
I thoroughly enjoyed reading Stan's biography with Jayden and helping with chapter summaries. I shared some of my old comic books with Jayden (I've got 44,000 of them in the garage!), and I even have a poster signed by Stan "The Man" himself…along with a personalized note from Stan (shown to the right) when my brother's and my company almost worked with Stan's company in late 1998 . (Jayden's jaw dropped when he saw that!)
Stan's life and the many, many, many characters that he'd created sparked Jayden's imagination and enthusiasm in a way that most of the other day-to-day assignments during virtual learning didn't manage to. And so I saw a unique opportunity with the monologue video.
Finding a Stan Lee "costume" is not that hard. Turns out that all you need is a white polo, V-neck sweater, khaki pants, Keds sneakers, sunglasses, and a fake mustache. Take a look…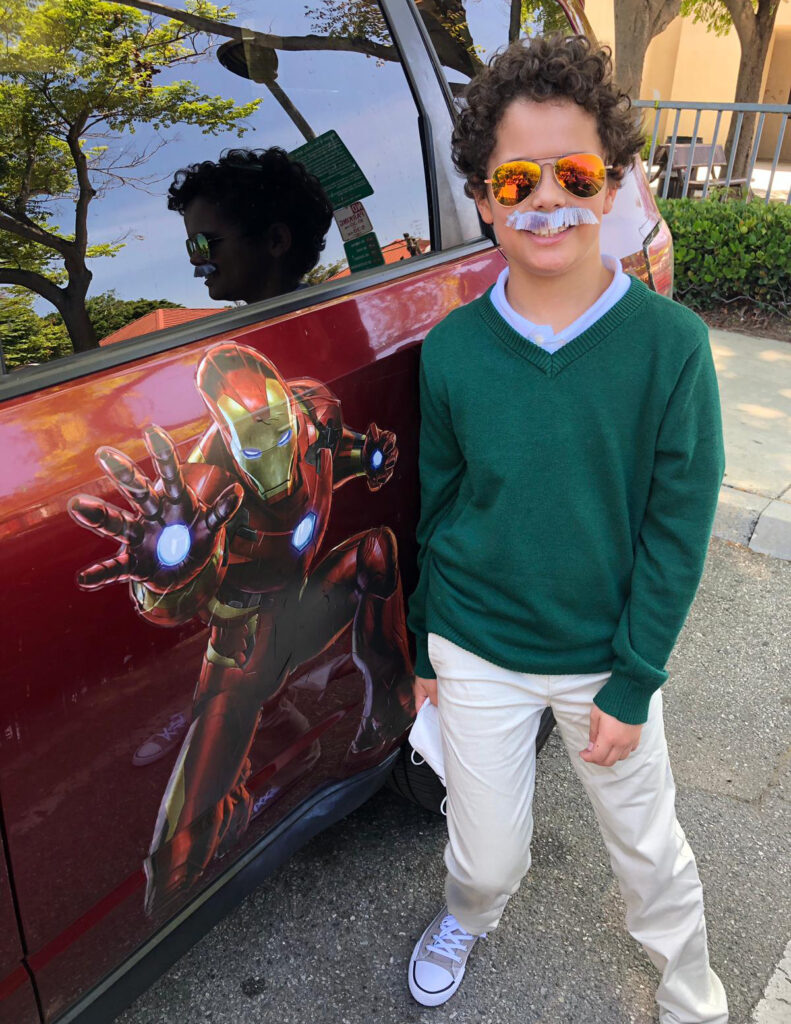 Yeah, the hair is a lost cause—Jayden's last haircut was back in February! But everything else came together nicely. However, the thought of Jayden simply standing in front of a wall in our house reciting his monologue just seemed like such a waste when there's so many MARVELous characters that Stan Lee gave to the world.
Jayden watches a lot (a LOT!) of YouTube and wants to become a famous YouTuber someday. He already has a YouTube channel with a few videos on it, and I figured the thought of doing a "Tube-worthy" video that could get lots of views and new subscribers might entice Jayden to work a little harder on this particular school project.
So I discussed with Jayden ways to "jazz up" his video. We'd do an introduction, use his superhero toys as props (along with the big signed poster), and even shoot in front of a "green screen"—which was actually just a blue matte board I have in the house. (We don't own a green screen…and anyway, the sweater we bought for Jayden was already green).
Afterwards in "post," using iMovie, I'd composite in different backgrounds…including images of all (or many) of the heroes and villains that Stan created. That required a ton of work on my part to create all of those backgrounds. But lest you think this was just a Daddy project, Jayden worked REALLY hard on it, too. We spent more than three hours filming everything, doing multiple takes for each segment…and Jayden let me know in the most uncertain terms (and repeatedly) that his mustache itched like crazy!
In the end, we produced an amazing 6-minute video with music from the credits of two different Avengers movies (we're not monetizing it, so YouTube allows it), sound effects, and even a few simple visual effects. We even have a cameo by the real Stan Lee as an epilogue!
Here's the finished product…
If you like it, feel free to share (Jayden would LOVE to have the views), subscribe, and/or leave an encouraging comment. And if you don't like, well, please don't leave a discouraging comment 'cause he's only nine, for goodness sake!
As a father, I am so proud of the hard work that my son Jayden put into this video. I'm certain Stan would have approved. In fact, maybe calling it a fan film isn't too far off after all. At the very least, it's a Stan film!
'Nuff said. Excelsior!