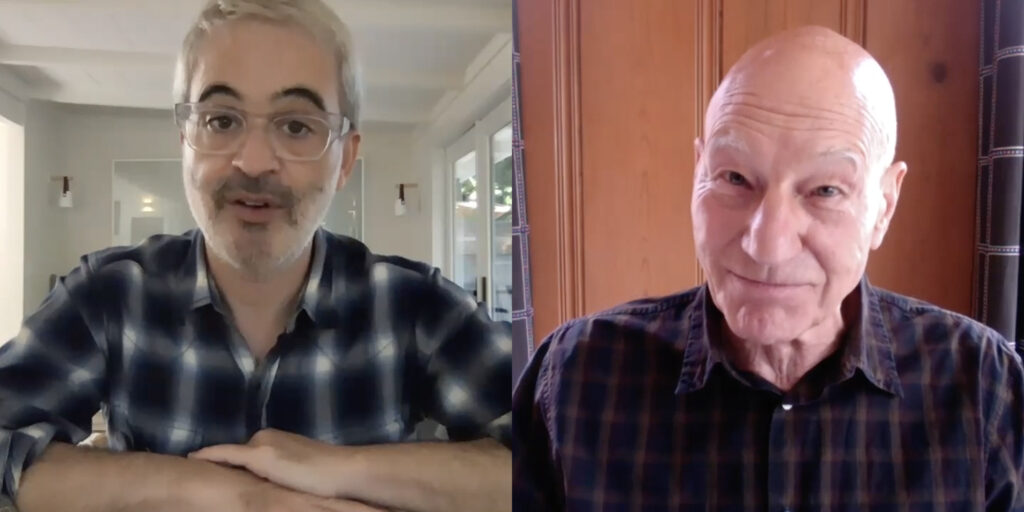 How'd you like for SIR PATRICK STEWART to personally escort you and a friend through the set for STAR TREK: PICARD and introduce you to all of the cast members? And hey, as long as you're there, why not throw in a walk-on appearance in one of the season two episodes?
Sound crazy? Unbelievable? Impossible??? Nope, this is 100% for real, folks…and by entering, you will also be helping to feed people in dire need of food during this global pandemic crisis.
Back in April, a small group of entrepreneurs from Fanatics.com launched a new initiative called the ALL IN Challenge. Leveraging their connections in the sports world (Fanatics is a licensed merchandise manufacturer for professional and college sports leagues throughout the world), the ALL IN Challenge Foundation invited famous athletes (and later music and entertainment industry celebrities) to donate their most prized possessions and be challenged to create once-in-a-lifetime experiences that will be both available for online auction and as giveaways.
All of the money raised (100%) will be going directly to the following charities: Meals on Wheels, No Kid Hungry, and America's Food Fund, which is directly benefiting Feeding America and World Central Kitchen. More than ever before, families are struggling to provide food as tens of millions are out of work, kids are out of school, many are at risk of losing their income, and the most vulnerable elderly population is self-isolating. The ALL IN Challenge Foundation (AICF) is a 501(c)(3) non-profit, and therefore, any money you give them to win a chance to visit the set of Picard will be completely tax deductible. (Visit this web page for more details.)
ALL IN Challenge Foundation has already raised nearly $60 million from over a million donations. More than 500 celebrities and organizations have offered prizes so far—from Jennifer Lopez to the Philadelphia Eagles to Starbucks (free Starbucks for life, anyone?). And the latest offering from ALL IN is for a once-in-a-lifetime chance for a fan to visit the set of Star Trek: Picard, meet Patrick Stewart, and even have a walk-on role in a season two episode. Here is the official description:
We will roll out the red carpet with an exclusive VIP set visit and tour of the stages for you and a guest. The star treatment will continue as you, the winner, go into hair, makeup and wardrobe before being part of the show with a walk-on role. You and your guest will also have the chance to meet Sir Patrick Stewart as one of his most iconic characters, Jean-Luc Picard.
Naturally, timing depends on the pandemic and safety concerns. And the winner is responsible for his or her travel and lodging. But aside from that, it's just a simple sweepstakes with $10 buying ten chances to win, and $100 buying 200 chances. You can enter as many times as you like up through July 22, 2020…