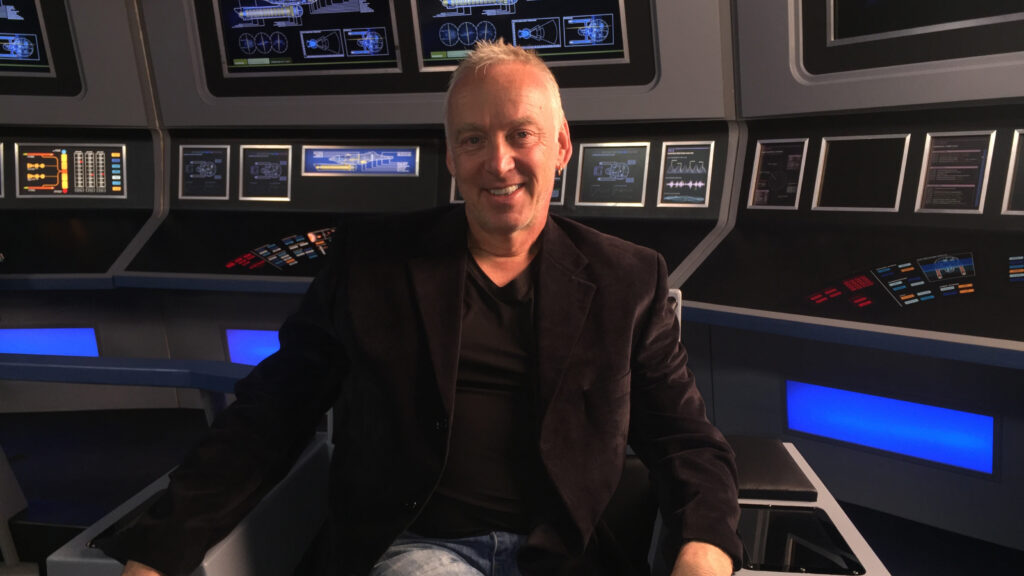 Well, I certainly had an interesting Saturday morning! Before I get into the news and the statements from PAUL JENKINS and ALEC PETERS on the subject of the termination of their relationship, I'd like to start this blog with something that happened on Friday night…
Several weeks ago, just prior to Alec contracting COVID-19, I'd offered to help edit a new trailer for AXANAR. Normally, the trailers are cut by the editor, MARK EDWARD LEWIS. But post-production funding is only just starting to trickle in, and I'm willing to work for free patches. So Alec agreed to send me all of the raw footage from the Axanar shoots and let me have at it. Cool, I thought.
Then Alec got sick and couldn't leave the house. So the hard drive with the files on it didn't arrive here in California until Friday afternoon. I took a look through everything—hundreds and hundreds of video and audio files—and thought to myself: which of these takes are the ones that the director (Paul Jenkins) wants to use? I watched through nearly everything until about 2:30am, and then went to sleep, expecting to (hopefully) set up a 3-way call with Alec and Paul sometime over the weekend or in the coming week to figure out which takes they wanted to select for the trailer.
Then I woke up Saturday to this…
Honestly, the first thing that went through my head as I considered my previous plan of going through selects with Paul and Alec was Lt. Kevin Riley's line from "The Naked Time": No dance tonight…
But seriously, folks…WTF???
A week earlier, I reported on the departure of actor GARY GRAHAM from Axanar. However, that "break-up" seems to have been amicable and done in a friendly, non-confrontational way. Paul's statement, made through a press release from his production company META Studios, seems to be filled with a significant amount of acrimony and was claiming to have copyright and control over all of the recent Axanar footage filmed so far.
This puts me in a difficult place as a blogger, as a supporter of Axanar, and as a fan because I consider both Alec Peters and Paul Jenkins to be personal friends. I've known Alec since 2014. And Paul and I became friendly this past year, specifically after he came by to check out the INTERLUDE shoot last November. Over the ensuing months, we've spoken often (and not just because my team had accidentally destroyed his $4,700 green screen…which we were able to reimburse him for with the generous emergency help of our Interlude donors). Paul has provided me invaluable insight and advice on being a producer and how to work effectively with directors, and I can't thank him enough for that. In many ways, Paul has been a taller, British-accented Yoda for me.
So I'm going to try very hard NOT to get in the middle of what looks like a bad break-up. I reached out to Paul for a comment, and in a friendly response yesterday, he told me that he'd like to let the above press release speak for itself.
As for Alec, here is the brief statement that he published on his Axanar blog Sunday evening…
On June 18th, Axanar terminated Paul Jenkins as director of the next two Axanar episodes. We hoped to have an amicable separation, but Paul chose to release a false and insulting public statement which does a disservice to our great team and all the fans and donors who have supported this project. Due to Paul's legal threats, we will not be discussing this matter further on advice of counsel.
I am happy to say we have a new director, with 30 years of Hollywood experience working with some of the top names in show biz, to handle the last two shoots. We will be making an announcement soon.
Rest assured that Axanar will continue to boldly go where no fan production has gone before.
---
Oy, legal threats…
Via Facebook, I am getting a LOT of questions from Axanar donors and supporters asking if this will be the end of Axanar and whether Paul Jenkins can really prevent Alec and Axanar Productions from using the footage that's already been filmed (footage that cost well over $70,000 in fan donations so far to produce). Obviously, having to re-crowd-fund and re-shoot all of those scenes would likely cripple the project.
But as I said, I don't want to get in the middle of this. Therefore, I won't be opining publicly on the question of legal rights of a co-author and/or director and/or producer in regards to copyright ownership of filmed footage.
For anyone wanting to learn more about what the law says on this issue, I would recommend reading this web page explaining the Joint Authorship Doctrine and this web page explaining the recent federal court case 16 Casa Duse, LLC v. Merkin. Then you can draw your own conclusions.