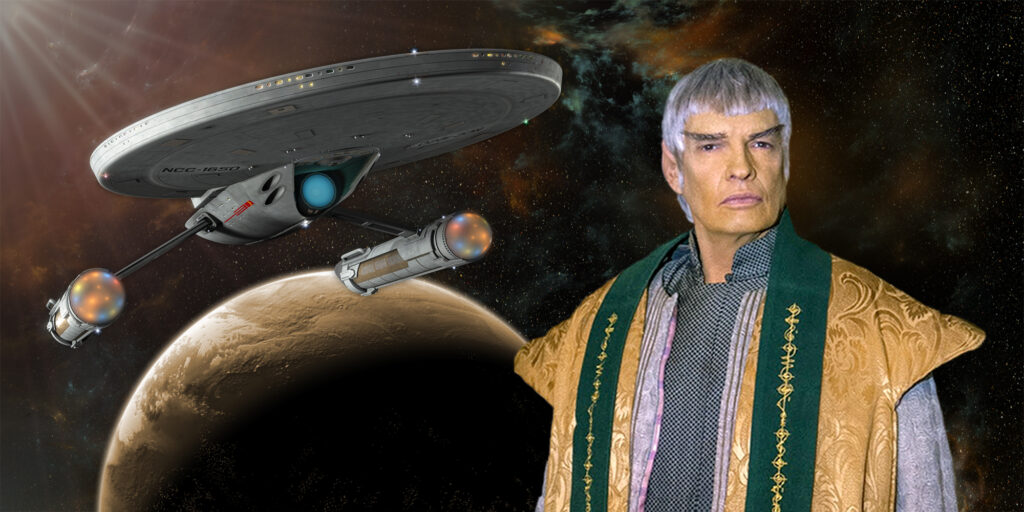 The following message from actor GARY GRAHAM was posted to Facebook on Wednesday afternoon: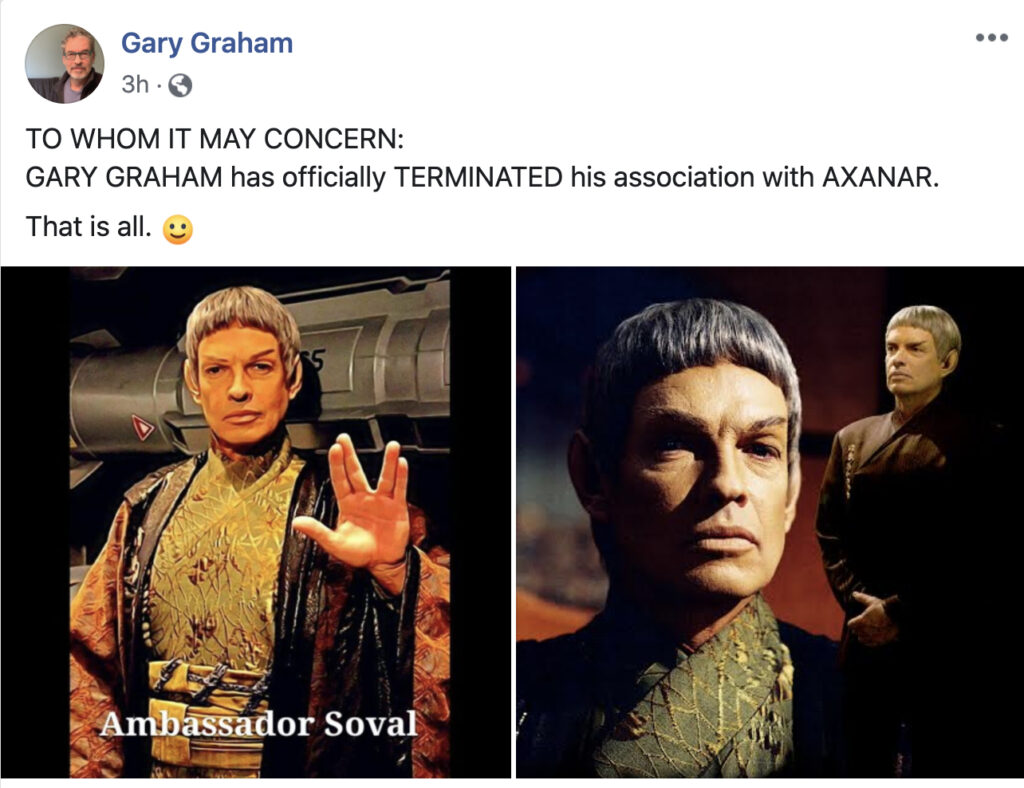 An hour or so later, when asked what happened, Gary added this brief explanation:

This obviously comes as a blow to AXANAR fans who looked forward to once again seeing Vulcan Ambassador Soval in the two 15-minute sequel fan films. Gary had already played the venerated character to near universal praise in PRELUDE TO AXANAR and then a year later in the 3-minute "Vulcan Scene." In the years since the lawsuit that shut down production on Axanar in 2016, Gary had been an ardent supporter of both the project itself and of show-runner ALEC PETERS. Gary traveled from California to Georgia to appear at AXACON in 2018, saying positive things about Alec and the original production in interviews like this one (skip to 14:40).
Gary's announcement came without any warning. And in the last 36 hours, I've seen unconfirmed reports of "irreconcilable differences," that Gary is hoping to land a role on the new Star Trek: Strange New Worlds series and worried that an association with Axanar Productions would hurt his chances, and even political friction (Gary and Alec are on opposite sides regarding Donald Trump).
With so many unconfirmed rumors spreading on social media, I reached out to both Alec and Gary for comment. Gary has not yet responded to my request, but Alec confirmed that the first he knew that Gary was leaving the project came on Wednesday, and Alec provided me with the following statement (which has also been posted to the Axanar website)…
---
On Wednesday, Gary Graham announced that he will no longer be playing Soval (or any character) in the two Axanar sequels. This was what Gary posted to Facebook:
For those who wish to know… 'What happened…". It's complicated… and I don't wish to malign anyone — The parting was amenable. I just weighed the amount Alec was willing to pay me versus the career liability my association with the Axanar Project was beginning to incur… And…. Risk needs to be compensated. And we just had a disagreement….over what that compensation should be…. and neither party would budge. The end.
I have nothing but respect for Gary as an actor and a person. He's always been very easy to work with, willing to put his all into this project, and intensely supportive of Axanar even through the darkest days of the lawsuit. I wish him nothing but the best, and I thank him from the bottom of my heart for helping to make Prelude and the Vulcan Scene.
As to Gary's comments as to compensation, well, we are limited by practicalities of our finances, the settlement agreement with CBS/Paramount and the Star Trek Fan Film Guidelines, and Gary's salary request was outside what we were able to do.
The entire Axanar team wishes Gary all the best in his career. These kinds of things happen all the time in the industry, and there's really no hard feelings. This is an amicable parting of the ways. Axanar will still proceed, and we are happy to say that Soval's lines in the final segments will be given to Sarek, who is a character in the full Axanar script. We already have an amazing actor for that role, and we are sure fans will love the final product.
Alec then sent me a quick follow-up shortly before I posted this blog:
I had messaged Gary earlier in the day with a link to our statement on the Axanar Facebook page, so he knew how we were addressing it. Gary happened to message me back right in the middle of Axanar After Dark, our YouTube Live Stream, and thanked me and told me he was still a fan of Axanar. So it is nice we can part ways as friends.