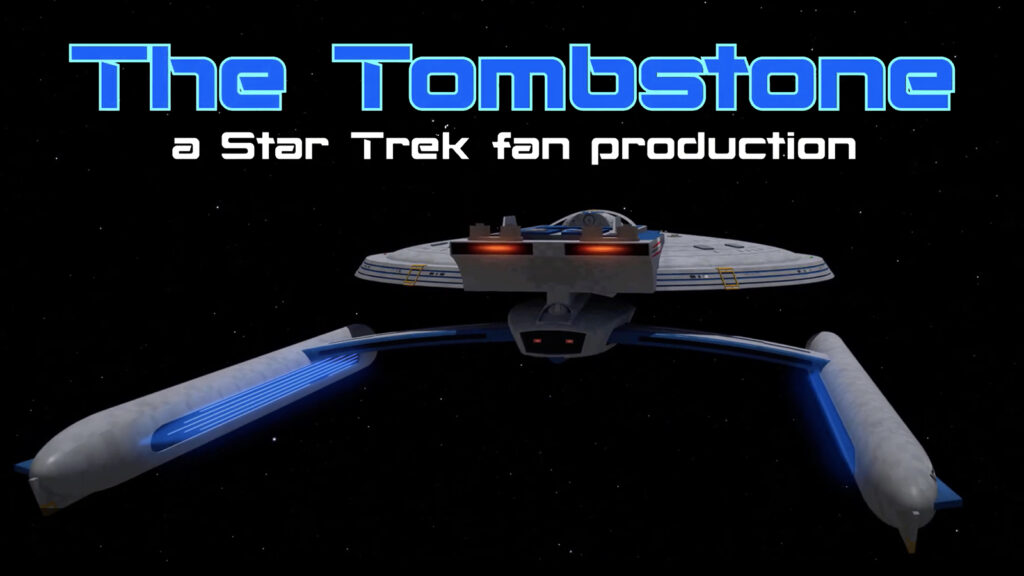 Even though POTEMKIN PICTURES has been around for over a decade now, the folks in their STARSHIP WEBSTER Creative Group are definitely the new kids on the fan film block. Their predecessors include PROJECT: POTEMKIN, STARSHIP DEIMOS, STARSHIP ALEXANDER, STARSHIP TRISTAN, HOSPITAL SHIP MARIE CURIE, BATTLECRUISER KUPOK, STARSHIP TRITON, and STARSHIP ENDEAVOUR.
When show-runner RANDY LANDERS and his wife moved from Alabama to Lexington, Kentucky in 2019, it provided an opportunity to find and invite a whole new collective of local Trekkers in the fan film family. And even though the pandemic made things a little more challenging, the new Webster group still managed to release their debut fan film, "LAUNCH," on October 9, followed quickly by their second offering, "A VOICE IN THE DARK," just two weeks later. The latter allowed one of their actors, BILLY SWANSON, to take the lead and both write and direct—as well as star in—what was essentially a "one-man show."
Two months later, released on Christmas day, another member of the team, JERRY WILLIAMS, got to write and appear in an episode…although this time, Randy Landers was the one directing, and the cast consisted of more than one actor (seven, in fact—three in major roles).
I've been making it a point to give these fine fan film folks a spotlight here on the blog as both a welcome to the community and also in acknowledgment of their quick embrace of this sub-sub-genre and dedication to getting their first few fan films produced and released.
As such, I asked Randy whom he thought would be the best person to interview for this third release, and he quickly said it should be Jerry Williams himself. "Jerry is quite a local legend," Randy told me.
So let's take a look at Jerry's first Star Trek fan film, "THE TOMBSTONE," and then we can chat…
And now, heeeeeeerrrrrrrreeeeeee's Jerry (do my younger readers even get that reference?)…
JONATHAN – Congratulations on writing your first fan film, Jerry. So what was the the inspiration for "The Tombstone"?
JERRY – My inspiration was the original Star Trek series. I love that wild, chaotic, crazy energy of TOS—"Spectre of the Gun" or "Catspaw"—where a superior alien species would evaluate humanity via a psychological test of our darkest fears. When I first wrote it, we didn't know what actors we would have, so I kept the script very simple…figuring it would be an actor-centric episode. BILLY SWANSON and ALYSSA RICE did a fantastic job on it. Billy got the slow burn bemusement down, which reminded me of Kirk dealing with irritants in "The Trouble with Tribbles." LOL.
JONATHAN – How did you folks manage to safely film this project during the pandemic?
JERRY – The production did a fantastic job with the challenges of the COVID era. Randy did an awesome job with directing and safety protocols. I have to mention that LAURA JOHNSON of the Starship Webster production company did a fantastic job keeping the shoot moving. I've been very lucky, as I am usually doing Randy and Laura's jobs at the same time on my films, so it was cool just to act…or on director Tucky Williams' Girl/Girl Scene – The Movie doing the location sound.
JONATHAN – Oh, I didn't realize that you've done other film work! Are you currently working on other projects, and if so, in what capacities?
JERRY – Currently I'm working on my half-hour show on the B-zone Roku channel called Galaxy Drive-In Theater, which focuses on weird quirky fare. I'm hosting this as my alter ego, Astrospacehero (a parody of 50's Space Patrol, which ran 11 seasons on Amazon before it was removed due to intense streaming content competition between corporate and individual-created content).
I'm also producing and editing Dr. Tyranny's Terrible TV for INC Roku and B-Zone Roku with Todd Burrows as Dr. Tyranny, Tucky Williams as Queen of the Galaxy, and Mark Holmberg as Java Jones.
And finally, I'm working on music now, and my musical side project is called Magicians of the Cookie. I have several albums available on Band Camp. My latest EP is called "Devil Girl Dice"…kind of dungeon synth meets 80's pop. LOL.
JONATHAN – Speaking of music, this is the second time you've done the score for a Starship Webster fan film. Is there a common theme you're working from, or does each film inspire you in different ways?
JERRY – I've been scoring my own films for a while…so I was blown away by the opportunity to do music for Webster. I was mainly trying to channel the first three Star Trek movies—Goldsmith and Horner did fantastic work on those films—The Motion Picture had almost operatic music as a counterpoint, whereas James Horner's Wrath of Khan score was understated, letting the emotions take center stage.
JONATHAN – In addition to the writing, you also played the role of the Test Proctor. What source(s) would inspired your portrayal of this unique character, and how much of that performance was directed from Randy Landers and how much were choices that you made?
JERRY – Randy was fun to work with…mainly trying to get what he was looking for as a director. But I definitely had my own approach to playing the character. I'm a huge old school Doctor Who fan. I love the new stuff, too, but my favorite of the old school was a toss-up between the first Doctor of William Hartnell or sixth Doctor of Colin Baker. I drew upon the first Doctor as he had that crazy energy that was perfect for the alien.
JONATHAN – Well, congratulations again, Jerry, and welcome to the Star Trek fan film community. I hope we'll be seeing more of you and the Webster team soon!
JERRY – Thanks so much, Jonathan.