In case you didn't know, the long-running (since 2014!) fan series DREADNOUGHT DOMINION has a new Indiegogo campaign trying to raise $5,000 to fund the production costs of three upcoming fan films—two Dominion episodes plus one episode of Gary's new spin-off series PROJECT RUNABOUT, which will utilize this brand new set that Gary is nearly finished with…
If you haven't donated yet, there's still three weeks left, and they're off to a solid start, having gotten nearly a third of the way to their goal. But every little bit helps, so here's the link if you'd like to become a backer (and you totally should!)…
https://www.indiegogo.com/projects/dreadnought-dominion-crowdfunding
One of my favorite things about these folks is that they never take themselves too seriously. They're in this to have fun—and to share that fun with the rest of us fans.Many of their nearly-dozen fan film releases so far have included tongue-in-cheek elements, including a unique episode that broke the fourth wall, one that was filmed before a live studio audience, and another spotlighting a crew member who is actually a member of the Q Continuum and enjoys doing impressions of famous 20th century Hollywood actors!
Heck, just look at this trailer they released last weekend for their next episode "The More Things Change"…
They've also done a number of serious stories. In fact, Dreadnought Dominion is like a box of chocolates—you never know what you're going to get!
And speaking of boxes, I raised an eyebrow when I saw one of the perks being offered in their latest Indiegogo crowdfunding campaign. For supporters who donate $750 or more, show-runner GARY DAVIS will create a personalized action figure of the backer him or herself (or themselves, as we should remember to include non-binary folks)! Granted, $750 isn't exactly chump change, but then again, only two of these unique perks are being offered.
I was curious about these personalized action figures, so I reached out to Gary with some questions…
---
JONATHAN – How exactly do you make someone into an action figure, Gary?
GARY – I just combine heads with bodies. Sometimes a figure matches somewhat; I just have to find something that works. For RANDY WRENN's Commander Denson character, that's an old Scotty head on a young Scott body. For another crew member, I took a Q head, removed the hair, and painted on a crew cut. For FRANK PARKER's Commodore Grissom, it was a Picard head on a Kirk body with a commodore's braid added…
Here's a few other examples. KENNETH THOMPSON's character of Captain Ray Martin of the U.S.S. Saladin was just a Kirk figure, but I did the Saladin logo. DAVID AGRINSONIS appeared in a STARSHIP FARRAGUT episode, and I was able to make him into an action figure with Sisko's head and hands on a McCoy Body. Lt. Commander Haas was a Dax figure in a TOS uniform from "Trials and Tribble-ations" with her hair painted blonde…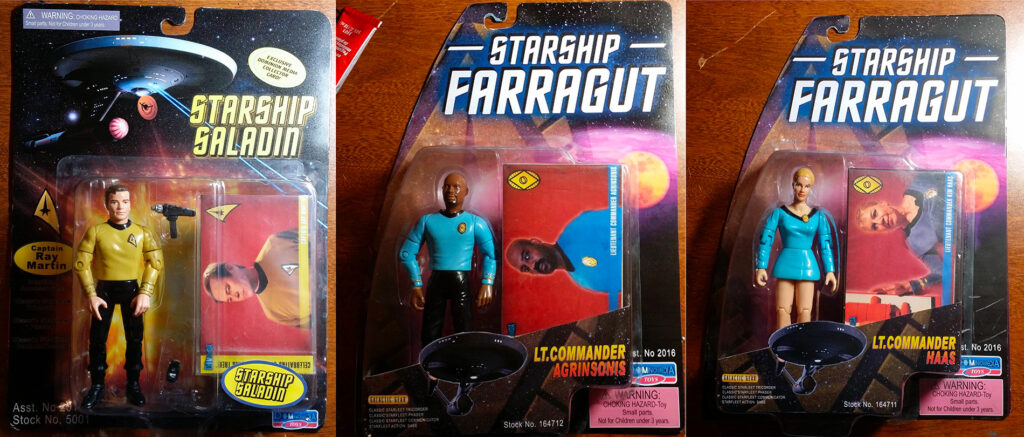 JONATHAN – What about the packaging? How do you manage to personalize that?
GARY – I take the existing packaging and then gently remove the plastic and wash off the excess glue. I design the backing, print it on sticky paper, apply it, put the new figure back in the plastic, and finally glue it back. I have made quite a few for folks. In fact, I used to embarrass my wife's boys when they had friends over: I'd show them the figure and ask, "Who else has a mom with her OWN action figure?!"
JONATHAN – Sorry to ask this last question, but is what you're doing legal?
GARY – Well, I'm not mass-producing them, I don't use the words "Star Trek" anywhere on the personalized packaging, and I do always pay for the original action figures. And the fact is that personalized action figures have been all over eBay for many years. Honestly, who knows? But custom figures are a real art form out there.
---
Now, for those who can't afford a $750 donation, fear not! For just $50, Gary will make a virtual digital trading card of YOU. Just send in a photo of yourself in your favorite Trek costume, and Gary will do the rest. And if you don't have a Trek costume…then what the heck are you even reading this blog for??? No, I'm kidding! Gary will work with you no matter what you're wearing in the photo (but please, no Betazoid wedding photos!). Other affordable perks include digital posters, a digital comic, a voice-over in an upcoming Dominion episode (that's the perk I went for!), and a set of digital trading cards of the entire Dominion cast and crew.
For anyone wondering what the $5,000 will go toward, Gary and friends produced a very thorough explanation of expenses in this entertaining "ask" video…
And once again, here's the link to donate…
https://www.indiegogo.com/projects/dreadnought-dominion-crowdfunding