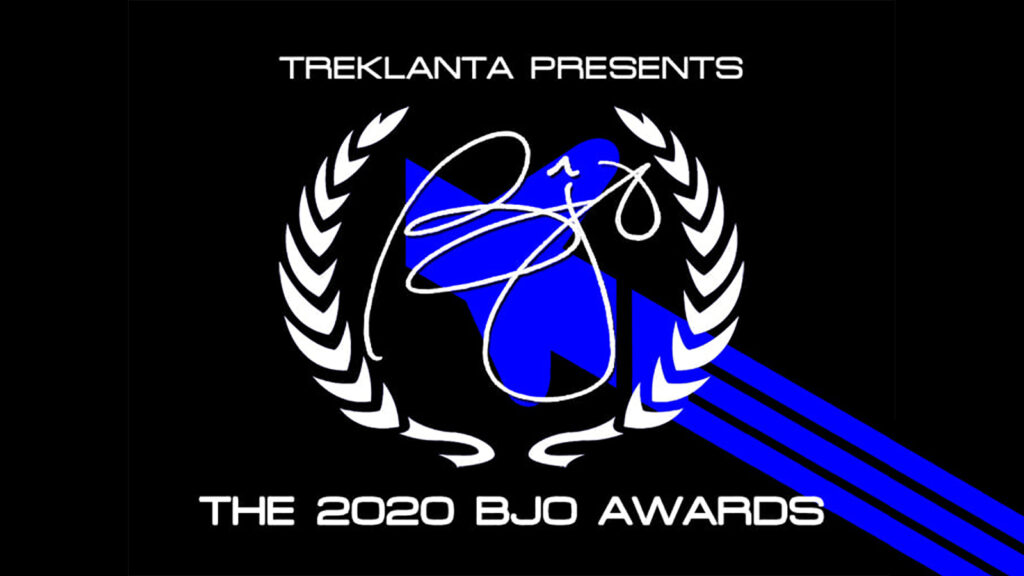 Wait…did I say "2020"? Yep. As I explained in a blog last month, the BJO AWARDS (the annual awards presented exclusively to Star Trek fan films) was forced to skip the awards for last year due to the pandemic. Since the awards' debut back in 2015, winners were announced live and in person at the annual TREKLANTA convention, with plaques being handed out to winners who were in attendance. But last year's Treklanta was virtual, and the awards were skipped for 2020.
Well, perhaps "skipped" isn't the right word. "Delayed" is more like it.
Each year's awards are presented to qualifying Star Trek fan films that were released in the previous calendar year—meaning that this year's Bjo Awards for 2021 should have been presented to fan films released in 2020. But that would mean those fan films from 2019 would never be recognized (a "skipped" year). Of course, one possible idea was to combine the releases from 2019 and 2020 into a single awards show, but it didn't seem fair to double the nominees while keeping the number of winners the same.
So Treklanta Chairman ERIC L. WATTS decided to hold the 2020 Bjo Awards in 2021, and then hold the 2021 Bjo Awards early in 2022…hopefully leaving enough time left to also hold the 2022 Bjo Awards later in 2022 and get everything back on schedule.
You got all that?
Anyway, my previous blog from October listed all of the qualifying fan films from 2019—32 in all, although 10 of them were two-parters that were combined on the ballot into single entries, leaving a total of 27 qualifying Star Trek fan films. According to Eric Watts, the total runtime for all the films combined was 9 hours, 54 minutes, and 19 seconds (gotta love Eric's Vulcan precision!)…ranging from just under 3 minutes (STAR TREK: UNITY's "Tabula Rasa") to just over 51 minutes (TEMPORAL ANOMALY "Part 1" and "Part 2" combined). The average run time was 22 minutes.
Eric is particularly appreciative of the eleven judges who watched through every entry and took their job very seriously. In order to qualify to be a judge, a person had to have "…an established professional credit in the Star Trek franchise (actor, author, artist, writer, director, designer, producer, makeup artist, stunt double… pretty much anything)" or be "…a Star Trek fan currently working in the television/motion picture industry [without] any known association with any previous or current fan film." With criteria like that, finding a panel of willing judges was NOT going to be easy!
"Yes, recruiting this year's panel was a huge challenge," says Eric, "and I'm proud of the calibre of judges that made this commitment. The Bjos are NOT a popularity contest, but rather, a juried competition of professionals who are impartial and know what Star Trek is… and should be. I want to give them all the recognition I possibly can."
For this reason, to honor both the judges and the finalists, Eric has forgone making a text list of winners in favor of releasing the following video highlighting each member of the judging panel followed by announcements of the Finalists in each of the twelve categories…
Of the 27 films (including two-parters), 17 placed in at least one category as a Finalist, with a total of 63 Finalists in all.
Eric did mention that the fan films with the most Finalist nominations were the following:
With Treklanta having been virtual again this year (panels took place online back on AUGUST 7), Eric needed to find a place to hand out awards in person…preferably somewhere linked to Star Trek fandom and—even better if possible—fan films. Fortunately, such a venue actually exists…
The 2020 Bjo Awards ceremony will take place on Saturday, December 11, 2021 during Fan Appreciation Weekend at NEUTRAL ZONE STUDIOS in Kingsland, GA. Admission is FREE, and you can find out more and register here.
I would like to personally thank all eleven judges along with Eric Watts for setting up this very special annual awards show and keeping it going all these years. I would also like to congratulate all of the finalists and wish them luck but also all of the entrants for having both the drive and determination to complete a Star Trek fan film. If you were one of these people—either a showrunner or simply part of a team—whether or not you ultimately win, you are ALL winners in my book!
By the way, if you would like to lend your financial support to the Bjo Awards and make certain they continue into the future, you can donate to their ongoing Patreon by clicking the link below…