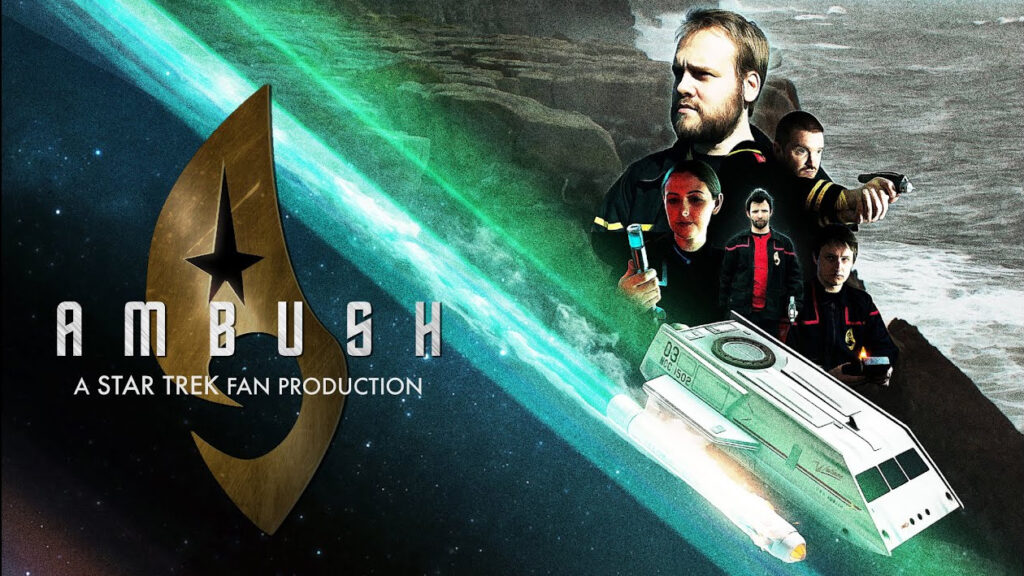 Way back in 2014, there was a Star Trek fan film that held a successful Kickstarter, shot a bunch of footage, and was still not completed as the calendar turned to 2022. Oh, and the title of that fan film started with the letter "A."
You know from the title of this blog that this fan film's title was AMBUSH, not AXANAR. But eight years is still eight years. The Kickstarter for this United Kingdom-based Star Trek fan film managed to generate £4,649 in donations, which would be about $7,200 today. Donors were treated to frequent news on the project, with 32 separate crowd-funding and production updates posted in 2014 and 2015. Things slowed down a bit in 2016 with only three additional updates posted, the last of which coming three months after CBS and Paramount announced the new (at the time) fan film guidelines in June.
Then nothing…for over a year. Many of us in the Trek fan film community assumed this was just another case of the guidelines convincing a production to shut down. There weren't many, but it seemed likely that Ambush might be one.
But at the end of 2017, a quick update to the backers titled "We're still not dead" assured us that Ambush had not been abandoned. Showrunner GREG LOCK and his co-producer had simply found some paid film production work that had kept them too busy to finish up the project. No other update was provided, but there was a general feeling of optimism.
A few months later (February of 2018), still no release date, but Greg shared a number of "character posters" that showed the unique uniform style and the shuttlecraft interior set that had been constructed…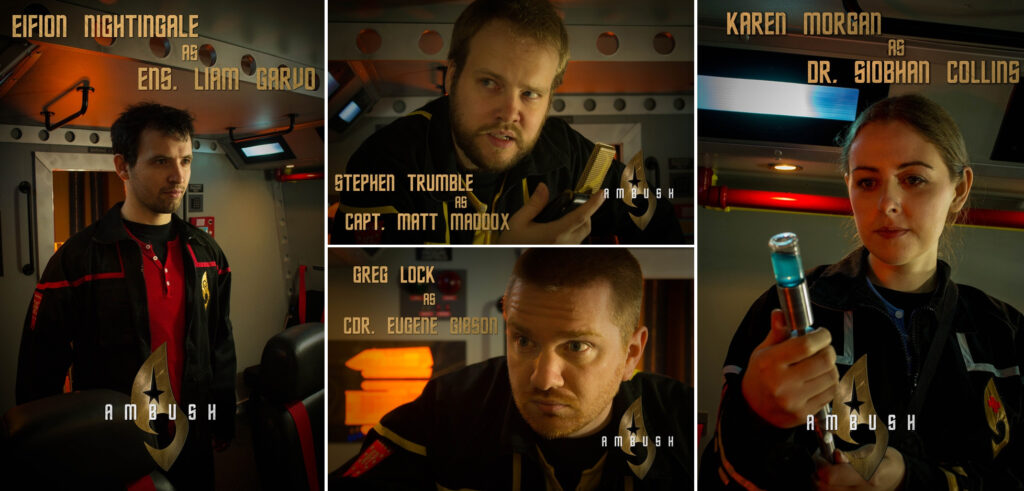 Unfortunately, nearly another year would go by before the next update in January 2019 that wasn't so much an update as an apology for taking so long and an explanation why the finished product probably wouldn't be as ambitious as they'd hoped.
The next update didn't come until May of 2021, more than two years later, and it was also apologetic. A still-unfilmed scene now looked like it would never be shot, as most of the team had moved on over the previous seven years, COVID was now an issue, and even the technical equipment they'd used had become outdated. But a rough cut had been assembled, and plans were to release a version of Ambush using the footage that was shot, which Greg felt was still pretty decent. Also, perks were going to FINALLY be sent out to donors!
A September 2021 update promised a release soon, as they were close to locking picture on the film…leaving only a final visual grading, a sound mix, and tweaking some VFX. Then two updates in 2022 and finally, on February 15, 2022, this…
So…what took so long? I decided to ask that very question (along with a bunch of others) directly to Greg Lock in this enjoyable video interview across the Atlantic Ocean…