In Part , Part 2, and Part 3, we learned about how STAN WOO began to produce a Star Trek fan film called YORKTOWN: A TIME TO HEAL, starring GEORGE TAKEI as Sulu and JAMES SHIGETA as Admiral Nogura. The majority of the footage was filmed in 1985-87, but then the project languished in suspended animation for nearly 25 years. (You can watch the completed film here.)
In Part 4 and Part 5, we saw JOHN ATKIN step in, beginning in 2010, to help Stan finally complete his fan film. The two of them worked together to expand the script, adding in new scenes and new characters in locations that wouldn't have been possible a quarter century earlier. This included scenes with Klingons as well as sequences on the U.S.S. Yorktown bridge, corridors, and hangar bay. Between 2011 and 2013, these scenes were filmed in various cities across North America—including San Francisco, Vancouver, New York, and at Starbase Studios in Oklahoma City during a bitter cold winter storm with no central heating!
By 2013, the visual FX team had three different members. ROLAND BARON was doing outer space shots of the pre- and post-refit Yorktown, Klingon K-fighter, and the S.H.A.R.K. vessel Nagaer—the last three ships all originally designed by legendary Star Trek production designer ANDREW PROBERT. NEO f/x was doing phaser and transporter effects. And TOBIAS RICHTER provided a custom CGI model and animation of the Starbase 7 space station (a design based on the Vanguard Station from the Star Trek novel series).
THE PASSING OF JAMES SHIGETA
All was going great heading into 2014. But on July 28, sad news came to the production that actor James Shigeta had passed away at the age of 85. In a eulogy post, Stan Woo—who kept up a friendship with James after the 1980s production—shared the following memory: " I saw him for the last time on December 19th, 2013. When I arrived at his home, he was watching a Pavarotti Special on PBS. He was in good spirits and was sharp as a tack. He asked about the family, and I shared some family photos with him. I also showed him the Yorktown website on my phone to show him some of Roland Baron's visual effects. That was the last time I saw him. I have a stack of Christmas cards from him. He was at my wedding. When I sent him a birth announcement of my oldest daughter, he sent her a little yellow duckie. He was a true gentleman, and I'm proud to be the producer of a Star Trek fan film with him playing Admiral Nogura."
THE SECOND CROWD-FUNDER
In late 2014, John Atkin made an important (and somewhat expensive) decision. The previous transfer of the original 1980's footage was itself made from a transfer. In 1987, the Super 8 Reversal Film was transferred onto ¾-inch Umatic SP video tape. And in 2012, those tapes were transferred to digital media for computer editing (a process requiring a staggering TWELVE DAYS of special restoration). But after working with those files for nearly two years, John was feeling that the images had just enough of a blur to justify going back to the original 30-year-old film prints…before it was too late (film discolors and fades over time).
The transfer process would be expensive, upwards of $2,300. But the resulting digital files would end up looking nearly identical to the actual film…even better, in fact, because the transfer process would include professional color correction. A second Indiegogo campaign in May 2015 raised enough to cover the transfer, and the results were very impressive, especially after doing the color correction and restoration…
Some wonder about the grain on the original film. Unfortunately, that is not able to be removed. So instead, a grain effect is being digitally added to all the new footage and VFX to match the film grain quality of the old footage.
A FEW MORE PIECES OF THE YORKTOWN PUZZLE
There were still two characters from the original 1980s footage whose lines needed to be re-recorded due to poor audio quality on the original film. One was Lt. Jeffrey Pond, who had been played back in 1985 by Stan Woo himself. But Stan, now 30 years older, no longer sounded like he used to. So TODD HABERKORN, who played Spock on STAR TREK CONTINUES, agreed to loop Pond's lines. Todd is a professional voice-over actor and was able to match Stan's original timing and delivery of the lines. Also re-recorded were the lines from Captain Bradley Frame, played by J.J. SILVIA. His looping was voiced by MARK EDWARD LEWIS, who worked on both PRELUDE TO AXANAR and ST: NEW VOYAGES (and the upcoming fan film INTERLUDE). And so in 2015 and 2016, the "tentacles" of John Atkin continued attracting more and more members of the Trek fan film community onto the Yorktown team.
Also joining the team in 2016 was HENRY GIBBENS, who had been doing VFX on Trek fan films since way back in 1998 and VOYAGES OF THE USS ANGELES (featuring yours truly!). "Henry has been my right-hand man when it comes polishing up the film." says John. "Henry is the main 'touch up' artist on the film, and he added details like computer monitors and displays to the original film, moons in the sky, rotoscoping Sulu and Captain Frame on the bridge, and completing a few green screen shots. The Klingon K-fighter cockpit was re-textured and lit by Henry."
THE FINAL LIVE SHOOTS
In November of 2015, John drove from Toronto, Canada to Ticonderoga, NY to film a series of short clips of officers in Engineering, Sickbay, and walking the Yorktown corridors. "JAMES CAWLEY was very gracious to let us film on those beautiful sets," John adds, "and a number of actors who worked on New Voyages appeared as extras in those scenes."
The final live action shoot took place in a green screen room at Los Angeles City College in May 2016. The scene features Admiral Gavin Eastcott giving a daily intelligence briefing via subspace to Admiral Nogura on Starbase 7. John asked his friend ERICH KEMP (whom John knew from film school in Toronto) to direct the short segment. Erich then recommended an actor whom he'd previously directed, MARK ELIOT, for the role of Eastcott. Eliot, who had appeared in the Hollywood movie Stand and Deliver with actor EDWARD JAMES OLMOS back in 1988, agreed to do it.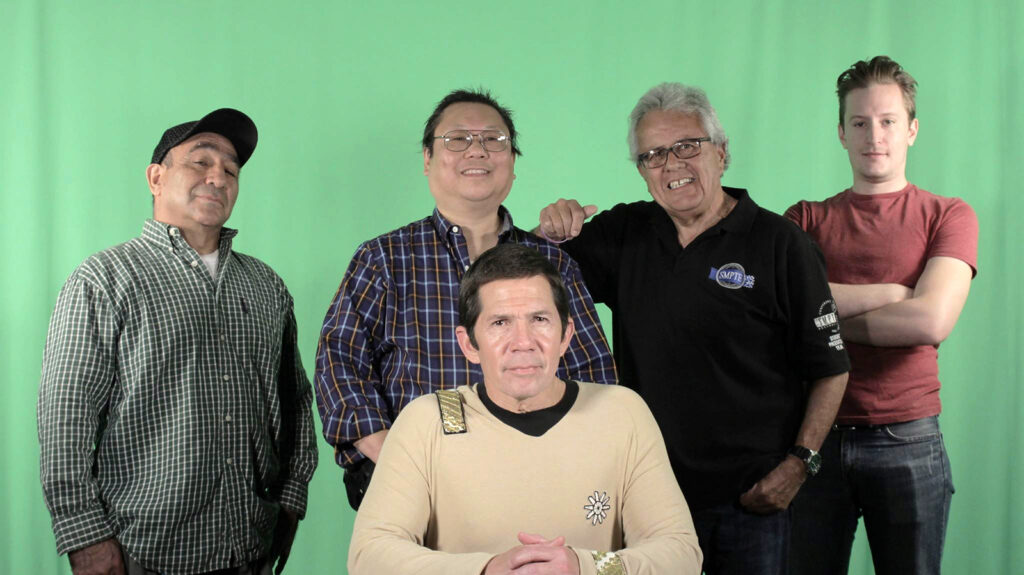 "With his commanding presence on screen," notes John, "Eliot was a natural for the role. The new scene was spliced with original footage of Admiral Nogura, and Erich did a fantastic job blending the footage from both shots together."
AND THEN REALITY HAPPENED
By March of 2017, all of the starship FX shots for Act 1 had been completed by ROLAND BARON, leaving two acts to go. But in addition to being the Lead Instructor at the Center for Arts and Technology in Kelowna, British Columbia, both Star Trek Continues and Renegades were relying on Roland to work on their projects. Something had to give, and by 2018, Roland needed to step aside from Yorktown.
"I was very familiar with the work of SAMUEL COCKINGS," John recalls, "and I asked him to join the project in 2018 to help complete the VFX. Once Sam signed on, he quickly got to work on the film, and was able to complete the missing starship VFX within a few short months. Sam is very creative, and has an eye for angles. He knew this was a more 'vintage' film and kept to the 4:3 aspect ratio and did not go overboard with shaky-cam or ultra dark shots that other modern shows go with. He was able to make beautiful designs (by Andrew and Roland) look even more beautiful on screen, and more importantly FEEL like Star Trek, even though they were brand new designs. Sam also designed the Starfleet sensor drone—a device mentioned in Star Trek: The Motion Picture but never shown—which was another awesome addition to the film."
A second British fan filmmaker also joined the Yorktown VFX team in October 2018: LEO TIERNEY. He had just released STAR TREK: DECEPTION II, which included an amazing Klingon bridge set that had been constructed in a garage and was then digitally "extended" to appear much larger. John was very impressed and asked if he could use that set background to composite his green screen footage of Klingons in front of it for Yorktown's Klingon battlecruiser scenes. Leo agreed, and yet another fan film show-runner made his way into the Yorktown credits!
SO WHAT WAS THERE LEFT TO DO?
After that, GLEN WOLFE from THE FEDERATION FILES (and a ridiculous number of other fan films!) donned some Klingon make-up and got inserted into the composited scenes of the Klingon battlecruiser bridge. Meanwhile, back on the Yorktown bridge, work was completed on a really cool idea: adding Sulu and Captain Frame onto the bridge. In the original footage from 1985, those two actors were only ever filmed outside on location because there was no bridge to shoot on. But in 2020, things were much different. "I talked to Henry Gibbens about doing some rotoscope work on the two actors," says John, "and inserting them on the Oklahoma bridge set. Henry did an amazing job, and it set up the final act of the film beautifully."
Speaking to me in September of 2020, John provided his current "to do" list: "Right now, CHRISTOPHER BARR is working hard on finishing the music, and KASEY SHAFSKY has been assisting us with completing some of the missing ADR. Samuel Cockings and Henry Gibbens are doing some additional VFX work. RALPH M. MILLER" [who has worked on a veritable parade of fan films -Jonathan] "is working on the final sound mix. I'm working on color correction and adding film grain to the new footage and VFX to make it all match the original 80's footage. Stan Woo set the release date as Christmas 2020 as a gift to everyone who has supported the project over the years, so Christmas Day feels very appropriate."
A new trailer that posted in July promised that Christmas 2020 release…
…but it didn't happen.
A PERSONAL TRAGEDY
Yorktown was not released that Christmas of 2020. The reason was that the sound mixing took much longer that anticipated, and John was still working on it for much of the following year.
But on Saturday, October 2, 2021, John lost the love of his life and the mother of their three-year-old son EDWARD, his beautiful wife of five years, MIRANDA GERMANI. She died from complications caused by Crohn's disease, a condition involving inflammation of the digestive tract which can become potentially very serious in certain circumstances, as it did for Miranda. Miranda had a small cameo as Dr. Amanda Cruz in sickbay scenes filmed at Retro Studios in upstate New York in 2015. Here is a photo of John and Miranda with James Cawley in 2017…
Despite this tragedy, John was eventually able to return to work on Yorktown, putting the finishing touches on it in early 2022 and finally releasing it on "First Contact Day" (April 5)…
MR. WOO'S OPUS
For John Atkin, this has been a passion project for well over a decade. But for Stan Woo, it's been a MUCH longer road, getting from there to here. "In this 35-year journey, I've enjoyed meeting a lot of people who contributed to this worldwide tapestry and would like to thank them. I would like to acknowledge members of my original team like DA HAN, KATZ SEKI, ALAN SALOPEK, GASTON BIRABEN, THEODORE McCLENDON, LANCE WILLIAMS, IRV WEISS, DOV SCHWARTZ, BRUCE HEINSIUS and ANDY PROBERT. A reunion is in order! And thanks to ROGER WHITER for coming up with the idea of doing a Star Trek fan film at Fairfax High in the first place."
Stan continues, musing about finally reaching the finish line with John's help. "The film's completion comes just at the right time. John has a growing family, and I know that will take all his time. What a challenge in the last year for John to work on the film with a little toddler running around! Now I can retire in a few years and not think about the film. And finally, a big thanks to DANIEL DICKHOLTZ, who wrote that article in Starlog #119—the message in the bottle that connected me with John Atkin."