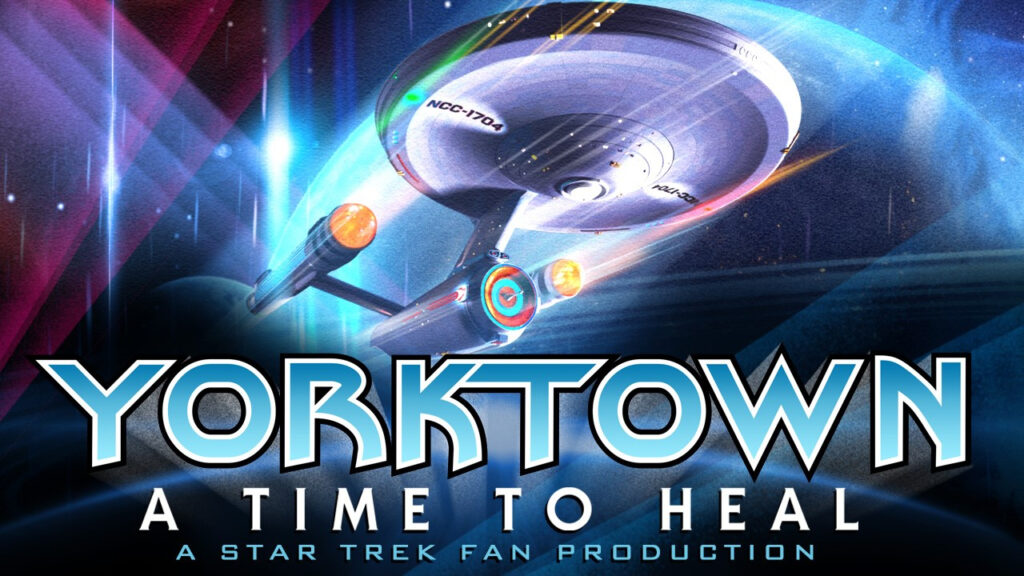 In Part , Part 2, and Part 3, we learned about how STAN WOO began to produce a Star Trek fan film called YORKTOWN: A TIME TO HEAL, starring GEORGE TAKEI as Sulu and JAMES SHIGETA as Admiral Nogura. The majority of the footage was filmed in 1985-87, but then the project languished in suspended animation for nearly 25 years. (You can watch the completed film here.)
In Part 4 and Part 5, we saw JOHN ATKIN step in, beginning in 2010, to help Stan finally complete his fan film. The two of them worked together to expand the script, adding in new scenes and new characters in locations that wouldn't have been possible a quarter century earlier. This included scenes with Klingons as well as sequences on the U.S.S. Yorktown bridge, corridors, and hangar bay. Between 2011 and 2013, these scenes were filmed in various cities across North America—including San Francisco, Vancouver, New York, and at Starbase Studios in Oklahoma City during a bitter cold winter storm with no central heating!
By 2013, the visual FX team had three different members. ROLAND BARON was doing outer space shots of the pre- and post-refit Yorktown, Klingon K-fighter, and the S.H.A.R.K. vessel Nagaer—the last three ships all originally designed by legendary Star Trek production designer ANDREW PROBERT. NEO f/x was doing phaser and transporter effects. And TOBIAS RICHTER provided a custom CGI model and animation of the Starbase 7 space station (a design based on the Vanguard Station from the Star Trek novel series).
THE PASSING OF JAMES SHIGETA
All was going great heading into 2014. But on July 28, sad news came to the production that actor James Shigeta had passed away at the age of 85. In a eulogy post, Stan Woo—who kept up a friendship with James after the 1980s production—shared the following memory: " I saw him for the last time on December 19th, 2013. When I arrived at his home, he was watching a Pavarotti Special on PBS. He was in good spirits and was sharp as a tack. He asked about the family, and I shared some family photos with him. I also showed him the Yorktown website on my phone to show him some of Roland Baron's visual effects. That was the last time I saw him. I have a stack of Christmas cards from him. He was at my wedding. When I sent him a birth announcement of my oldest daughter, he sent her a little yellow duckie. He was a true gentleman, and I'm proud to be the producer of a Star Trek fan film with him playing Admiral Nogura."
Continue reading

"YORKTOWN: A TIME TO HEAL (starring GEORGE TAKEI as Sulu) – the 37-year trek… (Part 6)"