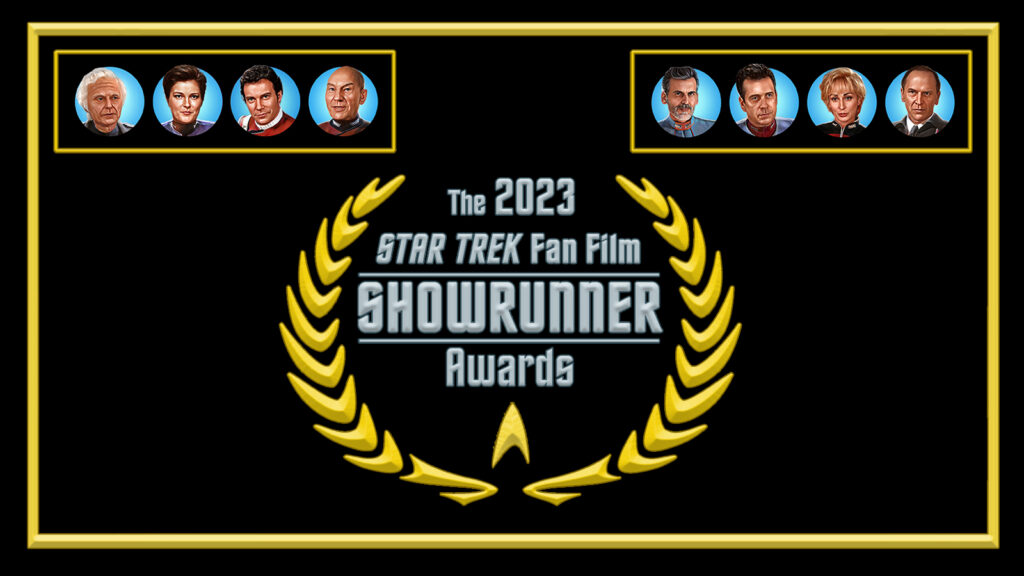 With the conclusion of the DIRECTORS CHOICE AWARDS two weeks ago (click here to view the winners), it is time to enter the next big award show devoted exclusively to fan films: The Star Trek Fan Film SHOWRUNNER AWARDS!
As the name implies—and unlike the Directors Choice Awards—the Showrunner Awards are open exclusively to ONLY Star Trek themed fan films. Also as the name implies, our judging panel is made up of Showrunners from Star Trek films and series (as opposed to just directors). Like last year, we have a panel of twelve judges, although a few stepped down and a few new judges were added. I'll be doing a blog spotlighting all of our judges in the next couple of weeks.
For me personally, I think one of the most interesting aspects of the Showrunner Awards is that they cover a period of FIVE YEARS of eligibility. Most fan film award shows are open to fan films released solely within the previous year. But this year, for example, any Star Trek fan film released between January 1, 2018 and December 31, 2022 qualifies for entry should someone wish to submit it. In this way, a fan film gets "a second chance" (or a third or even fourth chance) to win. And since no film is allowed to win in the same category more than once, the field is cleared somewhat each year, and a fan film doesn't suffer from "bad timing" because it happened to come out the same year as a really strong and dazzling fan film.
Another unique aspect of the Showrunner Awards is that each category has THREE winners: Admiral (1st place), Captain (2nd place), and Commander (3rd place). This increases the number of happy faces by 50% over award shows that feature only a single winner and single runner up.
The submission period is now open through May 31, 2023. After that, judges will have until the end of August to view and vote for their top five fan films in each category, with the most points going to each judge's top choices. A showrunner judge is not allowed to vote for any of their own fan films in any of their top three slots.
Anyone can submit a nomination using the following form page:
https://www.cognitoforms.com/JonathanLane1/_2023StarTrekFanFilmSHOWRUNNERAWARDS
The cost is $10 per submission to enter for Best Fan Film, and then any other specific category—like best director, best music, or best scene—is an additional $1. (This is how entries are structured in independent film festivals…they just have much higher prices!) This year, we are adding FOUR new categories, which I will spotlight in an upcoming blog.
Winners for 2023 will be announced on September 8, 2023…the anniversary of the first airing of Star Trek. Good luck to all entrants!