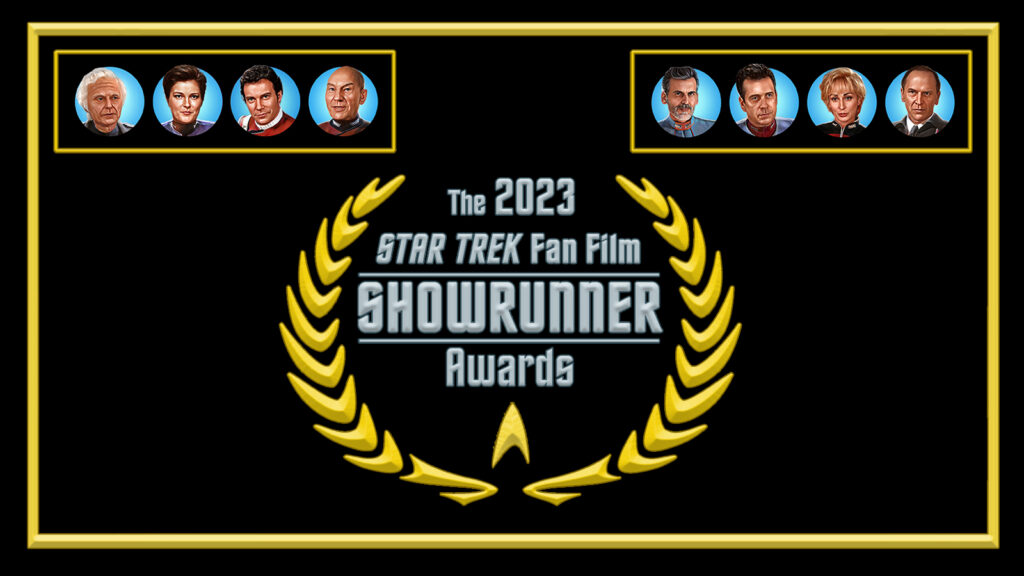 Happy 57th Star Trek Anniversary, everyone! And just as I did exactly one year ago today, I am announcing the winners of this year's SHOWRUNNER AWARDS!!
But first, I would like to thank the judges (each a showrunner himself) for once again doing an amazing job, watching five hours and 42 minutes of Star Trek fan films, and getting all of their ballots in before the August 15 deadline. We did have one judge reluctantly bow out due to time commitments—MARK LARGENT is working hard to finish the next (and last? I hope not!) STALLED TREK animated puppet parody THE DUMBSDAY MACHINE by later this year. And he wasn't certain he'd have the time to watch and judge all 21 entries.
The remaining ten judges (in addition to yours truly) were…
JOHN ATKIN – YORKTOWN: A TIME TO HEAL
SAMUEL COCKINGS – TREK SHORTS and TEMPORAL ANOMALY
GARY DAVIS and RANDY WRENN – DREADNOUGHT DOMINION (and more!)
As we did last year, the scoring worked in the following way. For each of the 22 categories (four of them brand new this year), every judge would vote for his top five choices in descending order (his own fan film(s) could NOT be in the top three slots). In the final tally, each top choice would get 10 points. The second choice would get 7 points. The third would get 5 points, then 3, and finally 1 for the last choice. Then I would add up the total number of points in each category, determining a first place (Admiral Award), second place (Captain Award), and third place (Commander Award) winner.
This year's voting produced some unexpected results. In some categories, the three winners were far, far ahead of the rest of the pack, having banked many of the top two or three spots from a majority of judges. (Those 10 and 7 scores stack up quickly!) In some other categories, things were a bit closer, with only a few points keeping nominees out of the top-level award tiers. And for Best Fan Film, there was only a ONE POINT difference separating the first and second place winners. Exciting!!!
Continue reading

"Announcing the 2023 Star Trek Fan Film SHOWRUNNER AWARD WINNERS!"