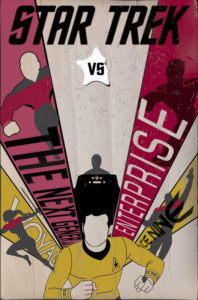 Ladies and gentlemen, CHRISTOPHER ALLEN Is back!!!
And now you're wondering: "Who the heck is Christopher Allen…and what exactly is he back from???"
In 2006, Christopher Allen wrote and directed what was—and still remains—one of the most audacious and ambitious fan film genre crossovers ever: STAR TREK VS. BATMAN.  This nearly hour-long production used amazingly accurate costume reproductions from the 1960s Batman TV series, built their own simplified versions of the Enterprise bridge and transporter sets, and even rented an actual batmobile replica for a day of shooting around the Indianapolis area.  You can read more about it here.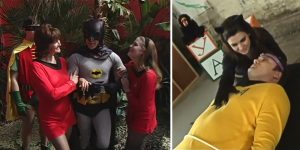 Well, that was then.  And although Chris produced some other independent films after 2006, Star Trek vs. Batman was the last the Trek fan production world heard from him.
Until last week.  That's when someone sent me a link to this…
Could it be?  Are we on the cusp of yet another fan film parody out of Indianapolis???  It seemed so!
I checked around, and it turns out Chris Allen has launched a GoFundMe campaign with a goal of $13,400.  And not only is he planning to film in the Indiana State Capitol building ('cause, y'know, he lives in Indianapolis) but also on the TOS sets at STARBASE STUDIOS…one of the first Trek fan films to announcing booking the facility since they relocated from Oklahoma City to Harrison, Arkansas.
Here's the synopsis from their website:
An ill-tempered, but gentle alien has summoned five of the most renowned federation captains from across space and time to the planet of Delta Fawcett Four. There, Captain Kirk and the Enterprise crew face off against Professor Xavier's Enterprise D, Voyager, that weird looking spiky thing from DS9, and the "guy from Quantum Leap" Enterprise in a forgettable, but timeless tournament that will leave your sides half-split with laughter.

SPECIAL GUEST STAR ASHLEY ALEXISS is taken hostage by an evil alien that has been knocking around the galaxy. Captain Kirk and Mr. Spock beam down to rescue Kirk's beautiful space vixen, only to be taken hostage by Captain Pike in a pimped out wheelchair.
Well, that sounded intriguing!
So I contacted Chris, introduced myself (turns out he already knew me from that blog I wrote about his first Trek fan film), and asked if he'd mind answering a few questions.  He was delighted to…
Continue reading "STAR TREK vs. STAR TREK – a new fan film project (interview with CHRIS ALLEN)"