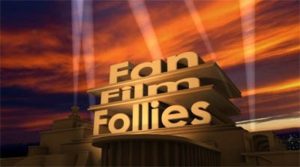 Well, it turns out I'm not the first or the only fan film blog site to have a name that abbreviates to FFF!  Recently, I was contacted by fellow blogger CHRISTOPHER MOSHIER asking if I wanted to collaborate in some way to synergize our two blog sites.
It was an intriguing idea, although I pretty much only have time to focus on Star Trek fan films here on Fan Film FACTOR, while Christopher's Fan Film FOLLIES covers all genres of fan films—including Star Wars, superhero, fantasy, Indiana Jones, James Bond, and a host of others.
We're not sure yet how we might work together in the future, but opportunities abound.  For now, though, Christopher has placed a graphic referral link to Fan Film Factor along his "Related Sites" sidebar and is featuring my blog site in his news links.  And since I don't have that kind of cool stuff on my modern-stone-age WordPress blog site, I have offered instead to post Christopher's recent blog post requesting contributors and partners for his blog site.
Christopher isn't simply looking to publish other people's content from other blog sites.  He's interested in building up a team of like-minded fan film fanatics and followers who want to be part of a blog site to explore and promote the entire world of fan films of all genres.
And with that, I will hand the microphone over to Christopher Moshier…
Continue reading "FAN FILM FOLLIES looking for CONTRIBUTORS and PARTNERS"