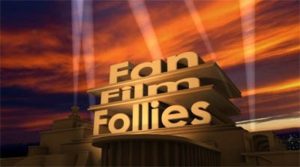 Well, it turns out I'm not the first or the only fan film blog site to have a name that abbreviates to FFF!  Recently, I was contacted by fellow blogger CHRISTOPHER MOSHIER asking if I wanted to collaborate in some way to synergize our two blog sites.
It was an intriguing idea, although I pretty much only have time to focus on Star Trek fan films here on Fan Film FACTOR, while Christopher's Fan Film FOLLIES covers all genres of fan films—including Star Wars, superhero, fantasy, Indiana Jones, James Bond, and a host of others.
We're not sure yet how we might work together in the future, but opportunities abound.  For now, though, Christopher has placed a graphic referral link to Fan Film Factor along his "Related Sites" sidebar and is featuring my blog site in his news links.  And since I don't have that kind of cool stuff on my modern-stone-age WordPress blog site, I have offered instead to post Christopher's recent blog post requesting contributors and partners for his blog site.
Christopher isn't simply looking to publish other people's content from other blog sites.  He's interested in building up a team of like-minded fan film fanatics and followers who want to be part of a blog site to explore and promote the entire world of fan films of all genres.
And with that, I will hand the microphone over to Christopher Moshier…
I've run a website called Fan Film Follies the past decade that covers the wonderful world of Fan Films. If you're not familiar with what a Fan Film is, the direct definition is a film or video inspired by a movie, television program, comic book or a similar source, created by fans rather than by the source's copyright holders or creators. So for example, fans will take the character of Batman and go out to make their own film based on that intellectual property. In some cases these films turn out to be Hollywood quality productions.
At one time, Fan Film Follies was bustling with writers contributing columns, interviews, guest articles, podcasts and the like, but for the past couple years, the site has rested rather dormant. This is the reason for me posting this article. I'm looking to move the site forward once again with bustling activity. My wish with this posting is to find like-minded science fiction, comic book and fantasy fans to collaborate, craft content and build the site up again. I'm not looking for anyone to give me content for my site. I'm looking for people to network, partner with and make the site their own.
Normally, the types of Fan Films covered are comic books, science fiction, fantasy, horror, video games, manga/anime and if someone comes along to make a Grey's Anatomy Fan Film, then what the heck.
What can be included in the site? Anything as long as it remains in the genre realms already posted. People have written articles that have nothing to do with Fan Films for the site. I'm always open for ideas.
If you're not familiar with WordPress or HTML and would like to post your own articles I can guide you and teach you how to do so.
And if anyone is interested in Podcasting a show talking to these filmmakers I'm not against starting up the Podcast again. I would just need someone in the same frame of mind as I am to take the time to reach out to these filmmakers and make contacts. If at all interested in listening to any of the older Podcasts you can link over to the Fan Film Podcast. These filmmakers are very open to discuss their craft and you'll be surprised who you talk to. One guy happened to work on the set of one of the Joel Schumacher Batmans. It was very interesting to hear his perspective into what happened on set.
If any of what I posted interests you certainly send me an email with a little about yourself, interests and how you feel you can contribute to the site. Any and all ideas are welcome. If you have Skype and want to chat further, send that as well. And please send any questions you may have.
Other stuff:
What have I personally gotten out of Fan Film Follies over the years?
I can tell you off the bat not any monetary gain. This was always a labor of love and camaraderie. I've received a DVD here and there. I've learned a lot about what goes into making these films.
I'm able to get press passes to different comic book and science fiction conventions. Just make sure if you do contribute to the site in the future you actually write or video something based on that convention.
The site was featured and I was interviewed for the documentary Fanarchy currently streaming on HuluPlus.
I've met and am still in contact with a lot of the filmmakers who have gone off to do some amazing work. I'm currently writing a book based on the Podcast interviews I've conducted with the permission to interview the same people ten years later to see where their Fan Films have taken them.
I've had the opportunity to help produce the Fan Film Indiana Jones and the Legend of Bimini. You can link over to Legend of Bimini if you want to check it out. This in turn allowed me to network and gave me the opportunity to meet local filmmakers to get involved in some other independent productions.
The people who once contributed to the site have also gone off to make their own productions. I will gladly give you links to their work if interested. Just shoot me an email with the request.
If you made it to the end of this posting then I thank you for doing so. Apparently you have good stamina. Shoot me a line if you are into film and into all the goodness of comics and sci-fi and we can discuss further.
You can contact me at [email protected].
PEACE!