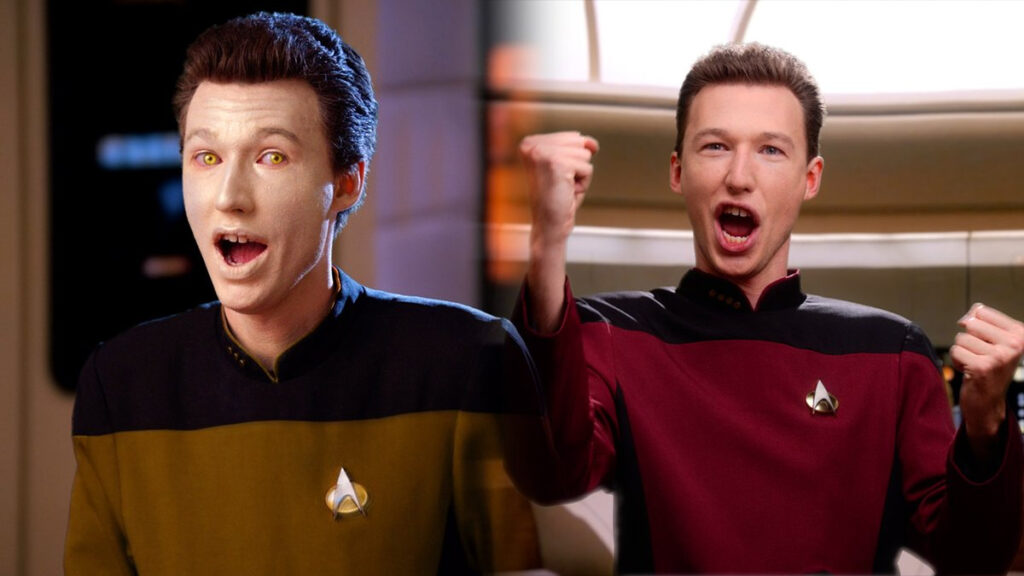 The strangely surreal DATA & PICARD Star Trek fan music video has been viewed on YouTube nearly seven and a half million times…making it one of the most widely seen Trek fan productions of all time. And yet, I haven't covered it here on Fan Film Factor up until now—somewhat on purpose.
When the musician/DJ/remix artist/film editor/YouTuber POGO (whose real name is NICK BERTKE) first uploaded this unusually hypnotic video back in late 2016, it was certainly a project I intended to cover. But less than two years later—and before I was able to blog about him—Pogo/Nick created some major controversy and trouble for himself.
In a video from 2016 which was posted to YouTube in May of 2018 (and has since been removed for reasons of hate-speech), Pogo shared some very homophobic opinions, including calling gays an "abomination" and seeming to approve of the 2016 massacre at the gay nightclub Pulse. And of course, social media sleuths quickly unearthed another controversial rant of his against feminism from 2017. Within days, public opinion had turned strongly against Pogo, and the Lamplight Lounge at Disney's California Adventure in Anaheim, CA, which featured some of Pogo's Disney-related tracks on their restaurant's playlist, quickly bowed to pressure and removed them all. (For more details on Pogo's controversial statements and attempts to walk them back, click here.)
And so I was torn. On the one hand, Pogo had created this wildly popular Star Trek fan film music video…and his background story is quite interesting. On the other hand, hate speech and homophobia is anathema to me. I am totally repulsed by Pogo's prejudices against gay people and women. I decided not to cover Pogo and his video…a decision I've stuck with for nearly two years (despite a number of readers sending me links and asking me to cover it). Eventually, I mostly forgot about the video.
A few weeks ago, however, I happened upon a new version of the Pogo video that had used a digital manipulation technique called Deepfake to replace Pogo's image with the faces of PATRICK STEWART and BRENT SPINER. (I'll include that new video at the end of this blog.) This new video got me thinking about maybe covering Pogo after all.
If you can't stomach my decision, then please feel free to skip this blog. Otherwise, let's start with showing Pogo's original Data & Picard video (without the Deepfake) for those who haven't seen it yet or who just want to see it again…
Continue reading

"The story behind POGO and his DATA & PICARD music video…"